Eleven people walked through an unscreened security lane at John F. Kennedy International Airport in New York on Monday morning and apparently boarded flights, authorities said.
None of them were checked by Transportation Safety Administration personnel, an airport official and a senior law enforcement official told NBC News. A senior government official said the checkpoint was about to open as a PreCheck lane but that because it wasn't fully staffed, it shouldn't have allowed passengers through.
The TSA said in a statement that three passengers may not have been rescreened after they set off metal detectors. A senior law enforcement official with direct knowledge of the incident told NBC News that there was surveillance video of the three setting off the alarms.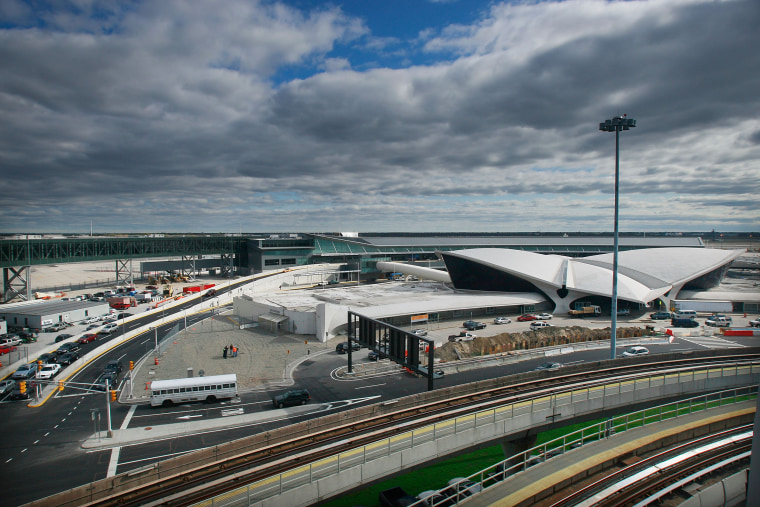 The Port Authority of New York and New Jersey said the 11 passengers walked through the checkpoint at Terminal 5 about 6 a.m. The Port Authority said it wasn't notified for two hours — and it blamed the "belated notification by the U.S. Transportation Security Administration" for its inability to find them before they boarded flights.
Three of the 11 were later identified through video and were believed to have boarded a flight to California, where they were to be screened upon arrival, the Port Authority said. The eight other passengers remained unidentified, it said.
The TSA said all of the passengers' carry-on bags were screened and passed by a K9 team. As a result, the agency said, it's "confident" that the incident "presents minimal risk to the aviation transportation system."
"Once our review is complete, TSA will take appropriate action," the agency said.