The quick-thinking security guard who stopped a disturbed man claiming to have a bomb from barging into a Baltimore TV newsroom was hailed Friday as a hero.
Jourael Apostolides' "grace under pressure" was applauded while 25-year-old Alex Brizzi was formally charged with felony second-degree arson, first-degree malicious burning and several misdemeanors, including possessing a phony destructive device.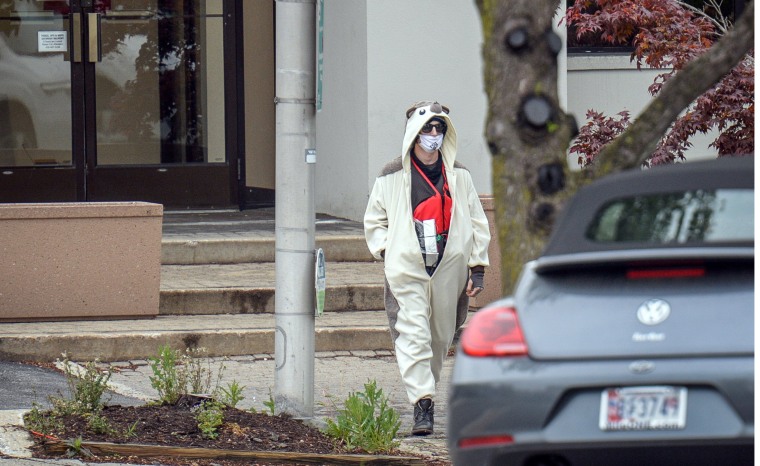 "That kind of grace under pressure is admirable, it's something that not everyone has," Baltimore police spokesman T.J. Smith said of Apostolides. "He stayed engaged with this person, he simultaneously evacuated everybody ... got everybody out of harm's way."
Police Commissioner Kevin Davis also praised Apostolidies, saying that he would like "to hire" him.
Meanwhile, Brizzi, who lives in Elkridge, Maryland, remained hospitalized and was recovering from being shot three times on Thursday by police outside the WBFF-TV studio.
At a news conference, Davis clarified that Brizzi was wearing an adult-sized "hedgehog onesie" and not a panda outfit as police reported earlier. He was at a loss to explain why Brizzi was wearing it.
"This outfit appears to be something associated with the Japanese anime culture," he said.
Davis also expressed sympathy for Brizzi's father, Edward Brizzi, who said earlier his son suffered a breakdown recently and feared the world was about to end.
"We're dealing with a single person who often suffers from mental illness and becomes an active threat to our community," Davis said. "We're just really glad and proud that we were able to bring this to a peaceful conclusion."
The drama began at 1:20 p.m. Thursday when Brizzi barged into the lobby of the FOX-TV affiliate and said he had some information to share on a flash drive about a government cover-up involving "black holes and the sun." He also said he had a bomb.
Apostolidies prevented Brizzi from getting into the newsroom while quietly calling 911 and alerting his co-workers to evacuate.
When the SWAT team arrived, Brizzi was convinced to come out. But when he refused to show his hands, police opened fire and then sent a robot out to disarm him as he lay prone on the street.
"Brizzi went down by he still kept his hand on some kind of detonator," Davis said.
The detonator turned out to wires attached to a mother board taken from a smoke detector, Davis said. And the bomb turned out to be chocolate bars covered with aluminum foil.