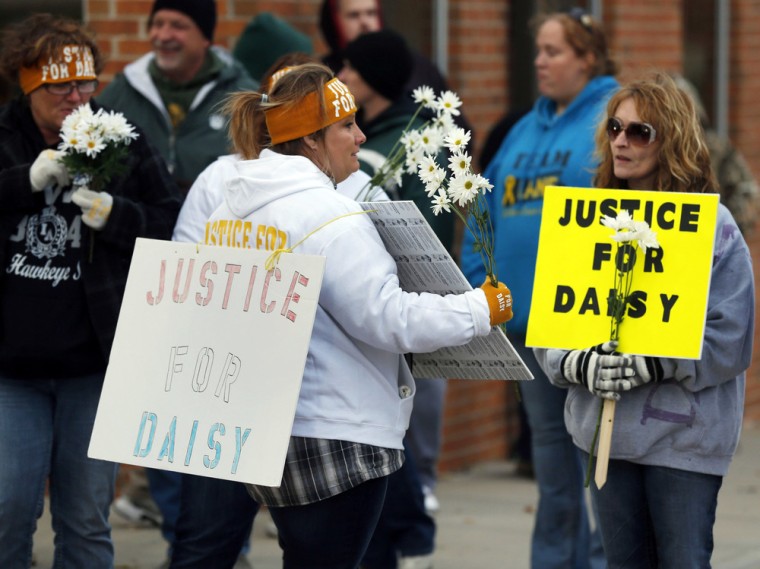 In an event partly organized by elements claiming to be members of the global activist collective Anonymous, demonstrators gathered in Maryville, Mo., on Tuesday to hand out daisies and rally in support of a teenager whose alleged sexual assault was never prosecuted.
The Justice for Daisy event was originally planned as a protest against what supporters said was local officials' disregard for the alleged attack in January 2012 on Daisy Coleman, then 14.
But organizers recast it as a rally Tuesday after Nodaway County Prosecutor Robert Rice asked a judge last week to appoint a special prosecutor to re-examine the case.
About 500 demonstrators and speakers gathered at the Nodaway County Courthouse in northwest Missouri, according to local media reports. Organizers initially said they expected about 2,000, but authorities said turnout was likely to be much lower after Rice sought to reopen to case.
"That's what the outcry was about," Sheriff Darren White told the Kansas City Star late Tuesday afternoon.
Still, security was extraordinarily heavy, a reflection of the profile of Anonymous, which the organizers claim to represent. Dozens of police were on the scene, barricades were erected, and government offices and businesses closed hours ahead of the scheduled 6 p.m. (7 p.m. ET) start of the rally.
Courtney Cole, a women's rights activist in Excelsior Springs, Mo., said the loose international network of cyberactivists — sometimes described as anarchist — was helping her organize the rally.
Watch US News crime videos on NBCNews.com
Daisy alleged last year that a 17-year-old high school football player got her drunk, raped her and left her passed out on the family's front porch in Maryville in 30-degree temperatures.
Rice dropped the most serious charges in the case in March 2012, saying the Coleman family had stopped cooperating with the investigation. The Colemans have alleged that charges were dismissed as a favor to the accused teenager's politically connected family, which has said he is being slandered.
Melinda Coleman gave NBC station KSHB of Kansas City audio recordings of what she said was a conversation with Rice in May 2012. The recordings, whose existence the prosecutor's office didn't deny, indicate that the Colemans didn't invoke their Fifth Amendment rights not to testify until May of last year — two months after Rice dropped the most serious charges.
After Rice asked the judge to reinstate the investigation, the rally organizers said they were going ahead with Tuesday's event to give "supporters of this case ... an opportunity to demonstrate peacefully":
NBC News generally doesn't name the alleged victims of sexual assault, but Daisy and her mother have been active in giving public interviews to raise awareness of the case.
"I was more than excited" after Rice asked for an independent investigation last week, Daisy told KSHB. "I felt like I was going to be able to work with someone who would put forth a real effort."
Related:
Maryville, Mo., sex assault case: Hack group Anonymous plans 'Twitter storm'