The takeoff of a Seattle news helicopter that crashed in a fireball this week was captured on security camera video, federal investigators said Thursday.
The helicopter crashed Tuesday morning outside the headquarters of KOMO-TV, the ABC affiliate in Seattle, killing a news photographer and the pilot on board and seriously injuring a man on the ground.
The aircraft was a temporary replacement the station was using while its own chopper was in the shop.
Investigators with the National Transportation Safety Board said they still don't know what caused the crash, but Dennis Hogenson, the agency's acting deputy chief for the Western Pacific region, said they hope to get clues from video recorded by a security camera near KOMO.
The quality is low, Hogenson said Thursday, but investigators were working to "grab some stills from the video and try to enhance it."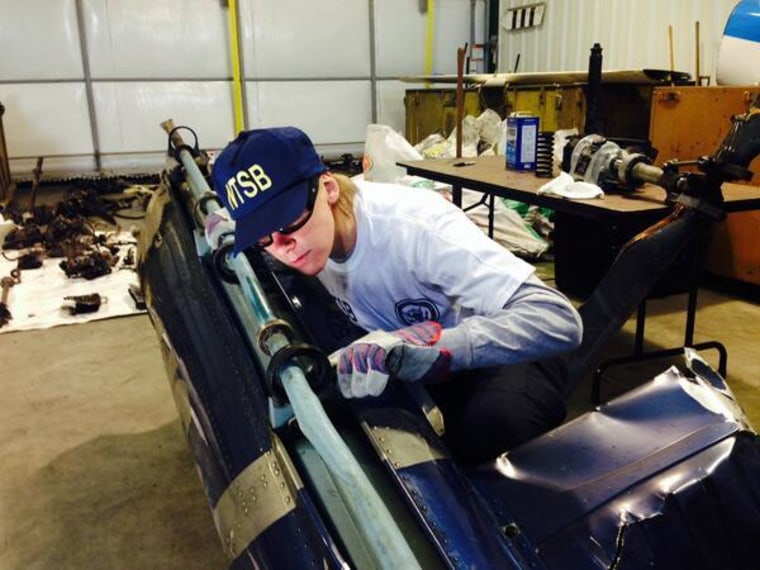 Investigators were already poring over an abundance of cell phone video and pictures, Hogenson said Wednesday.
NTSB investigators are also looking at parts of the railing from KOMO's helipad, NBC station KING of Seattle reported. The railing sections will be sent to the NTSB lab in Washington, D.C., according to KING.
Meanwhile, photos the NTSB released Thursday showed investigators disassembling and examining the helicopter's tail rotor, which helps the pilot control the aircraft's direction.
Killed in the crash were Bill Strothman, 62, of Bothell, Wash., a retired KOMO staff news photographer with 13 Emmy awards who was working freelance, and Gary Pfitzner, 59, of Issaquah, Wash., a contract pilot well-known to the station's employees.
Pfitzner's funeral was scheduled for noon Saturday in Issaquah and will be open to the public, KOMO announced.
Strothman will be buried the following Saturday in Bothell.
— M. Alex Johnson