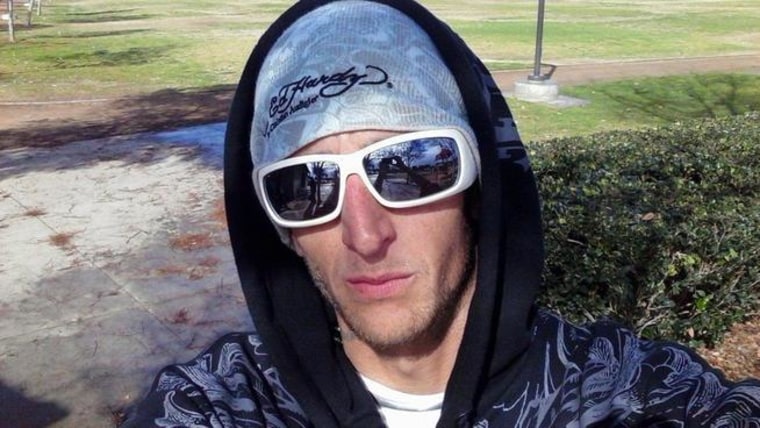 Talk about an instance when taking a "selfie" was definitely not a good idea.
A man suspected of burglarizing a church in San Diego's Chula Vista area was busted by police after a self-snapped photo left behind at the scene of the crime led investigators straight to the alleged perpetrator, NBC San Diego reported.
The subject of the selfie: Adam Howe, 26, posing in a photograph with some grass and shrubs in the background.
According to the Chula Vista Police Department, the Hilltop Tabernacle Church located at 346 L St. was burglarized by Howe on Monday.
The suspect allegedly broke into a building and an RV parked on the property. After a major ransacking, police said Howe allegedly made off with $10,000 worth of stolen items, including cash and a laptop computer from the building, as well as several purses and watches from the RV.
During the burglary, police said Howe accidentally left his cell phone behind.
A property crimes detective was called in to examine the phone and on it, the detective found a very telling selfie of Howe.
The detective recognized the background of where the photo was taken and went to that area to speak with witnesses. Some witnesses recognized the selfie suspect and told the detective of other areas frequented by Howe.
On Tuesday, after checking nearby areas, the detective located Howe, who matched the photo, at Harborside Park in Chula Vista – about five minutes away from the church that was burglarized.
Police said a search of Howe's belongings turned up some stolen items from both the church and RV.
Police said Howe admitted to the thefts. He was arrested and booked into San Diego Central Jail on two counts of burglary. Howe is scheduled to appear in court Friday.
Detectives also searched a river-bottom area in the 900-block of Third Avenue, right behind the church, and located two more people, Victoria Corey, 19, and Mario Nava, 27, sitting in a tent. Upon searching the pair's tent, officials found more property stolen from the church.
Police said Corey and Nava were both arrested for possession of stolen property but denied taking part in the burglary.
The RV that was burglarized belongs to Hilltop Tabernacle Church Minister Nathaniel Harris, who told NBC 7 he uses the vehicle for his traveling ministry work.
Though the church burglary was upsetting, Harris said he hopes Howe and the others learn from this experience and change their paths.
"It's disheartening, when crime happens to a church. At first you get frustrated and you want to lay hands [on the suspect] in a different way, but Christ, through us, obviously, we want to see them change. We want to get them help and see them better themselves," said Harris.
The selfie bust remains under investigation.