A Southern Baptist seminary fired Paige Patterson, a pre-eminent figure in the denomination's conservative resurgence in recent decades, in a growing scandal over his comments about women and his alleged mishandling of a female student's allegations of rape against another student at a school he was leading 15 years ago.
Southwestern Baptist Theological Seminary in Fort Worth, Texas, removed Patterson as president last week after previously reported comments he'd made about abused women resurfaced, but in a compromise it granted him the title president emeritus and theologian in residence with pay and allowed him and his wife to continue living on campus.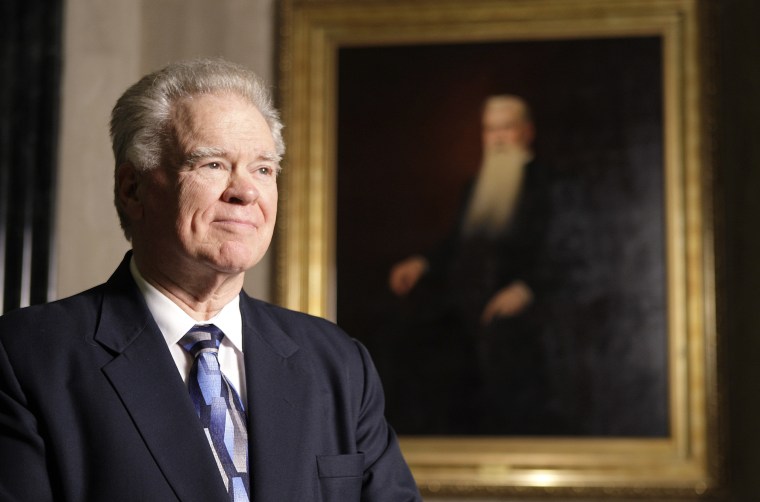 Many Southern Baptist activists and leaders criticized the compromise, which was reached the same day The Washington Post reported that Patterson had counseled a female student not to report that she had been raped to police in 2003, when he was president of a different school, Southeastern Baptist Theological Seminary in Wake Forest, North Carolina.
Late Wednesday, amid backlash against what was seen as too lenient a response, Southwestern seminary's board of trustees said it had received new information about the 2003 case and had "unanimously resolved to terminate Dr. Paige Patterson, effective immediately, removing all the benefits, rights and privileges" granted on May 22: the titles, the pay and the living arrangements. It didn't describe the new information about the rape case.
Patterson, who was president of the Southern Baptist Convention in the late 1990s, was a leading architect of the denomination's move to the right during the 1980s and the 1990s, which included a reassessment of the role of women in the church. The convention revised its Baptist Faith and Message statement in 1998 to specify that wives must "submit" to their husbands, and in 2000, it approved rules barring women from serving as pastors.
Patterson, 75, is in Germany on a speaking tour and couldn't be reached for comment. He is scheduled to deliver a keynote sermon at the Southern Baptist Convention's annual gathering in Dallas in mid-June, a prospect that has worried many members of the denomination.
Pressure against Patterson had been growing after comments about domestic violence he made in an interview in 2000 resurfaced. In the interview, Patterson said he had never counseled a woman to seek a divorce, that a woman's proper response to abuse by her husband "depends on the level of abuse, to some degree," and that in many cases, an abused wife's best course was to pray for her husband and remain "submissive" in the meantime.
At the same time, video of a 2014 sermon resurfaced in which Patterson related having told a woman that her son's "ogling" of an attractive teenage girl was an appropriate "biblical" reaction.
Early this month, more than 3,300 Southern Baptist women signed a petition calling for Patterson's removal from the Southwestern seminary, writing: "This pattern of discourse is unbefitting the sober, wise, and sound character required of an elder, pastor and leader."
Three days later, more than 300 Southern Baptist men cited that petition in signing a similar petition, saying, "The watching world is asking if Southern Baptist men believe it is biblical to view and speak of 16-year-old girls as sexual objects."
Patterson apologized on May 10 for what he described as his "failure to be as thoughtful" as he could have been in explaining the theological underpinnings of his remarks.
The controversy comes as the Southern Baptist Convention, the nation's largest Protestant denomination, is wrestling with fundamental questions about its treatment of women against the backdrop of the #MeToo movement, which has a corollary within the evangelical movement that has been dubbed #ChurchToo.
In April, founding pastor Bill Hybels retired from Willow Creek Community Church in the Chicago suburb of South Barrington, one of the nation's largest evangelical congregations, after The Chicago Tribune reported misconduct allegations against him beginning in the 1990s. Hybels said he had been accused of things he "simply did not do," but he apologized for having made choices that put him in situations that could be "misconstrued" and for having reacted in anger when the accusations were made public.