The nation's top intelligence official on Thursday defended his colleagues' findings that Russian agents interfered in the U.S. election — and dismissed the credibility of WikiLeaks founder Julian Assange a day after the president-elect appeared to back him over the intelligence community.
Director of National Intelligence James Clapper also took a swipe at the president-elect for "disparaging" the intelligence community.
Clapper told the Senate Armed Services Committee that Russia had stepped up its cyber espionage operations, but stopped short of declaring the Russian election hacking an "act of war," saying that would be "a very heavy policy call" more appropriate for others to make.
The high-stakes Senate Armed Services Committee's hearing came after president-elect Donald Trump continued to cast doubt Wednesday on intelligence findings that Russia hacked Democratic National Committee emails. It also comes on a day in which lawmakers were being briefed on the breadth and depth of Russian interference in the American election and on the eve of Trump's own in-depth briefing on the matter.
NBC News confirms President Obama has received and was orally briefed on the report on Thursday.
Clapper, who will leave his post in the coming weeks, told the committee that lawmakers would be briefed next week and a redacted report was scheduled to be released afterwards.
He took a parting shot at Trump as he reasserted intelligence findings about Russian election hacking.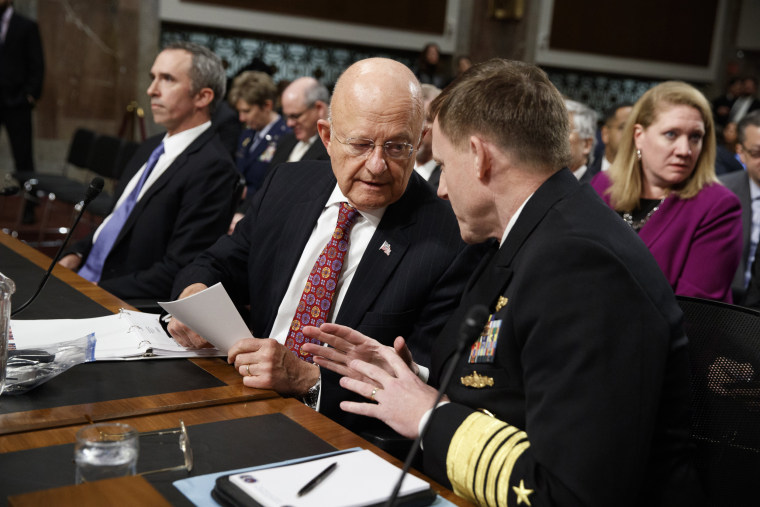 "I think there is a difference between skepticism and disparagement," Clapper responded after being asked by Democratic Sen. Claire McCaskill "Who benefits from a president-elect trashing the intelligence community?"
Trump has questioned the intelligence community's findings, most recently on Wednesday as he quoted Assange, who continues to deny Russia was the source of Democratic emails published by WikiLeaks.
"Julian Assange said "a 14-year old could have hacked Podesta' — why was DNC so careless?" Trump said on Twitter. "Also said Russians did not give him the info!"
However, Clapper said Russia had "clearly assumed an even more aggressive cyber posture by increasing cyber espionage operations, leaking data stolen from these operations, and targeting political infrastructures systems."
The hearing sets the stage for a potential showdown between lawmakers and the president-elect on a sensitive issue: the extent to which Russians weighed in on Trump's win.
McCain said the purpose of reviewing Russia's involvement in election hacking is not to call into question the outcome of the presidential election. However, such a review, he said, is vital and necessary to democracy and free and fair elections.
"Every American should be alarmed by Russia's attacks on our nation. There is no national security interest more vital to the United States of America than the ability to hold free and fair elections without foreign interference,"McCain said in his opening statement. "That is why Congress must set partisanship aside, follow the facts, and work together to devise comprehensive solutions to deter, defend against, and, when necessary, respond to foreign cyberattacks."
Trump has called into doubt Russia's involvement and said the country needs to move on. Trump's comments have been chided by Democrats who claim his relationship with Russian president Vladimir Putin has influenced him to side with Russia over U.S. intelligence.
Many Republicans have been careful not to publicly criticize Trump's stances on Russian hacking.
During his appearance on 'The Jerry Bader Show" on a Wisconsin local radio on Thursday morning, House Speaker Paul Ryan said, while Russia attempt to meddle in the elections, Trump is "rightfully concerned" that partisans are using the hacking to try to "delegitimize his presidency".
However, Thursday's hearing — televised by many news networks — also gave the intelligence community a more public platform to discuss and defend their findings before a receptive body of lawmakers ahead of Trump's briefing.
In his opening statement, Sen.Jack Reed of Rhode Island, the committee's ranking Democrat, said Russian hacking is typically tough to detect, but this attack had a very easily identifiable signature. He suggested Putin wanted the U.S. to know about the hacking while preserving plausible deniability.
Clapper said he didn't want to answer because it touched on sources and methods in the classified hacking report. The report will also include a motivation for Putin's actions, Clapper told lawmakers.
Last week, facing mounting pressure to respond to the Russian hacking of the U.S. election campaign, the Obama administration announced retaliatory steps against Russia for its interference in American elections.
The administration's steps included economic sanctions coordinated by the Treasury Department and expelling Russian diplomats.
The administration also named specific Russian entities responsible for targeting Democratic Party groups in an attempt to undermine Hillary Clinton's presidential bid and upend the U.S. election. Based on an intelligence finding in October, President Obama has said senior figures in the Russian government were involved in the hacking.
In December, the CIA determined that Russia was behind a secret intelligence operation to influence the U.S. election and, in part, to help Trump win, a congressional official knowledgeable on the matter told NBC News.
In October, all 17 intelligence agencies signed onto a statement attributing the DNC hack to Russia.
Russia has denied involvement.
President Obama, in a wide ranging press conference last month, emphasized that his administration called out the Russians specifically in October and said the administration carefully weighed how to best respond to suspicions about Russian hacking given the hyper-partisan climate.
On Thursday, Secretary of State John Kerry stressed that he valued the intelligence community's efforts and assessments and rejected suggestions that they were politically motivated.
"I have the utmost respect in their credibility and in their day to day work," Kerry told reporters during a briefing. "I think they are deserving of an enormous debt of gratitude by everyone in the USA, and it doesn't mean that they are infallible, it doesn't mean that they are always correct but they certainly deserve respect in the way in which we question and evaluate what they present us."