Sen. Ted Cruz of Texas was one of several Republicans to speak out against white supremacy over the weekend after Saturday's shooting at a Walmart in El Paso left 20 dead and 26 wounded. Cruz called the attack "a heinous act of terrorism and white supremacy."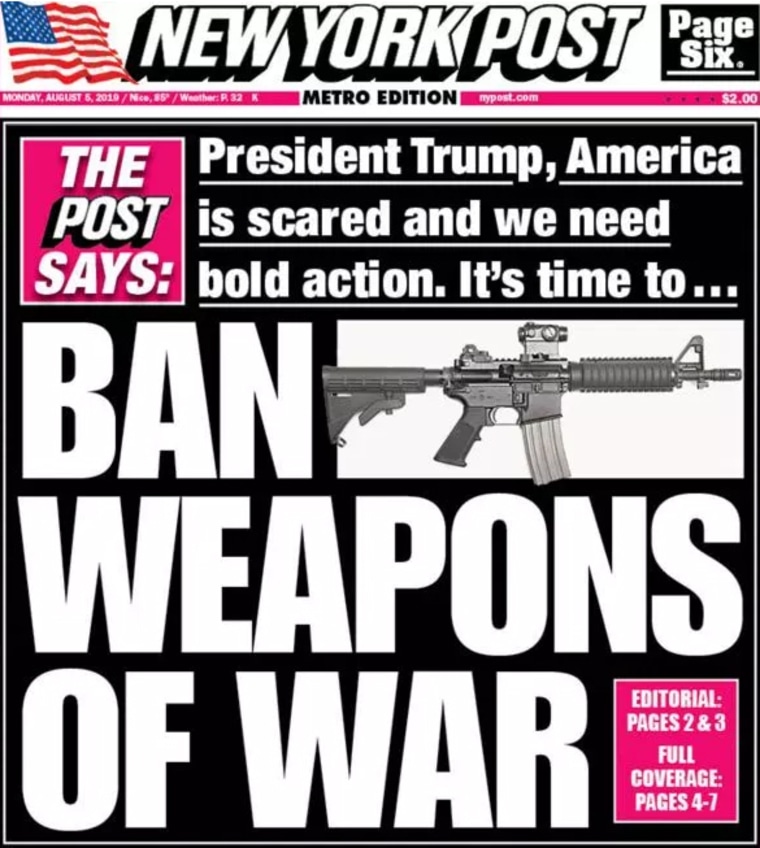 Just before the attack, the suspect posted a diatribe against immigrants in Texas and pushing talking points about preserving European identity in America, a senior law enforcement official told NBC News.
Federal prosecutors were treating the shooting as a domestic terrorism case.
Rep. Dan Crenshaw, R-Texas, tweeted that "white supremacy has no place in this world," while Ivanka Trump, the president's daughter and senior adviser, said white supremacy was "an evil that must be destroyed."
Unlike some of his Republican colleagues, Cruz stopped short of calling for background checks on firearms.
However, after the shooting in El Paso and a second mass shooting in Dayton, Ohio, early Sunday, where a gunman killed at least nine people and injured 27 others, there were also hints of a possible shift in conservative attitudes on gun control.
In a front-page editorial, the right-leaning New York Post newspaper called to "ban weapons of war."
The paper appealed to President Donald Trump to "come up with answers. Now. Beginning with the return of an assault-weapons ban."
"It does not have to be this way. It should not have to be this way. Mr. President, do something — help America live without fear," wrote the paper.
It also suggested other measures that politicians could take, including better background checks.
This was a line that other high-profile Republican senators, including Lindsey Graham of South Carolina, Pat Toomey of Pennsylvania and Susan Collins of Maine, took over the weekend.
"Time to enact common-sense legislation in Congress to empower states to deal with those who present a danger to themselves and others — while respecting robust due process," tweeted Graham on Sunday, who supports so-called red flag measures that allow law enforcement to seize firearms from people who may pose a danger to themselves or others.
Toomey released a statement pushing Congress to pass the legislation he proposed, together with Sen. Joe Manchin, D-W.Va., to expand background checks on all commercial firearm sales.
Collins, meanwhile, defended her record supporting closing loopholes in background checks "to prevent the sale of firearms to criminals and individuals with serious mental illness."
A growing number of Democrats have called on Senate Majority Leader Mitch McConnell to cancel the August recess so that they can take up gun control legislation in the wake of the two mass shootings.
Cruz, who said he was "deeply horrified by the hateful anti-Hispanic bigotry expressed in the shooter's so-called manifesto," was not alone among Republicans in calling out white supremacy after the shooting.
The Republicans speaking out against white supremacy did not lay any blame on Trump for encouraging white nationalists, while Democratic hopefuls in the 2020 election sharply criticized the president over the weekend. They argued that his reluctance to denounce white nationalism bears some responsibility on the shooting in El Paso.
Beto O'Rourke, a former Texas congressman whose district included El Paso, said Saturday that Trump "is a racist and he stokes racism in this country."
In February, Trump visited El Paso and held a rally to drum up support for his wall on the border with Mexico.
Trump said in March that he did not view white nationalism as a growing global threat, after an attack by a white supremacist on two mosques in New Zealand killed 49 people. On Sunday, he condemned the El Paso and Dayton attacks.
Texas Land Commissioner George P. Bush, the grandson of former President George H.W. Bush and son of Jeb Bush, the former Florida governor, said that "standing firm against white terrorism" should be a national priority, noting that he had served in Afghanistan where his mission was to "fight and kill terrorists."
On Sunday, White House adviser Kellyanne Conway in a tweet on Sunday called for unity and said that "working as one to understand depraved evil & to eradicate hate is everyone's duty."