The Senate overwhelmingly voted Thursday to impose new sanctions on Russia, joining the House in approving the measure by veto-proof margins.
The vote on the bill — which would also add sanctions against North Korea and Iran — was 98-2, with only Bernie Sanders, I-Vt., and Rand Paul, R-Ky., dissenting. The House passed the measure on Tuesday by 419-3.
The bill targets Russia's aggression in Ukraine and Syria, citing corruption, human rights abuses and weapons sales.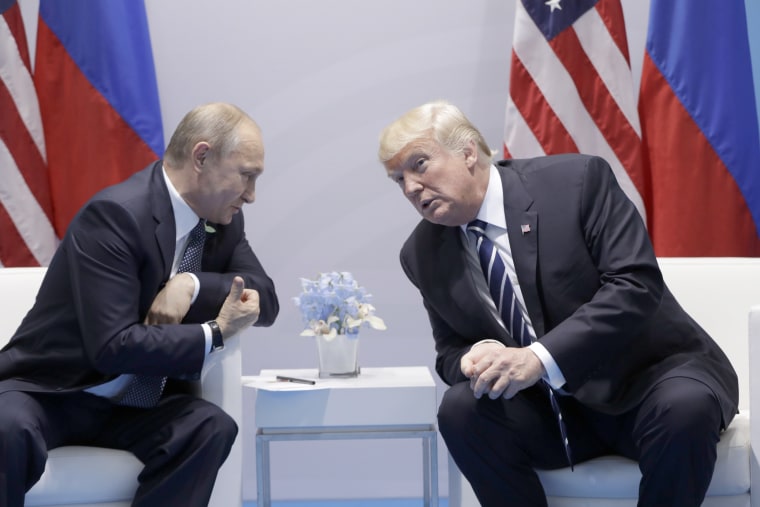 The bill next goes to the White House, which hasn't said whether President Donald Trump is considering vetoing it. The measure also includes a provision that would limit Trump's authority to lift the sanctions unilaterally.
White House communications director Anthony Scaramucci left open the possibility of a veto on Thursday, saying in an interview on CNN's "New Day": "He may sign the sanctions exactly the way they are, or he may veto the sanctions and negotiate an even tougher deal against the Russians."
But Sen. Bob Corker, R-Tenn., chairman of the Foreign Relations Committee, said: "They can count. They understand math. I just can't imagine they're considering doing so.
"I think they understand that this is a fait accompli," Corker told reporters in Washington after the vote. "To even consider vetoing something with this support is probably not in anybody's interest."
Congress could enact the bill over a Trump veto by two-thirds' votes in both chambers — far less than the 98 percent-plus support they've already given it.
The congressional votes drew criticism not only from Russia but also from allies.
"This arouses deep regrets, because such actions imply aggravating circumstances and special cynicism," Russian President Vladimir Putin said at a joint news conference with Finnish President Sauli Niinisto in Savonlinna, Finland.
Putin called the proposed sanctions "an obvious attempt to use geopolitical advantages in competition to pursue [the United States'] economic interests at the expense of its allies," according to the Russian news agency TASS.
Leonid Slutsky, chairman of the Foreign Affairs Committee of the Duma, Russia's parliament, went further, saying new sanctions would "undermine the possibility of restoring Russian-U.S. ties and will complicate them even further in the foreseeable future," TASS reported.
And the European Union also made its disappointment known, warning that Russian sanctions could harm European businesses, which would be subject to penalties for doing business with Moscow.
"The U.S. bill could have unintended unilateral effects that impact the EU's energy security interests," EU President Jean-Claude Juncker said in a statement, adding: "New sanctions should always be coordinated between allies."
"If our concerns are not taken into account sufficiently, we stand ready to act appropriately within a matter of days," Juncker said. "America First cannot mean that Europe's interests come last."
Sanders said he voted against the measure even though he strongly supports sanctions against Russia and North Korea. But he said he feared that new sanctions against Iran would weaken incentives for Tehran to stick with the nuclear weapons deal it agreed to with world powers in 2015.
A spokesperson for Paul said the senator supports sanctions only against North Korea.