Oklahoma Attorney General Scott Pruitt, a climate change skeptic who fought the Environmental Protection Agency's regulations on carbon emissions, moved a big step closer to becoming that agency's leader.
The Senate Environment and Public Works Committee's Republicans voted 11-0 Thursday in approval of Pruitt serving as the EPA's administrator following a boycott by Democrats. A vote by the full Republican-led Senate will make him President Trump's point man for his plan to make the agency more industry-friendly.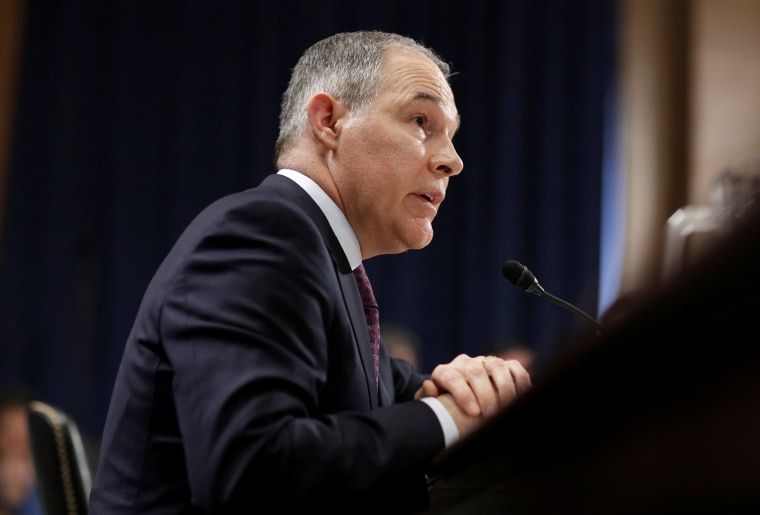 Pruitt's nomination has become a flashpoint in the debate over the future of America's energy policy, and its role in the fight against global warming.
Related: What Could a Trump Administration Mean for the Environment?
Trump has vowed to "cancel" the Paris climate deal — an agreement between more than 100 nations to ensure the planet warms no more than 3.6 degrees Fahrenheit. The National Oceanic and Atmospheric Administration and NASA both say 2016 was the hottest year in recorded human history.
As the top law enforcement officer in a state that depends on fossil fuel production, Pruitt resisted President Obama's climate change agenda, which included stricter rules on carbon emissions. He was among several attorneys general to sue the EPA. He may soon find himself on the other end of the legal actions.
Pruitt has vowed to recuse himself from getting involved with those lawsuits — if the EPA ethics council tells him to.
Pruitt questions the impact of climate change, and its causes. He said he doesn't share Trump's claim that climate change is a hoax, but told a Senate committee that the issue remains unresolved.
"I believe the ability to measure with precision the degree of human activities impact on the climate is subject to more debate on whether the climate is changing or whether human activity is contributing to it," Pruitt told the panel last month.
Related: Scott Pruitt, Trump's Pick to Head EPA, Questions Human Impact on Climate Change
Pruitt has acknowledged that he attended fundraisers in Oklahoma with companies tied to the oil and gas industries. He said he didn't recall asking them directly for political contributions.
Democrats accuse him of lobbying on behalf of the Oklahoma energy sector. Pruitt says he has worked to make sure all voices in the debate were heard.