Sen. Kirsten Gillibrand is asking that the Committee on Armed Services hold a hearing and investigate the reported online sharing by current and former Marines of nude photos of female service members, as a woman whose picture was posted is speaking out.
"As a Marine Corps veteran, I am disheartened and disgusted with this scandal," said Erika Butner, who served in the Marines for four years until June and whose photo was posted to a "Marines United" Facebook page without her consent, during a news conference Wednesday.
"Victim blaming and the excuse that some are giving that 'boys will be boys' needs to stop," Butner, 23, said.
The scandal involved naked photos of more than two dozen women service members being posted online. Some were of current active duty Marines or of those who have served, and photos were shared of women in other branches of the military. Many of the comments posted online were graphic, and some condoned sexual assault and rape. Personal information like names, rank, and duty stations was also posted online.
Marines Commandant Gen. Robert B. Neller has called the actions "embarrassing to our Corps, to our families and to the nation."
Gillibrand, a Democrat who represents New York, in a letter to Armed Services Committee chairman Sen. John McCain and ranking member Sen. Jack Reed, said she wants a hearing to determine whether the online sharing of naked photos and the comments are part of a larger pattern of misconduct in the armed services.
"This unacceptable behavior spotlights a culture of disrespect for female service members that undermines good order and discipline in the military and weakens military readiness," Gillibrand wrote in the letter.
Butner said she was in the Marines for four years before leaving the Corps in June. In August she learned from a friend that a photo of her had been posted to the Facebook page without her consent and in January she notified the Naval Criminal Investigative Service and Google about a shared drive that contained photos of women, some of whom were naked.
"I knew some of these women did not give their permission to post their photos and some were not aware that they were posted," she said.
Related: Nude Photo Posts of Female Marines Being Investigated by NCIS
The "Marines United" Facebook page and shared drives where photos were distributed came to light this week after it was reported by the War Horse, a nonprofit news organization run by Thomas Brennan, himself a Marine veteran, and published by the Center for Investigative Reporting on Saturday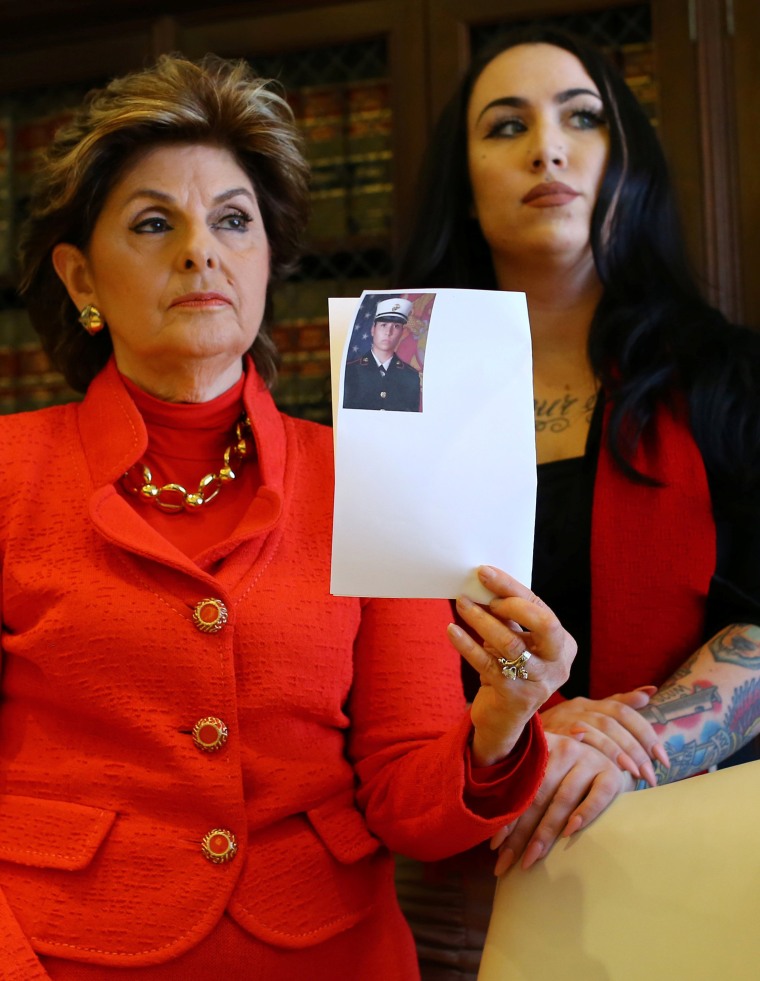 The "Marines United" Facebook page has been taken down, and the military is investigating. A Marine veteran who first posted the drive link to share photos was fired from his job as a government subcontractor, and a Marine who posted photos of a woman at Camp Lejeune was discharged from active duty, according to the report.
Although the "Marines United" page has been taken down, active duty Marine Lance Cpl. Marisa Woytek said this week that other shared drives are still active. "These people aren't stopping. They're making it a point to be worse," she said in a phone interview.
Woytek appeared with Butner at Wednesday's press conference, along with attorney Gloria Allred. Woytek said she was clothed in photos posted online, but she said in a statement that "comments were made regarding sexual violence."
Butner encouraged other victims to come forward. "We will not be silenced," she said.