WASHINGTON — One of the most senior leaders in the U.S. intelligence community said Wednesday that she did not wiretap Trump Tower.
Asked point-blank by her one-time boss, former CIA Director Michael Hayden, "Did you wiretap Trump Tower?" Sue Gordon, the principal deputy director of national intelligence said, "No, I did not."
Hayden smiled and said, "OK."
The exchange, which caused some audience members to gasp and others to laugh, appeared good-natured, and occurred at an annual intelligence conference at George Washington University. Hayden was director of the CIA from 2006 to 2009, serving as Gordon's boss during that time. Gordon left the CIA in 2015 after 25 years to become head of the National Geospatial-Intelligence Agency, and assumed her current position a month ago.
Gordon was serving as moderator for a panel of four former CIA directors, Hayden, Porter Goss, William Webster and the most recent ex-director, John Brennan.
During the discussion, Brennan called on President Trump to accept the U.S. intelligence community's unanimous assessment that Russia interfered in the 2016 election, saying his lack of trust is hurting the American people's confidence in the intelligence community.
Trump has repeatedly disparaged reports of Russian interference as a hoax. On Sept. 22, he tweeted "The Russia hoax continues" after reports that Russians had bought Facebook ads to influence voters.
Brennan said the "trust and confidence from the American people in the intelligence community, intelligence professionals, would be stronger if the first customer of the intelligence community's work accepted unambiguously the unanimous position of the intelligence community in terms of Russian interference in the election."
"When that first customer denigrates that work and the work of the professionals in the intelligence community, how then can the American people embrace the work and the mission of the intelligence community?"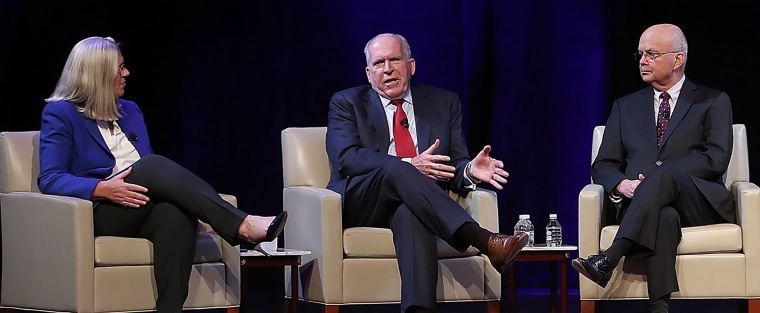 Brennan said that the disconnect "has undermined what the great women and men of the intelligence community" do and that if there was "greater acknowledgment of the professionalism and integrity" of them by the president, then the public might be more accepting of the importance and value of their work.
Gordon defended President Trump's relationship with the intelligence community, saying, "We're used to having our work questioned, that's the nature of intelligence."
Gordon also said the IC spends more time with this president than she's seen in previous administrations and there is healthy respect for the craft of the women and men who work in intelligence.