Serena Williams talks in a new essay about her 2018 U.S. Open loss to Naomi Osaka, whose victory was overshadowed by controversy.
Williams appears in an unretouched image on the newsstand cover of the August issue of Harper's Bazaar in a gold Stella McCartney gown and Tiffany & Co. earrings and necklace.
In her emotional essay for the magazine, the tennis legend details the apology text she sent to Osaka days after the September match.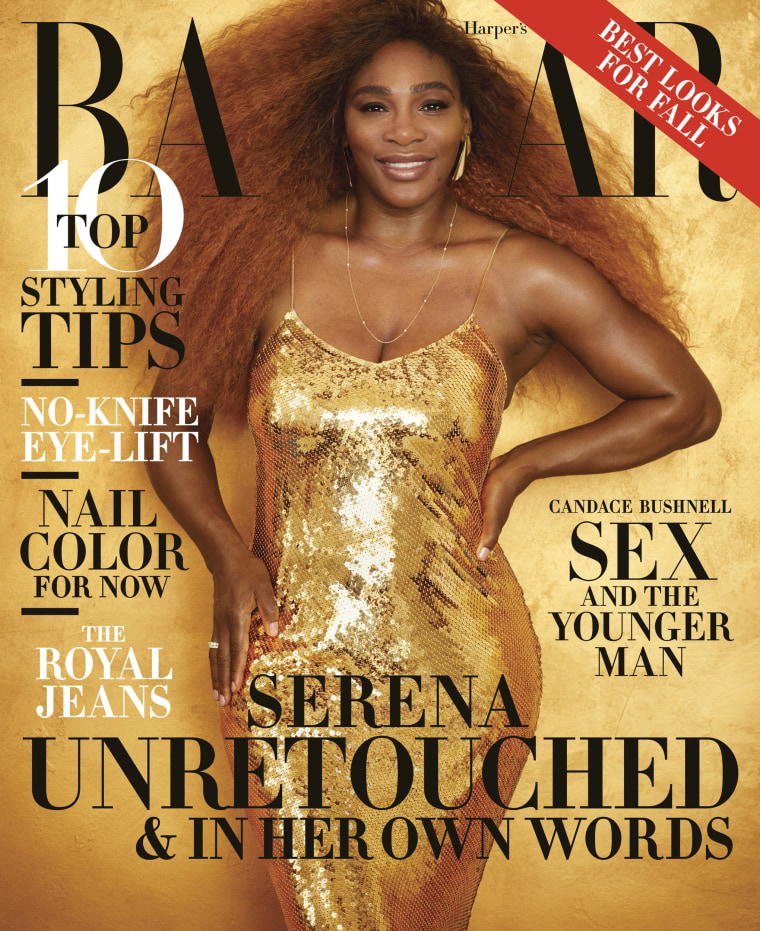 Williams candidly discusses how she felt "disrespected and defeated" by Carlos Ramos, the match's chair umpire, with whom she had a series of confrontations that day. Ramos issued three penalties against Williams in the second set. Osaka defeated her childhood idol 6-2, 6-4, and became the first tennis player born in Japan to win a Grand Slam tournament.
Williams said in her essay that Osaka won soundly and that she "could not have been happier for her."
"As for me, I felt defeated and disrespected by a sport that I love — one that I had dedicated my life to and that my family truly changed, not because we were welcomed, but because we wouldn't stop winning," she wrote in the essay.
Ramos, who cited her a third time that day after she called him a "thief" for taking a point from her, penalized her for expressing her opinion, Williams wrote. She said she is not asking to be spared penalties, but instead to be held to the same standard as everyone else, including her male counterparts, who she said are "met with a smile or even a laugh from the umpire, as if they're sharing an inside joke" when they fight back against referees.
"Not only was a game taken from me but a defining, triumphant moment was taken from another player, something she should remember as one of the happiest memories in her long and successful career," Williams wrote. "My heart broke. I started to think again, 'What could I have done better? Was I wrong to stand up?' Why is it that when women get passionate, they're labeled emotional, crazy, and irrational, but when men do they're seen as passionate and strong?"
She said she struggled to find peace afterward and started seeing a therapist in her search for answers.
"Finally I realized that there was only one way for me to move forward," she wrote. "It was time for me to apologize to the person who deserved it the most."
She sent Osaka an apology text that said: "Hey, Naomi! It's Serena Williams. As I said on the court, I am so proud of you and I am truly sorry. I thought I was doing the right thing in sticking up for myself. But I had no idea the media would pit us against each other. I would love the chance to live that moment over again. I am, was, and will always be happy for you and supportive of you. I would never, ever want the light to shine away from another female, specifically another black female athlete. I can't wait for your future, and believe me I will always be watching as a big fan! I wish you only success today and in the future. Once again, I am so proud of you. All my love and your fan, Serena."
Osaka's response moved her to tears, Williams said.
"People can misunderstand anger for strength because they can't differentiate between the two," Osaka said. "No one has stood up for themselves the way you have and you need to continue trailblazing."
Williams said the incident highlighted a sexist reality that thousands of women face in the workplace each day.
"We are not allowed to have emotions, we are not allowed to be passionate," she wrote. "We are told to sit down and be quiet, which frankly is just not something I'm okay with. It's shameful that our society penalizes women just for being themselves."
Since she touched down in the tennis world as a teenager, "it's never been easy," Williams wrote. But she said she is committed to using her voice to aid the next girl who comes along who looks like her.
Williams said her young daughter, Alexis Olympia Ohanian Jr., is ultimately the reason she uses her voice and picked up a racket again after the 2018 U.S. Open.
"Love breathes life and newfound perspective into people," she wrote. "It's not about quitting when someone presents a challenge; it's about getting up when you are down, dusting yourself off and asking, 'Is that the best you got?' Because I have God with me, and I can take whatever comes my way."