All-time tennis great Serena Williams on Tuesday said she's walking away from the sport after the U.S. Open, writing that she's in the midst of a "transition" from the court.
In an essay posted by Vogue, Williams said she has "never liked the word retirement" and that it "doesn't feel like a modern word to me."
However, she said in no uncertain terms that she's about to leave the sport she's dominated for decades.
"I've been thinking of this as a transition, but I want to be sensitive about how I use that word, which means something very specific and important to a community of people," she added.
"Maybe the best word to describe what I'm up to is evolution. I'm here to tell you that I'm evolving away from tennis, toward other things that are important to me."
'Something's got to give'
Williams, who has a 4-year-old daughter, hinted that she wants to grow her family — while also bemoaning the societal pressures heaped on women.
Female athletes don't get the chance to be like quarterback Tom Brady, who just turned 45 and is still an elite player, according to Williams.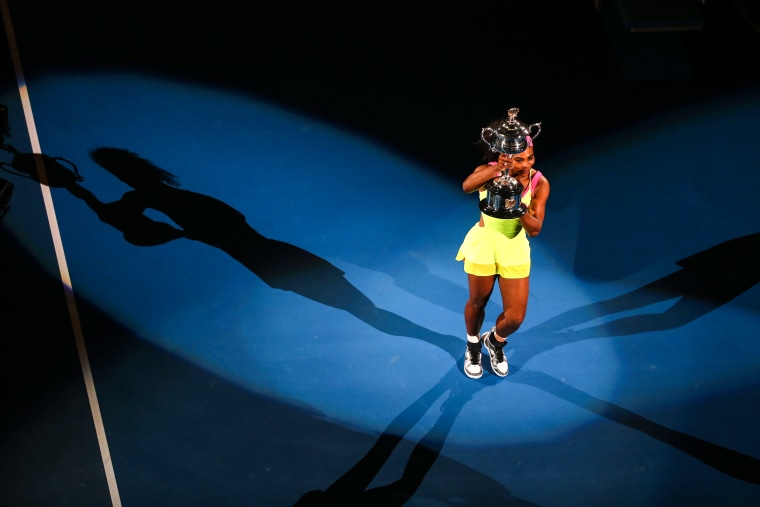 "Believe me, I never wanted to have to choose between tennis and a family. I don't think it's fair," she wrote. "If I were a guy, I wouldn't be writing this because I'd be out there playing and winning while my wife was doing the physical labor of expanding our family. Maybe I'd be more of a Tom Brady if I had that opportunity."
She added: "But I'm turning 41 this month, and something's got to give."
A reluctance to admit it's time to move on
Williams wrote that she leaned on the advice of her friend and all-time golf great Tiger Woods before coming to this decision.
"He said, 'Serena, what if you just gave it two weeks? You don't have to commit to anything. You just go out on the court every day for two weeks and give it your all and see what happens,'" she wrote.
Leaving the sport she loves is no easy task, she wrote, explaining the mere thought of hanging up her racket is a tearful subject.
"But I've been reluctant to admit to myself or anyone else that I have to move on from playing tennis. Alexis, my husband, and I have hardly talked about it; it's like a taboo topic," according to Williams.
"I can't even have this conversation with my mom and dad. It's like it's not real until you say it out loud. It comes up, I get an uncomfortable lump in my throat, and I start to cry."
Williams' essay dropped a day after she won a match for the first time this year, beating Nuria Parrizas-Diaz 6-3, 6-4 at the women's National Bank Open in Toronto.
Relishing 'these next few weeks' 
Her career has been marked by a competitive fire that's occasionally landed her in hot water. But in many more instances, her on-court appearances have ended in ballet-like, celebratory twirls or lifts of major trophies.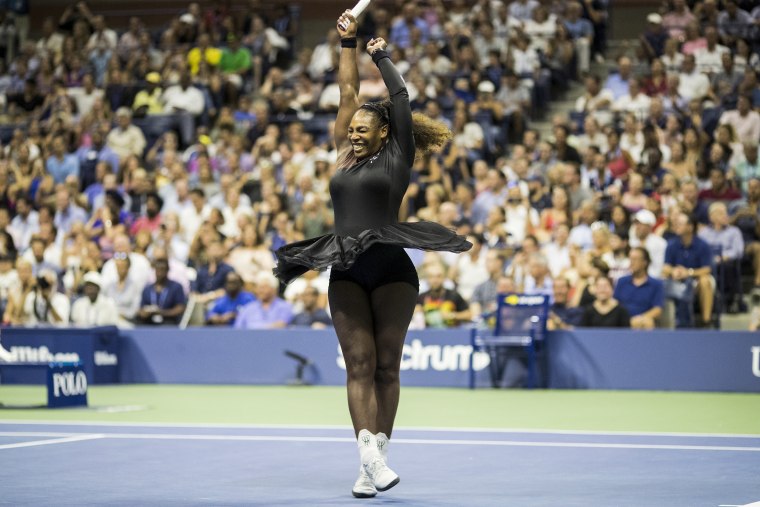 Williams, the winner of 23 major singles titles, insisted she's never been much for imagining how history books will reflect on her career.
"I don't particularly like to think about my legacy," the tennis icon wrote. "I get asked about it a lot, and I never know exactly what to say. But I'd like to think that thanks to opportunities afforded to me, women athletes feel that they can be themselves on the court. They can play with aggression and pump their fists. They can be strong yet beautiful."
Williams' last Grand Slam singles title came at the 2017 Australian Open, when she bested her trailblazing older sister Venus Williams, who has won seven major singles titles.
She said she "wasn't ready to win Wimbledon" this year.
"And I don't know if I will be ready to win New York," Williams added, a reference to the U.S. Open. "But I'm going to try. And the lead-up tournaments will be fun."
One word: Serena and women's tennis
Few athletes have ever been as closely aligned with a sport as Serena Williams and tennis.
"When your name is synonymous with just being one word, Serena or Venus ... Serena, she's just transformed the sport," TV commentator and former player Rennae Stubbs told NBC News Now on Tuesday.
"Look, she's going to be sorely missed, but this is what happens in sport. At some point you have to retire. Age is something, also she wants to move on in her life," Stubbs said.
Sports sociologist Harry Edwards said Williams followed in the footsteps of tennis pioneers like Althea Gibson and Ora Washington — but then took it to a new level with the expansion of sports television.
"She's not just important to the sports but to women's access to sports," Edwards, a University of California, Berkeley professor emeritus, told NBC News.
"Other women played tennis, paid the price and kept that door open. And then Venus and Serena stepped into and opened it even wider," Edwards said.
Role models
Serena Williams said she modeled her game after Pete Sampras and Monica Seles, but gave the most credit to her big sister for setting what must have seemed like an impossible standard to follow.
"But if I hadn't been in Venus's shadow, I would never be who I am," she said. "When someone said I was just the little sister, that's when I got really fired up."
A new generation of Black female athletes have picked up tennis rackets after watching the Williams sisters, including current world No. 11 Coco Gauff.
Williams' retirement announcement comes within months of fellow all-time female greats — like basketball's Sue Bird and Sylvia Fowles and track's Allyson Felix — also saying they were stepping away.
In an Instagram post, she said: "The countdown has begun. I have to focus on being a mom, my spiritual goals and finally discovering a different, but just exciting Serena. I'm gonna relish these next few weeks."