Seven Baltimore police officers were indicted Wednesday for federal racketeering crimes ranging from filing false overtime claims while actually at a casino to robbing a driver during a traffic stop.
One of the cops is facing a separate charge for drug distribution.
Investigators said the crimes — some of them committed by some members of the elite Gun Trace Task Force — took place last year as the Department of Justice investigated the Baltimore Police Department for use of excessive force, among other violations. The racketeering investigation was conducted in secret over the past year as part of what officials described as a sweeping reform effort across the department.
Those indicted include Det. Momodu Bondeva Kenton "GMoney" Gondo, 34; Det. Evodio Calles Hendrix, 32; Det. Daniel Thomas Hersl, 47; Sgt. Wayne Earl Jenkins, 36; Det. Jemell Lamar Rayam, 36; Det. Marcus Roosevelt Taylor, 30; and Det. Maurice Kilpatrick Ward, 36.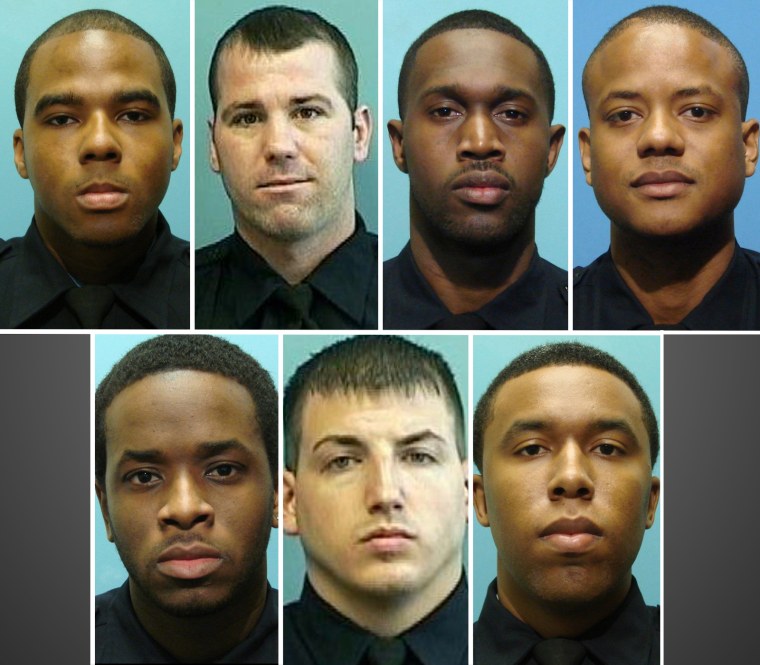 Maryland U.S. Attorney Rod J. Rosenstein said the crimes were an abuse of power.
"They were involved in stopping people who had not committed crimes and not only seizing their money but pocketing it," he said. "These are really simply robberies by people who are wearing police uniforms."
Baltimore City Police Commissioner Kevin Davis said the indictments were "a punch in the gut" for the Baltimore Police Department. "These officers are 1930s-style gangsters as far as I'm concerned," he said.
Davis said that this investigation is part of a larger effort to reform the police department.
"Reform isn't always pretty. It's messy sometimes," Davis said.
Last August, in the wake of the tumult following Freddie Gray's death, the Justice Department issued a report that said the Baltimore police department often used excessive force and conducted unlawful traffic stops in some of the city's poorest and predominantly black communities. As part of an agreement with the DOJ, the Baltimore police department agreed to a consent decree to install sweeping reforms.
"We wouldn't be under a consent decree if we didn't' have issues. We have issues," Davis said.
Posters detailing specific allegations from 2016 sat on either side of the podium during the press conference.
In one case, four of the officers are alleged to have stolen $200,000 from a safe and bags and a watch valued at $4,000. In July 2016, three officers conspired to impersonate a federal officer in order to steal $20,000 in cash.
Prosecutors said one officer helped a friend being tracked as part of a drug conspiracy remove a GPS tracking device placed by the Drug Enforcement Agency on the person's car.
In another case, the officers watched a drug home for a full day and then stole $3,000 from people who later emerged from the home.
In yet another instance, an officer charged overtime while at a casino when the sergeant in charge was on vacation, the Maryland U.S. attorney's office said. Another officer claimed overtime while vacationing in Myrtle Beach, South Carolina.
Sometimes, the officers turned off their body cameras to avoid recording what they were up to, according to the indictment.
As first reported by the Baltimore Sun, several of the officers were also highly praised in the October 2016 Baltimore Police newsletter in an article written by Lt. Chris O'Ree, a member of the ATF taskforce.
"I am extremely proud to showcase the work of Sergeant Wayne Jenkins and the Gun Trace Task Force," O'Ree wrote. "Sergeant Jenkins and his team have 110 arrests for handgun violations and seized 132 illegal handguns." He added, "I couldn't be more proud of the strong work of this team."
Rosenstein said that the investigation involved electronic surveillance and the installation of a recording device in the cars of one of the officers. He said that the recordings demonstrate "a lack of respect for the system, particularly in discussions about overtime."
One of the accused officers reportedly said that working for the police department is "easy money."
"I can assure you that for the officers that are doing their legitimate jobs, this is not easy money by any means," Rosenstein said.
The president of the Baltimore City Fraternal Order of Police, Gene Ryan, said he was "disturbed" by the charges.
"We are very disturbed over the charges filed against our members by the U.S. Attorney today," Ryan said in a statement. "These officers are entitled to due process and a fair trial in accordance with the Constitution and the laws of our state."