Four more people have died in the ferocious wildfire that erupted across Tennessee's Great Smoky Mountains National Park, authorities said Thursday, raising the death toll to 11 as officials continue to assess the damage.
Sevier County Mayor Larry Waters confirmed three deaths at a news conference Thursday afternoon. The state Emergency Management Agency confirmed the fourth Thursday night.
Waters did offer some good news: Search crews have found "quite a few" of the 70 or so people who were reported missing, he said at a news conference.
Seventy-four people have been treated for injuries, and some remain in hospitals, officials said. The state Emergency Management Agency said almost 8,500 customers remained without power Thursday in Sevier County.
Families, meanwhile, have been asking for help to find their loved ones.
Drenching rain on Wednesday helped firefighters beat back the massive blaze, which still burned more than 17,000 acres and was about 10 percent contained, according to the Southern Area Incident Management Team, which assumed command of the fire.
"The rain we received may have slowed this fire for a day or two at a critical time, but the threat from this fire is still there," the team said.
Officials said crews were making significant progress in the search and clearing operations, which have been slowed by mud and rockslides caused by the wet weather.
Many county businesses were back open Thursday, and all but two county schools will be open Friday, officials said. Gatlinburg Mayor Mike Werner, who lost his own home, described the community as "mountain tough, telling NBC station WBIR of Knoxville: "It's a huge bump in the road, but we're going to be OK. We're going to be OK."
Photos: Smoky Mountains Charred by Three Days of Fires
Authorities had previously said seven people were dead. The family of one of them identified her to NBC News on Thursday as Alice Hagler, 70.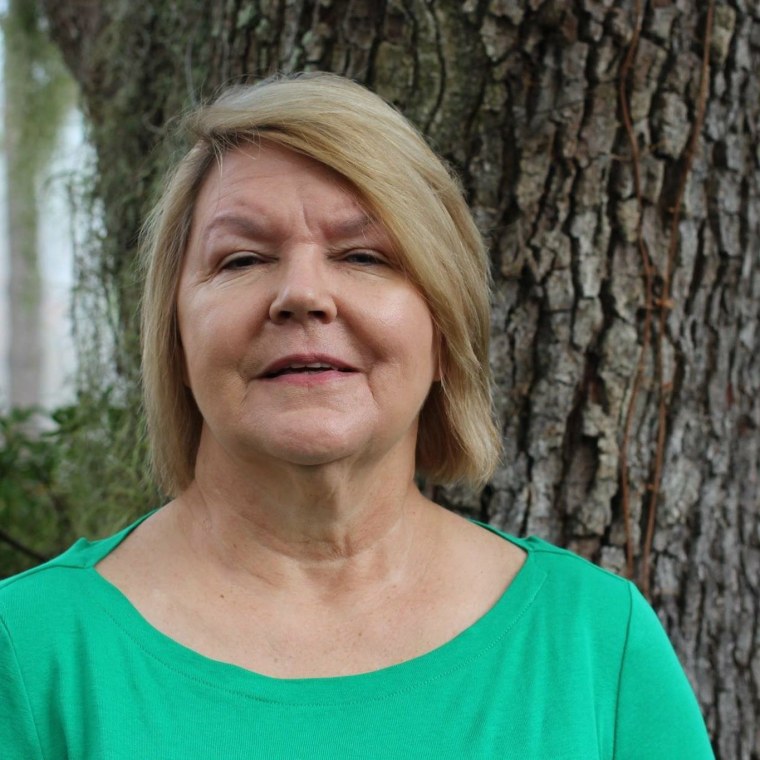 Hagler was last heard from on Monday night, when she was on the phone with a son at her home in Gatlinburg and the line went dead, WBIR reported.
"My mother called me frantically that the house was on fire, yelling that the house was on fire, and I told her to get out of the house," James Wood told the station. He tried desperately to return to the cabin where they lived, but he found that the inferno was too intense.
"I made my best to get to her," Wood said. "The fires were absolutely, entirely impossible to get through up on Wiley Oakley Road. I did make it to the road, but two miles up I couldn't make it any further."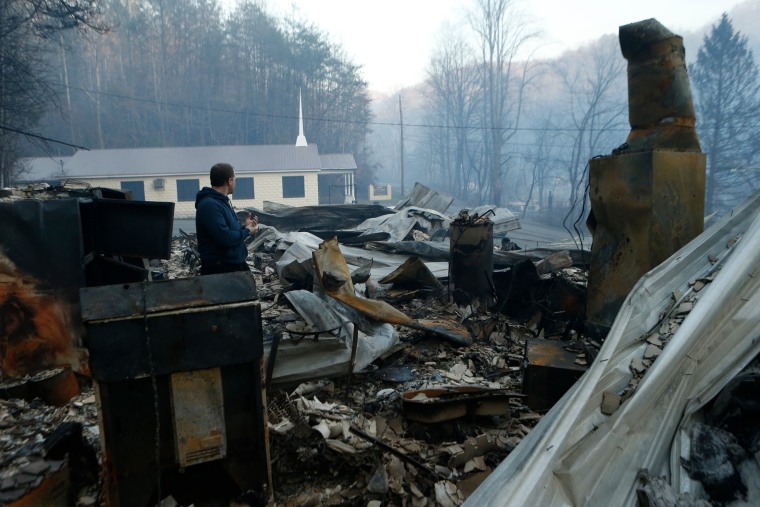 Incident commanders said the blazes started with the human-caused Chimney 2 Fire, which was reported in the park Nov. 23. By Monday, the region's prolonged drought and extreme winds were causing the fire to spit out embers that quickly ignited numerous new fires, they said.
Fire commanders said more than 700 structures in Sevier County have been damaged or destroyed — about 300 of them in Gatlinburg — and as many as 14,000 people were forced to evacuate their homes, authorities said.
Rescue crews could finish searching Gatlinburg by Thursday night. City officials said owners, residents and renters will be allowed "limited access" to their properties, businesses and homes in some areas of the town Friday morning.
President Barack Obama also spoke with Tennessee Gov. Bill Haslam and committed to providing any assistance to help fight the fire. The White House said the Federal Emergency Management Agency approved a grant this week to mobilize resources.
Major threatened areas include Gatlinburg and Pigeon Forge, the latter of which is home to Dollywood, the theme park named for country music superstar Dolly Parton.
The attraction itself wasn't damaged, a spokesman said, but the fire came perilously close. The theme park could reopen Friday.
Parton, a native of Sevier County, released a video Wednesday night pledging to pay $1,000 a month as part of the My People Fund to help families who lost their homes "until they get back up on their feet."
She said her companies — which include the DreamMore resort, where dozens of families were evacuated — "want to provide a hand up to all those families that have lost everything in the fires and to recover."