A New York City taxi driver hit a bicyclist and then veered onto the sidewalk, striking three pedestrians, authorities said Monday.
Six people, including the 60-year-old cab driver, were taken to NYC Health & Hospitals/Bellevue. He and the bicyclist, described as a 50-year-old man, were stable, according to a Tuesday update from the New York Police Department.
Two of the pedestrians were in critical condition with severe leg injuries, the department said, adding one was a 48-year-old woman and the other was a 32-year-old woman. A third pedestrian, also a 32-year-old woman, was stable with bruising about the body.
The incident happened near the intersection of Broadway and 29th Street, about four blocks south of the Empire State Building, about 1 p.m. ET, the Fire Department of New York said.
The cab driver "attempted to make a left turn onto southbound Broadway, and struck the bicyclist with the front left corner of the vehicle," police said. "The bicyclist was knocked to the roadway, and the taxi then dragged the male a short distance, continuing onto the east sidewalk."
The taxi, a 2019 Toyota Rav-4, continued southbound on the sidewalk, striking the three pedestrians and pinning two of them under the vehicle, according to police.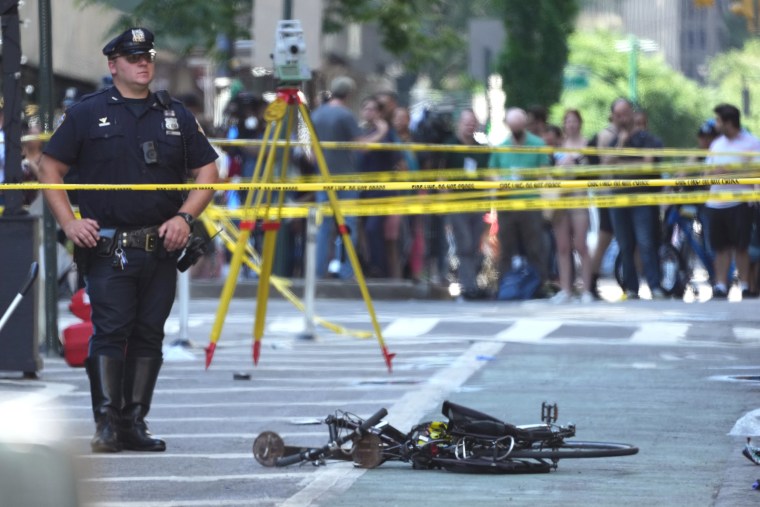 "As this occurs, a remarkable scene took place. About 15-20 New Yorkers attempted to pick this cab off these women," Deputy police Chief John Chell said at a press conference Monday afternoon.
After striking the pedestrians, the cab crashed into a building, according to the NYPD.
The driver remained on the scene afterward, the authorities said.
New York City Mayor Eric Adams called it a terrible tragedy and said the injured were in the city's prayers.
Two of the victims are from Columbus, Ohio, and two others are from Mexico, Adams said. New York officials were contacting governments where they live to see if they can be of any assistance, he said.
There is a lot of video from the scene, the mayor said. Investigators will also look at stop lights and right-of-way issues, he said.
"We're going to examine that and come to a full determination of exactly how all this unfolded," Adams said.
The mayor also thanked those who acted to lift the vehicle after the crash, saying it shows that "during a time of tragedy, New Yorkers step up."