Wild weather pummeled the United States' mid-section Thursday evening, with tornadoes reported in Kansas and Texas and flash-flood fears near Austin.
As much as 15 inches of rain fell in southeastern Texas, where Bastrop County residents were warned off the streets and 120 homes were ordered to be evacuated early Friday.
The latest round of bad weather brought heavy thunderstorms to the Plains states again, with tornado watches in effect in several states after several days of severe weather, according to the Weather Channel.
Tornadoes were reported in Texas and Kansas a day after two people were critically injured by a twister in Dodge City, Kansas, and at least two other "large and extremely dangerous" tornadoes caused damage in the state.
The National Weather Service confirmed a tornado hit southeast of St. George, Kansas, around 2:05 p.m. local time (3:05 p.m. EST) moving Northeast at 30 mph.
The NWS in Topeka said in a post on Twitter that the Pottawatomie County Emergency Management Office had also confirmed a tornado on the ground nearly ten miles away between Wamego and Louisville in Kansas.
The Kansas City International Airport was briefly evacuated during the severe weather, Joe McBride, marketing manager for the airport, said in a post on Twitter.
The Kansas City International Airport "has been evacuated," McBride said in the post. "People in garage tunnels."
About 15 minutes later, McBride sent another post that said the "all clear" had been given at the airport and people were being brought back into the terminal.
And parts of Jefferson County, Kansas, saw baseball sized hail Thursday from two storms, according to Dr. Greg Forbes, a severe weather expert at the Weather Channel.
There were preliminary reports of a tornado in Bryan, Texas, Thursday afternoon that damaged multiple homes, according to the Weather Channel.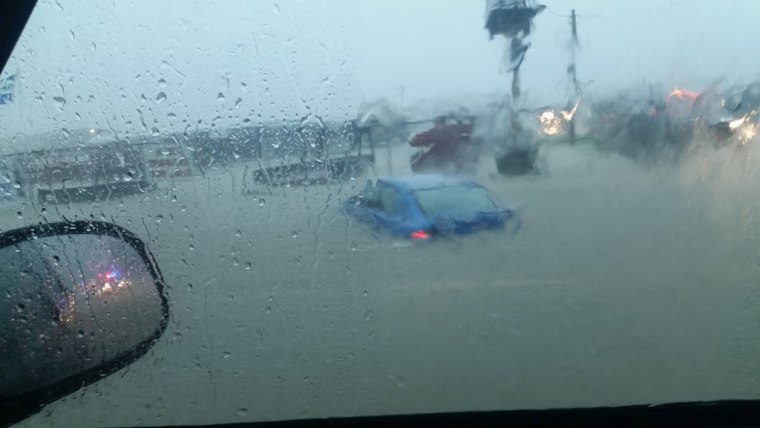 Heavy rains and thunderstorms were also drenching Texas, with the NWS issuing flash flood warnings in parts southeastern Texas, including Brazos County, where Bryan is located.
The storms were moving through College Station in Brazos County, NBC affiliate KPRC reported.
And in Kentucky, at least 19 students were trapped inside a cave after flash flooding swamped them, officials said Thursday afternoon.
The college students and four tour guides had entered the Hidden River Cave around 10 a.m. Thursday morning and were stranded after a severe thunderstorm brought rising water into the cave, the Kentucky State Police said in a statement.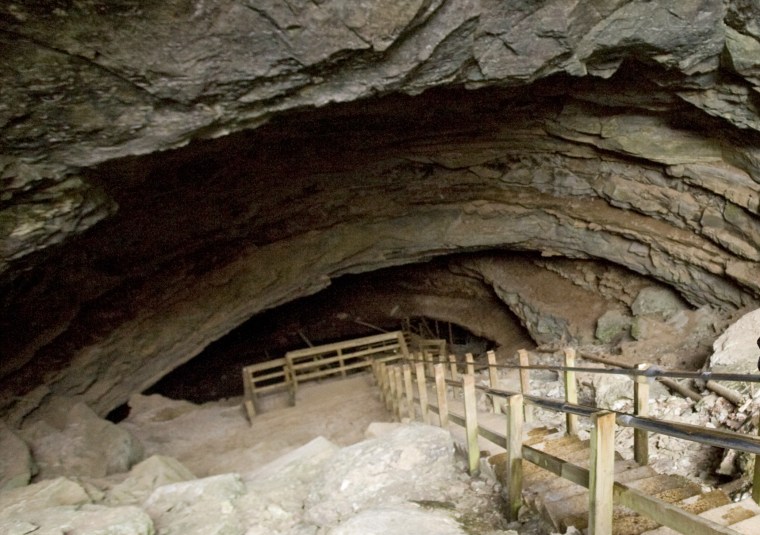 The water levels stranded the group in a portion of that has a higher ceiling, where they stayed for several hours until the rose high enough for them to wade out outside the cave, the statement said.
The National Weather Service in Louisville issued a flood advisory for parts of Hart County, Kentucky, and said Horse Cave would experience flooding.
The severe weather in Kentucky was technically formed by a different weather pattern than the storms hitting the Plains, Ryan Sloane at the Weather Channel told NBC News, but "Was part of the overall system we're seeing this week."
"They're two simultaneous but independent weather patterns," Sloane said.