A storm system that flattened homes across the Midwest slammed the Northeast on Tuesday with heavy rain and strong winds, knocking out power for hundreds of thousands, snarling transportation and overturning semi-trucks on interstates.
A 79-year-old man was killed in Poolesville, Maryland, when his vehicle struck a tree that had been blown over in the storm, according to Montgomery County police. No further information was immediately available late Tuesday, he said.
Seventy million Americans from the Ohio Valley to Maine faced 70 mph winds and 2-inch hail, as well as the possibility of tornadoes. Boston was under a tornado watch for the first time since 2012.
Six states from West Virginia to New Jersey were under severe thunderstorm watches Tuesday night, the National Weather Service said, with major airports in the region reporting significant delays.
About 770,000 customers across the region were without power at some point Tuesday evening, more than half of them in Pennsylvania and New Jersey, utilities in the states reported. Across the larger region, about 670,000 customers remained without power at 11 p.m. ET.
Power in parts of New Jersey and Pennsylvania wasn't expected to be restored until after the Wednesday morning rush hour, canceling PATCO Speedline transit between Philadelphia and Camden County, New Jersey, PATCO said late Tuesday. New Jersey Transit said it would honor PATCO tickets but warned of delays up to an hour Wednesday morning.
Many regional rail lines were also halted during the evening rush hour, the Southeastern Pennsylvania Transportation Authority reported, and Amtrak suspended service between Washington, D.C., and Philadelphia for a time.
NBC Philadelphia: Car Flipped, Walls Damaged at New Jersey Mall
The winds were strong enough to overturn vehicles: In Chester County, Pennsylvania, a semi-truck was blown over on Interstate 95.
The latest bout of nasty weather comes as people from South Dakota to Illinois were cleaning up from the line of storms on Monday, a weather event known as a derecho for its fierce and sustained wind damage. At least 12 people were injured in Illinois — where one twister packed winds of up to 160 mph — but there were no reported deaths.
Wind as strong as 122 mph was recorded in South Dakota, and baseball-size hail fell in Indiana. The storms ripped up trees and downed power lines.
Thirteen tornadoes were reported in four states, according to The Weather Channel. In Illinois, where at least four twisters were confirmed by the National Weather Service, more than 8,300 customers were still without power Tuesday afternoon. Homes in the village of Sublette, west of Chicago, were leveled.
"It is a miracle when you see the devastation" that no one was killed, Gov. Bruce Rauner said.
The only good news: The storms lowered the temperatures that have baked much of the nation in a record-setting heatwave.
On Monday, the cold front responsible for the outbreak caused the derecho — a line of especially powerful winds that caused damage for at least 240 miles.
"Unfortunately, we've had a few storms already this year, but we don't usually have storms that devastate such a large area," Lee County, Illinois, Sheriff John Simonton told NBC News.
He said five people were rescued at a camping resort in Woodhaven Lakes, near Sublette, Illinois, after they became trapped in homes destroyed by a tornado. The twister was about a quarter-mile wide and at least 111 to 135 mph in strength, the National Weather Service said in a preliminary finding.
Most people suffered bumps, bruises and scratches — but one person's injuries were serious enough to warrant being transferred to a hospital, Simonton said.
PHOTOS: NBC CHICAGO: Storms Tear Through Northern Illinois
More than 15 fire departments and technical rescue teams, as well as Illinois State Police, were involved in the rescue and recovery operation. "We are making sure every resident has been checked on," Simonton added.
Particularly hard-hit was Coal City, a community of about 5,000 residents about 60 miles southwest of Chicago, where the National Weather Service confirmed that a twister touched down. The "long track" tornado was on the ground for at least 16½ miles and had peak winds of 160 mph.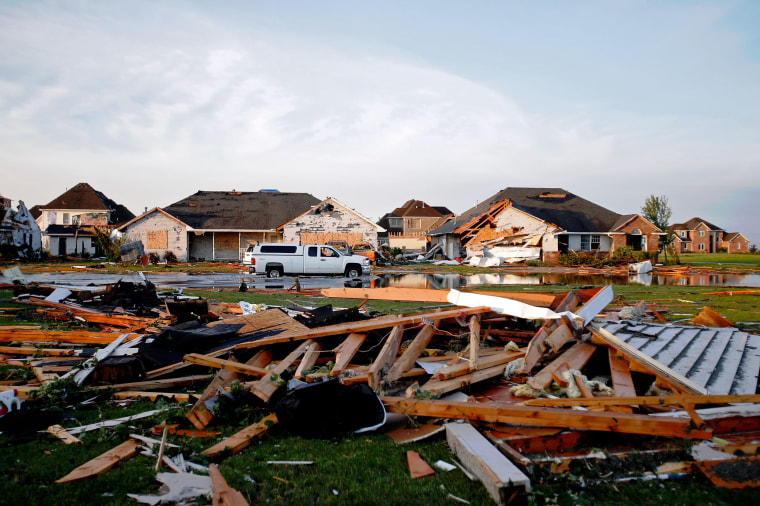 The area saw at least one tornado just east of Interstate 55 — cutting a destructive path about three-quarters of a mile wide.
Coal City police Sgt. Thomas Logan said there were no initial reports of fatalities, but there was widespread damage and flooding from heavy rains.
The storm took a "devastating path," he said. "Unfortunately, it went through the heart of our village."
Recovery efforts were hampered by fallen trees. Among the buildings damaged was a fire station in Coal City.
The community was also hit by a tornado in 2013. The damage from Monday's severe weather was "eerily close" to what the area experienced two years ago, Coal City Mayor Tarry Halliday said.
In Millington, Michigan, at least two homes were destroyed when a twister reportedly touched down.
"If we weren't in the basement, we wouldn't have made it," resident Jessica Clark told NBC station WEYI of Flint.