CHICAGO — Denee Mallon marveled at the view of Lake Michigan from her hospital bed in the Windy City, where she had just made history: the then 74-year-old transgender woman underwent a milestone sex reassignment surgery she'd sought for decades. "Here I am, finally, after all these years," she said. "It happened."
Her operation will be one of the first paid for by Medicare after she won a challenge in May to end the government insurance program's ban on covering such procedures for transgender individuals. Mallon's victory opened the door for other seniors to access this care and may influence whether more insurers – private and public - will cover them. LGBT advocates also hailed her case as another step forward to securing equal rights for transgender people.
View Gallery: Transgender Army Veteran Undergoes Sex Reassignment Surgery
"I feel congruent, like I'm finally one complete human being where my body matches my innermost feelings, my psyche," said Mallon, of Albuquerque, New Mexico, two days after undergoing sex reassignment surgery in mid-October. "I feel complete."
The Medicare ban was imposed in 1989, stemming from earlier information years before that found there was a "lack of well controlled, long-term studies of the safety and effectiveness of the surgical procedures and attendant therapies." It deemed such treatment "experimental" and noted a "high rate of serious complications."
But since then, research has found that sex reassignment surgery is a proven therapy for some individuals suffering from gender dysphoria, with decades-long studies and clinical case reports showing positive results, experts say. There is "agreement among professionals in the field that this is effective treatment," said Jamison Green, president of the World Professional Association for Transgender Health.
The American Medical Association, the American Psychiatric Association and the American Psychological Association are among the professional medical groups that have in the last decade endorsed sex reassignment surgery, which can include a number of procedures such as a complete hysterectomy, bilateral mastectomy and genital reconstruction.
Yet no one challenged the Medicare prohibition until Mallon did.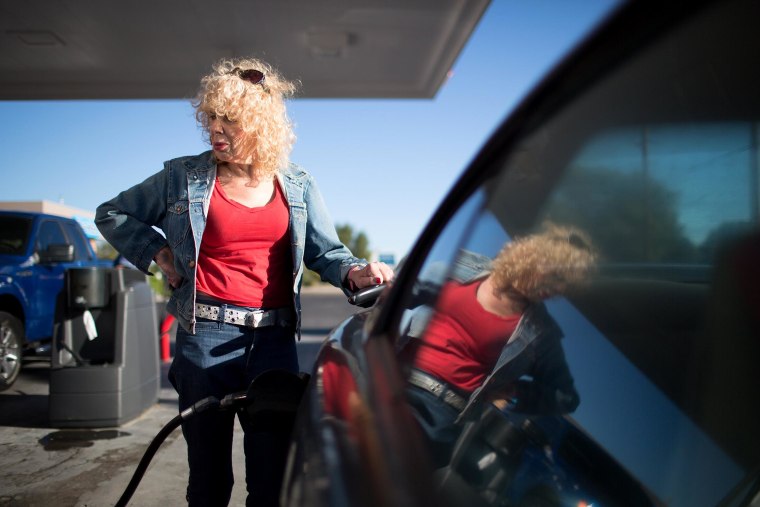 Long road home
Mallon said she first became aware of her gender identity when she was a child in the 1940s. "People would ask, 'How is your little girl today,' and that was me," she said. "Well, it's taken me all these years and detours, potholes and whatnot to finally be where I am right now."
For Mallon, life – work, five kids and three marriages - had gotten in the way of having sex reassignment surgery. When she could afford it in the late 1970s and early 1980s, she couldn't get her doctors to approve it. They balked, she said, because she was having sex with women – which they felt was inconsistent with her needing the operation. By the time she got the okay in the late 1980s, she could no longer afford it.
"I've tried to be the kind of man that society wanted and my feminine self just kept creeping up."
"I lived what transsexuals call the stealth life, didn't disclose the fact that I was originally male," said Mallon, who prior to surgery had taken hormones as part of her transition. "And in 2012, I came out of stealth mode and started being more of an activist."
Her decision to take on Medicare came after she was denied sex reassignment surgery by her secondary private insurer and then the government insurance program. Male-to-female transitions can run about $25,000; for female-to-male transitions it's around $100,000. Such costs are prohibitively expensive for many on Medicare. Mallon, for example, lives on $650 a month in Social Security income and shares a trailer with another transgender woman.
Mallon's challenge of what is known as Medicare's national coverage determination took about 18 months. Medicare never defended its policy before a U.S. health and human services (HHS) board tasked with hearing the challenge, nor did it question the new evidence, which included medical studies, provided by several experts in this field as part of the review.
The HHS board, in its decision, said it was comfortable with that evidence and thus didn't feel it was necessary to independently consult with scientific or clinical experts on it.
"The new evidence indicates that transsexual surgery is an effective treatment option in appropriate cases," the board said.
Medicare didn't respond to NBC's questions about why it didn't defend the former policy. Data for reimbursement requests for sex reassignment surgery since the change wasn't yet available, Medicare said, but a spokesman noted that the decision on whether to cover the procedures was now up to the program's contractors. (The HHS board said its determination doesn't bar Medicare or its contractors from denying individual claims for payment for others reasons allowed by the law.)
'There's no escaping it'
Transgender people and the issues they face are being discussed and embraced more openly than at any other time in history, with television shows featuring transgender characters — like "Transparent" and "Orange is the New Black" — helping to bring more awareness.
But seniors, like Mallon, grew up during a time when transgender issues were invisible at best. Mallon had grappled for decades with her gender identity: She had tried, as she said, to "man up" by joining the high school football team, the Army and then a police force. She lost marriages and family ties as she haltingly made her transition. She struggled and lacked confidence in jobs where she presented herself as a man.
"I have a difficult time relating to somebody what it feels like to be me. One of the obvious things people will say is, 'It's a lifestyle choice. You've made this choice.' Well, it's far deeper than that. It's so a part of my basic psyche, there's no escaping it," she said. "I've tried to be the kind of man that society wanted and my feminine self just kept creeping up."
Mallon, now 75, began living full time as a woman when she turned 40, taking fashion merchandising courses with 20-somethings at a vocational school in Albuquerque to learn how to walk and talk like the woman she knew herself to be. She'd known since she was about 12 that she needed to have sex reassignment surgery after news broke in 1952 that Christine Jorgensen, a transgender New Yorker, had done it in Europe.
"I was delivering the morning paper at the time and eagerly anticipated each article. That's when I knew that I could actually have the surgery and become a woman," Mallon said. "She'd get on TV shows and people would just eagerly watch the show to catch a glimpse of her because that was so novel back then. He was this Army veteran, now a woman, and looking quite good."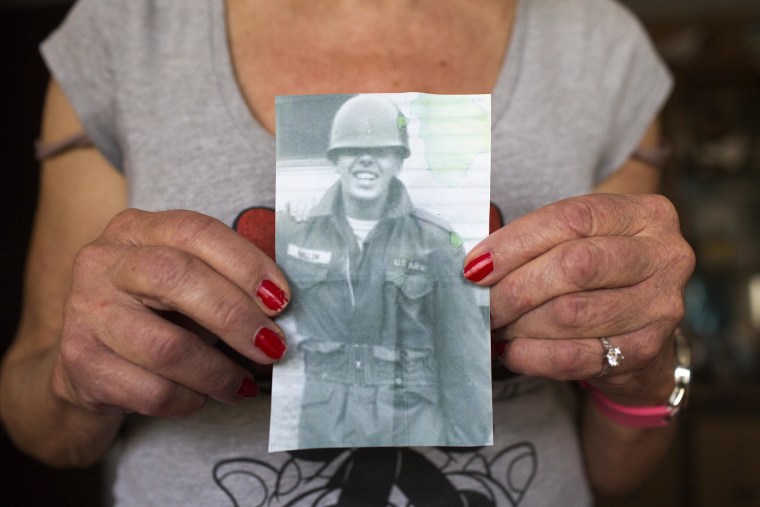 Of Mallon's five children, she said, her eldest fully accepts her gender identity and is proud of her for leading the Medicare fight.
"I'm so sad it took so long," Kelly Mallon-Salter said of Denee's surgery, getting emotional. "But I'm so happy that she's helping others to have it."
Coverage expands in private sector
The Medicare decision comes as the number of private insurance companies offering transition-related coverage has surged in recent years. Human Rights Campaign, which advocates for LGBT equality, said about 34 percent of the Fortune 500 companies today — up from 10 percent in 2009 — offer transgender-inclusive health care benefits, including surgical. Many employers have started to address coverage for transgender individuals, and most have experienced little to no premium increases as a result, HRC said in its annual Corporate Equality Index.
Five states' Medicaid programs — California, Massachusetts, Vermont, the District of Columbia and Oregon — cover transgender health services, including sex reassignment surgery, in their plans for lower-income and disabled people. Ten states have banned health insurance discrimination against transgender people (the five listed above plus Colorado, Connecticut, Illinois, Washington, and most recently, New York).
The hope, transgender advocates say, is that the Medicare decision will encourage more Medicaid programs and private insurers to offer coverage.
"That's going to have a ripple effect, we believe, across other third-party payers," said Dr. Loren Schechter, a plastic surgeon who performed Mallon's surgery at Weiss Memorial Hospital in Chicago. "And the important recognition is that this surgery is not cosmetic, it's not an individual's lifestyle choice."
"It was extreme anxiety that there was something totally wrong and I wasn't able to fix it. And if I'm doomed to live this horrible life with these feelings, then it's not worth living."
Having sex-reassignment surgery for some individuals suffering from gender dysphoria is medically necessary, said Green of WPATH. Being unable to access such care can create stress, depression, anxiety, heart conditions, disorders or worse. Data is limited on suicide among transgender individuals, though 41 percent of respondents to the National Transgender Discrimination Survey in 2011 said they'd attempted to take their life. "There is nothing more meaningful than to be able to be at home in your body," Green said.
Veronica Shema, a 65-year-old transgender woman living in Tucson, Arizona, said she has attempted suicide and has been on suicide watch four times. She began to transition 10 years ago.
"I could not take it anymore," she said. "It was extreme anxiety that there was something totally wrong and I wasn't able to fix it. And if I'm doomed to live this horrible life with these feelings, then it's not worth living."
Shema met with Schechter in November to plan her sex reassignment surgery. She said she'd been turned down by private insurance and was waiting on Medicare, calling it her "last hope."
"I'm hitting an end-of-life crisis," she said. "I can't continue living like this another 10, 15 years. Once I get the gender marker (changed) on my birth certificate, I will feel like I would have accomplished my task. And I'm not there. It's hard to live with."
Obstacles remain
Despite the Medicare win, there are still many obstacles ahead: the surgery's expense combined with typically low Medicare reimbursement rates (for any procedure) may discourage the few surgeons working in this area to accept patients with government insurance.
Dr. Marci Bowers, a pelvic and gynecologic surgeon who has performed more than 3,000 sex reassignment-related surgeries, said she has been getting "scores" of inquiries every week from Medicare patients since the decision. Although she has operated on some of them, she doesn't think she'll be able to accept more patients through the government insurer. The costs of this specialty are high, she said, and doctors must accept whatever the insurer reimburses as payment in full. They can't seek additional payment from patients.
"It's actually having an unintended harmful effect on patients' access to care," she said. "There are an overwhelming number of patients out there. And potentially, if they were all to come in, they would overwhelm our ability to care for them," she added. "If the reimbursement is paltry, as we are fearful it will be, it's going to be very difficult to continue to take any kind of Medicare payments. The surgery is just too difficult, too risky, too complicated."
But the Medicare change could encourage university medical programs to add this surgical expertise to their curriculum, which may increase the number of qualified surgeons, in turn leading to more competition and better access to care, said Bowers. There is currently no approved training program for sex reassignment surgeons in the U.S. Universities also can afford to sometimes take lower payments on treatments — such as from Medicare — with the tradeoff being that surgeries happen at teaching hospitals, she added.
Despite the ongoing challenges, Mallon said now that the door has opened, other transgender seniors who need sex reassignment surgery shouldn't hesitate. As she savored her new beginning, Mallon mused about all the fun things she looked forward to: swimming comfortably in a pool and going on some dates.
"I'm just a normal everyday woman who is bound to get into trouble," she said. "I'm so flirtatious, it's ridiculous."