LOS ANGELES — Police have presented a sexual assault case involving actor Armie Hammer to the Los Angeles County District Attorney's Office, a source familiar with the investigation said.
"I can confirm that the LAPD has presented a case regarding Armie Hammer to the LADA. The matter is currently under review," district attorney's spokesperson Tiffiny Blacknell said in a statement that did not specify or confirm why Hammer is under review.
A source familiar with the investigation said Monday that Los Angeles police forwarded findings stemming from sex assault allegations made in 2021.
It was not immediately clear why it took more than two years for the DA's office to receive the case.
The police department's West Bureau Sex Assault Unit detectives handled the investigation, the source said.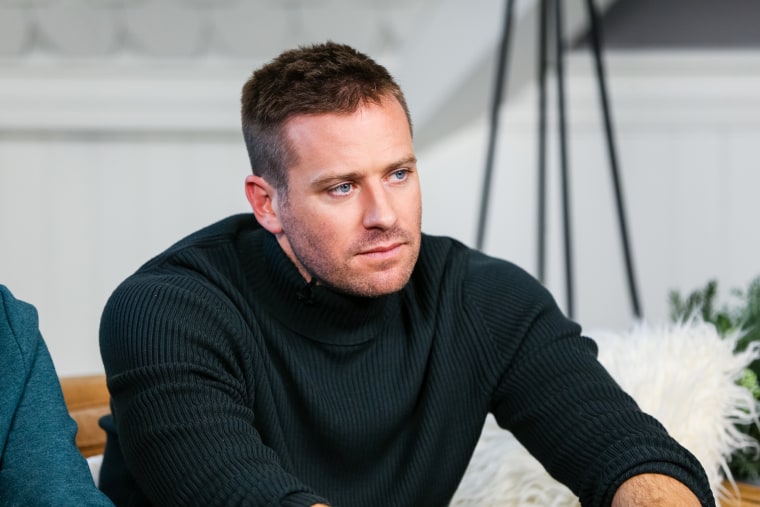 An attorney for Hammer, 36, declined to comment Monday on the progress of the criminal probe. The attorney has previously said Hammer is the victim of "outrageous allegations."
A woman, who has identified herself only as Effie, has publicly accused Hammer of rape, and police confirmed in 2021 that detectives were investigating.
In a statement to NBC News early Tuesday morning, the woman said Hammer has offered to pay an out-of-court settlement to her — though there's no known lawsuit against the actor in this matter.
"I am severely traumatized by Armie. I feel disgusted that he's not taking accountability for what he did to me, and that he's resorted to attacking me," she said.
"I think that, contrary to what Armie communicated to me several months ago when he — unprompted — offered me a settlement which I refused, Armie has no remorse. He continues to cause pain, and I don't think he's changed at all."
Representatives for Hammer on Tuesday said no settlement offer has been made to the accuser.
"On April 24th, 2017, Armie Hammer violently raped me for over four hours in Los Angeles, during which he repeatedly slammed my head against a wall, bruising my face," Effie had said in a statement released through her attorney in 2021.
"He also committed other acts of violence against me to which I did not consent. I thought that he was going to kill me."
Effie said she was 20 in 2016 when she began an affair with Hammer, who was married at the time, after they connected on Facebook.
The woman alleged that Hammer abused her physically and emotionally and that he used "manipulation tactics in order to exert control."
Hammer has also been linked to social media messages in which he is alleged to have written about graphic sexual fantasies.
While "The Social Network" star hadn't been previously arrested or tried for any sex crimes, the allegations have taken a toll on his career, with him exiting several high-profile projects.
His 2022 movie, "Death on the Nile," was a public relations nightmare, which might have led to its disappointing box office performance.
Andrew Blankstein and Diana Dasrath reported from Los Angeles, and David K. Li from New York City.