The U.S. military received a record number of sexual assault reports in 2016, the Pentagon said on Monday, calling it a sign of service members' trust in the system.
Sexual assault and harassment in the U.S. military has come under scrutiny after a scandal involving some Marines sharing nude photos of women online came to light. The U.S. military has opened an inquiry and senior lawmakers on Capitol Hill have denounced the violations.
Service members reported 6,172 cases of sexual assault in 2016 compared to 6,082 last year, an annual military report showed. This was a sharp jump from 2012 when 3,604 cases were reported.
Related: Sexual Assaults Increased at Two of the Three Military Academies
"We see the increase in rates of reporting as an indicator of a continued trust in our response and support systems," said Elizabeth Van Winkle, performing the duties of assistant secretary of defense for readiness, at a press conference.
Senator Kirsten Gillibrand, in a statement, questioned if there was actual progress.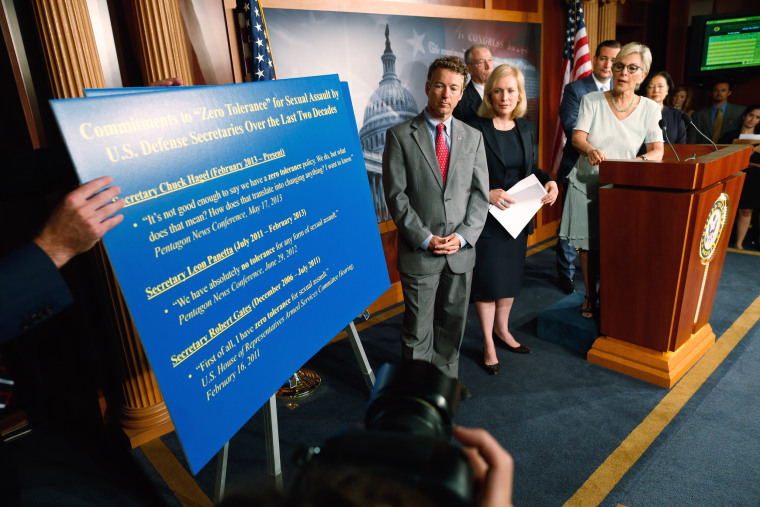 "The truth is that the scourge of sexual assault in the military remains status quo," she said.
"Today's report disappointingly shows a flat overall reporting rate and a retaliation rate against survivors that remains at an unacceptable six out of 10 for a third year in a row."
The Pentagon said its report found the number of sexual assault in the U.S. military has fallen.
"These numbers show real, continued progress as a result of our historic reforms to the military justice system," Sen. Claire McCaskill, a senior member of the Armed Services Committee and former prosecutor of sex crimes, said in a statement. "One assault is one too many and this fight isn't over, but as our reforms continue to take root, we continue to see increased confidence among victims to come out of the shadows and report, and even more importantly, less of these crimes overall."
Last year, McCaskill, of Missouri, and Sen. Joni Ernst of Iowa sponsored the "Military Retaliation Prevention Act" which is aimed at ending retaliation for reporting sexual assault.
Within the recent military report was an anonymous survey, conducted every two years, which found that 14,900 service members experienced some kind of sexual assault in 2016, from rape to groping, down from 20,300 in 2014.
But 58 percent of victims experienced reprisals or retaliation for reporting sexual assault, the report showed.
"The fight to end sexual assault, sexual harassment and related misconduct in the military is far from over," said Van Winkle. "We do not confuse progress with success."
The Marine Corps has been rattled by a scandal involving a private Facebook group called "Marines United" and its surreptitious distribution of explicit images of women in the armed forces, often with obscene, misogynist commentary.