The father of murdered Colorado woman Shanann Watts sobbed in court on Tuesday as a judge read the charges against the woman's husband Christopher Lee Watts aloud.
Christopher Lee Watts, the man accused of murdering his pregnant wife and two young daughters, only spoke "yes, sir" and "no, sir" when asked by Judge Marcelo A. Kopcow about his understanding of the charges against him.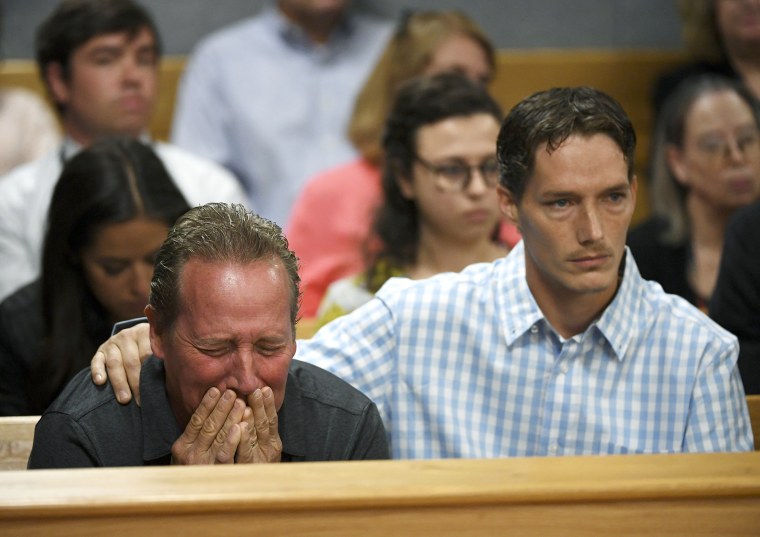 Sitting in the courtroom not far from Watts, Shanann Watts' father Frank Rzucek Sr. sobbed into his hands, looking up only briefly with tear-filled eyes. Rzucek's son Frankie sat next to his father, with a comforting hand on his shoulder.
Christopher Lee Watts, 33, of Frederick, Colorado, a suburb north of Denver, was charged a day earlier with five counts of murder in the death of his wife Shanann Watts, 34, and their daughters, Bella, 4, and Celeste, 3.
For each child, Watts was charged with two counts of murder: a first-degree murder charge and a charge for the death of a child who "had not yet attained twelve years of age and the defendant was in a position of trust."
Kopcow told Watts on Tuesday that the murder charges against him carry a minimum of life in prison and a maximum of death.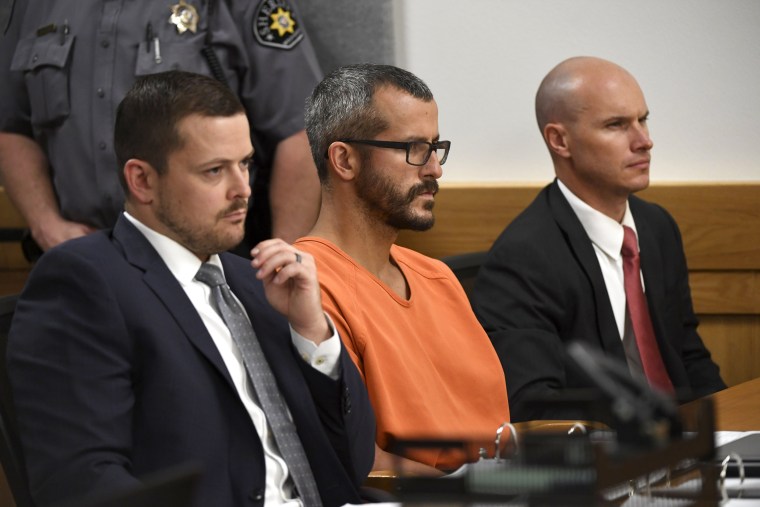 Watts was also charged with one count of unlawful termination of a pregnancy and three counts of tampering with a deceased human body.
The Rzucek family released a statement through a spokesperson to NBC News Tuesday night thanking people for their support and concluding, "As a family, our hope is that justice will be served."
On Aug. 13, Shanann Watts returned home from a business trip, according to an affidavit. Christopher Watts woke up around 5 a.m. and "began talking to Shanann about marital separation and informed her he wanted to initiate the separation," he told police according to the affidavit
Christopher Watts claimed that Shanann killed her daughters, and when he saw that, he went into a fit of rage, killing his wife, Watts claimed according to the affidavit.
"While in the bedroom, via baby monitor located on Shanann's night stand, he observed Bella 'sprawled' out on her bed and blue and Shanann actively strangling Celeste," Watts claimed, according to the affidavit. "Chris said he went into a rage and ultimately strangled Shanann to death," it read.
Police said Watts told them that he buried his wife on the property of the oil and natural gas company that he worked for and that he dumped the girls inside the oil tanks. The oil company, Anadarko Petroleum Corp. of Texas, fired Christopher Watts the day he was arrested.
Watts' next court appearance is scheduled for Nov. 19.