A convicted killer who spent 56 years on the run before getting caught last year has won his freedom — legitimately.
Ohio's parole board voted Thursday to release 79-year-old Frank Freshwaters after his attorney argued he'd lived a clean life while on the lam and never forgot the 1957 accident in which he struck and killed Eugene Flynt, a father of three, in Akron.
One of Flynt's sons joined prosecutors in arguing against his release.
Freshwaters did not appear at the parole hearing, were the board recommended he be released in late April.
One of his sons wiped tears from his eyes after the decision was announced, The Associated Press reported. Another son who was born months after the accident that got Freshwaters in trouble said he was hoping to get to know him better.
Freshwaters' winding saga started after he pleaded guilty to second-degree manslaughter in Flynt's death. In lieu of up to 20 years behind bars, he was given a five-year probation. But he violated it, prosecutors said, and was incarcerated in the Ohio State Reformatory in Mansfield, which became immortalized in the 1994 film "The Shawshank Redemption."
For his good behavior, he was transferred to a less-restrictive state prison farm. Seven months later, he escaped.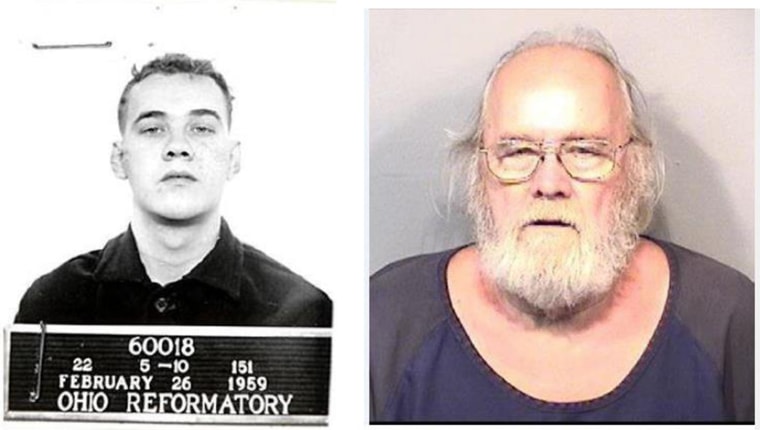 He resurfaced in 1975, when he was picked up in West Virginia following an outstanding warrant for his arrest. But the U.S. Marshals said the governor there declined to extradite him, citing his "flawless 16-year residency" in West Virginia. He was released.
Related: Frank Freshwaters, Convict Who Escaped Prison, Arrested After 56 Years
For years, Freshwaters — who went under multiple aliases and was also referred to as Freshwater in court documents — worked as a truck driver and managed to collect Social Security, Florida Sheriff Maj. Tod Goodyear said last year.
But authorities never forgot about the "Shawshank Fugitive" who eluded them for so many years.
Investigators hatched a plan to get a man living on Florida's eastern shores named William H. Cox — believed to be Freshwaters — to sign papers that they could use to match fingerprints belonging to their escapee.
Last May, Florida police arrived at his secluded and shabbily-kept trailer holding a photo of Freshwaters from 56 years earlier. At first, he claimed that he hadn't seen that man in years. But after questioning, the white bearded-Freshwaters confessed, Goodyear told The AP.