The first time she became a bride, Genevieve Meyer doesn't remember what the groom was wearing. She doesn't even remember speaking. But there was one thing she said she knew for sure. She was 15, and he was 43.
It was a spring morning in Jackson, Mississippi, in 1995. When the judge started officiating, it finally felt real.
"I'm like, 'Oh s---, this is really going to happen,'" Meyer, now 39, told NBC News.
Scant data exists on the severity of the problem, but Meyer's story is one of the thousands of cases of child marriage in the United States. Standing there as a 15-year-old, in a secondhand black dress with white polka dots, warped the trajectory of Meyer's life. Only recently, she told NBC News, has she felt able to share her experience as a child bride in America, a country where such marriages are common but underreported — and take steps toward advocacy work that could help other children.
Legal loopholes at the federal and state levels have allowed forced and arranged marriages to continue, lawmakers and activists fighting to end the practice say. Experts note that such marriages typically ensnare young girls under pressure from their parents or predatory adults, and studies show that marrying young places unique social, educational and economic strains on youth, teen girls specifically.
Still, a majority of states issue marriage licenses to teenagers as young as 16 or 17, and a handful allow children as young as 14 to marry. Thirteen states have no age limit, and all it takes is a signature of a judge or a parent for a child to wed. Just two states ban the practice of child marriage outright, and federal efforts to end it have stalled.
Meyer said she normalized her trauma over the years in order to cope and never believed her story was compelling enough to tell. But over the years, she kept a personal blog, created a secret social media group and recorded her story for a local oral history project. In May, she formed a foundation to educate people about child marriage, sexual abuse and human trafficking.
Now, she wants lawmakers to do something.
"You have to be 21 to drink. You have to be 16 to operate a car. Why on earth are the ages lower to enter into a lifelong commitment such as marriage? It does not make any sense," she said.
Meyer's early years
Meyer, whose maiden name is Prideaux, described her childhood in a blighted area of Youngstown, Ohio, as isolated. She says her mother, Suzanne Prideaux, mostly barred her from socializing with other kids, and stopped taking her to school in the sixth grade.
Her stepfather was occasionally verbally and physically abusive toward her, according to Meyer's account. And when the man they were renting their house from molested her, Meyer said, her mother never believed her.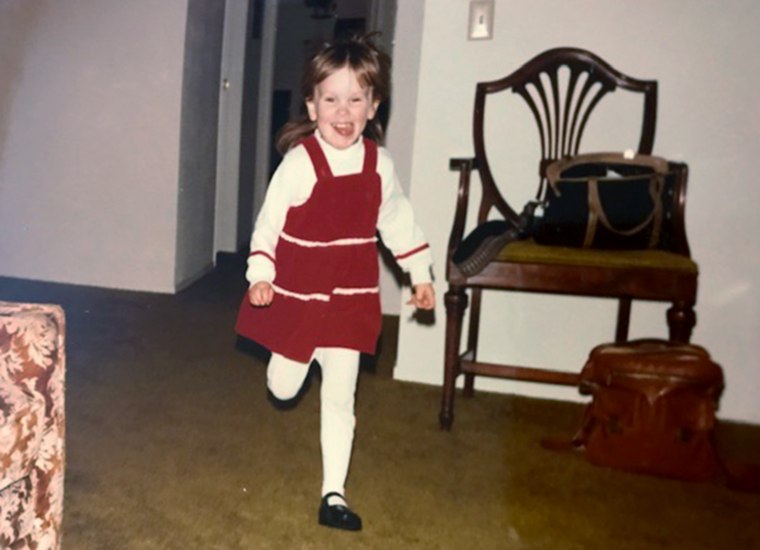 Court documents obtained by NBC News from the Youngstown Municipal Court confirm that Meyer was the victim of molestation in 1991, when she was 11. The landlord was arrested and charged with gross sexual imposition, a felony in Ohio, but it was reduced to importuning, a misdemeanor. He was sentenced to 180 days in county jail and two years probation, court documents show. Meyer's mother and stepfather did not return repeated requests for comment for this story.
Marie Choleva, née McCormick, one of Meyer's few childhood friends, said in a phone interview that Meyer briefly came to live with her and her grandmother in 1993, after trying and failing to run away from home. Choleva, 38, said that during that time, Meyer told her about the landlord's molestation and the physical and verbal abuse in her home.
Meyer recalled hiding under the covers and escaping into the pages of condensed versions of classics by Charles Dickens, Charlotte Brontë and Oscar Wilde. But soon her family would move to a trailer park in Yucaipa, California, 10 miles east of San Bernardino.
There she would meet John Malloy, a twice-divorced father of two in his 40s — the man she would be forced to marry.
'I didn't understand my value'
Malloy, whose trailer unit was located near the one Meyer's family rented close to the exit of Wildwood Canyon Mobile Home Estates, was fond of standing outside the front of his home, smoking.
He was a landscaper, about 6-foot-3, with a thin build and bleached blond hair, Meyer said. She always admired his meticulous front lawn, which had a fountain, lush grass and rose bushes, and would often make small talk with him. Eventually, she said, he invited her inside and they developed a friendship.
In retrospect, Meyer said, she believes he was grooming her. One day, for instance, while she was inside his home, he tried to kiss her. She said the two were sitting in his living room, which was outfitted with bright yellow countertops and a built-in glass table. She recoiled at his advance and stopped visiting.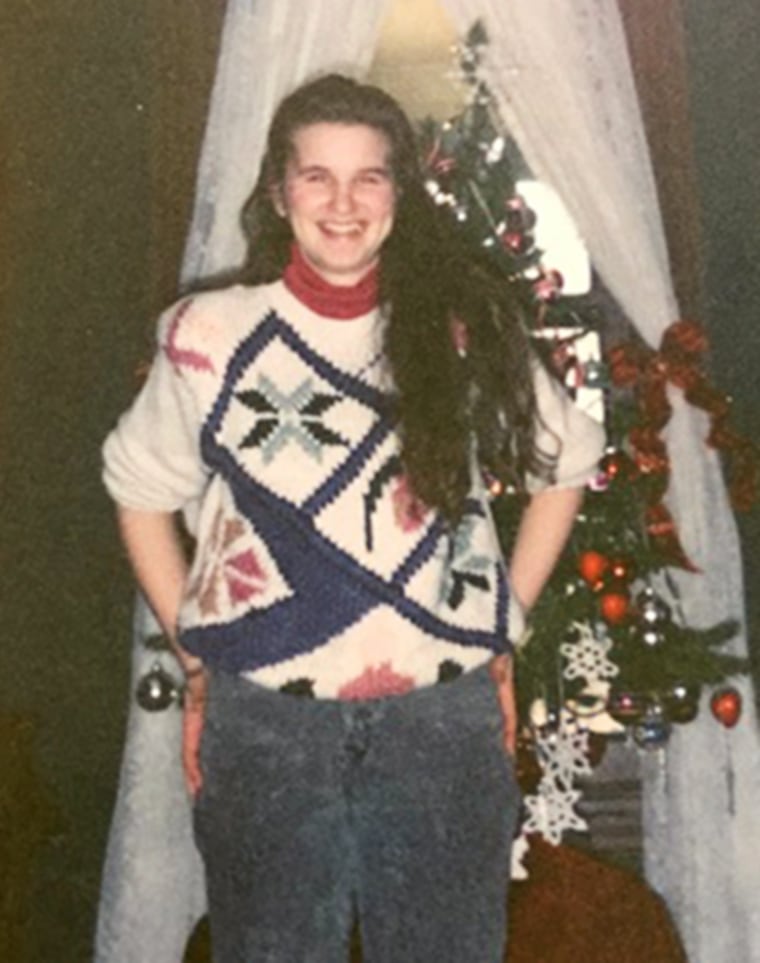 But, on what she says was a particularly lonely day, a 14-year-old Meyer called him. Her mother overheard the conversation and called the police, she said. In an affidavit contained in divorce records obtained by NBC News, Malloy confirmed his arrest for "lewd sexual acts," but said that later, the "charges were dropped." A spokesperson for the San Bernardino Sheriff's Office said that under state law, the department does not release police reports unless the person is a party to the case or an attorney representing one of the parties.
Malloy did not respond to multiple requests for comment for the story.
Meyer insisted she was not sexually active at the time, and that nothing had happened with Malloy. Still, she said, her mother believed she was likely to become pregnant and that marriage was the only solution. Malloy said in court documents that he agreed to marry Meyer "out of fear that he could lose custody of his two children from a previous relationship."
Malloy always told her he was "saving" her, Meyer said.
"It was like, which really sh---y door do I want to walk through? Do I want to stay here with my mom and her antics and who knows what the hell is next? Or go marry this guy that at least he didn't beat me?" she said. "I didn't understand my value."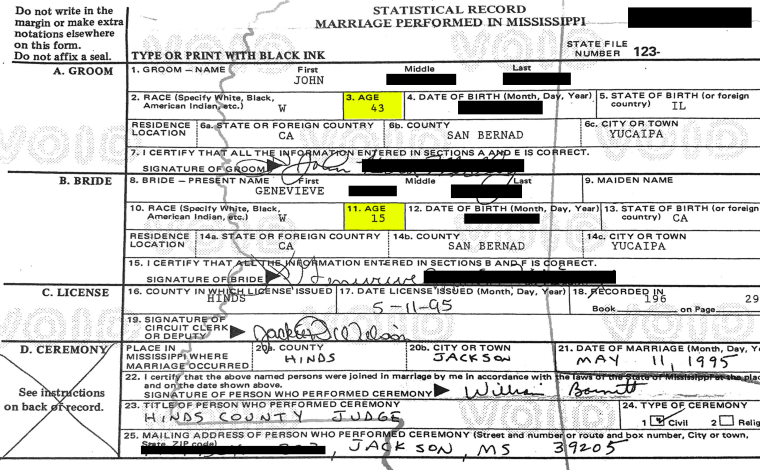 The adults tried to get the two married in California, then Nevada, but were turned away. Meyer said she remembers being told that in those states at the time, she had to be pregnant. They then tried Utah, but a judge refused because of the age difference. On a whim, Meyer's mother, Suzanne Prideaux, and Malloy looked to Mississippi.
Mississippi law, still in effect, allows girls as young as 15 to obtain a marriage license with parental consent. Her mother's signature does not appear on the marriage license application or the marriage certificate — both obtained by NBC News — but Meyer said she remembers that her mother gave Malloy a notarized letter of consent and a copy of her driver's license.
Malloy bought gold rings from Walmart and borrowed his mother's recreational vehicle to make the trip. Meyer remembers crying during most of the way.
Before reaching Mississippi, Meyer said, Malloy pressured her to have sex. Meyer told NBC News she never told anyone about it.
The Mississippi judge who performed the ceremony, William Barnett, now retired, confirmed his signature on the marriage certificate to NBC News via email. He also confirmed with the Hinds County clerk that the only records the county has of the marriage are the application and the certificate.
Barnett, however, said he remembers calling Meyer's mother to confirm that the marriage was in her daughter's best interest. The 15-year-old and the 43-year-old left Mississippi as newlyweds.
'What do I need to keep from going under?'
Meyer's first years as a bride were filled with eviction notices, scant money for food and Malloy's steady drinking, she said. Legally, she couldn't file for divorce until she turned 18.
She never experienced the normal rituals of growing up: parties, dating, breakups, prom or planning for college. She worked odd jobs at fast-food restaurants that didn't last. She tried and failed to get her GED. One bright spot was an opportunity at H&R Block, the tax preparation chain. She took the company's training courses, discovering that she was good at accounting and office work. But that job, too, came and went with tax season.
By 1999, the two were estranged. Meyer was 19.
She moved to Virginia, living first with her mother and then with a boyfriend. Things were working out. She received a job offer to do more accounting work and thought about finally divorcing Malloy — she just had to establish residency there for six months. However, one night while walking home, she said, she was pulled behind a dumpster and raped.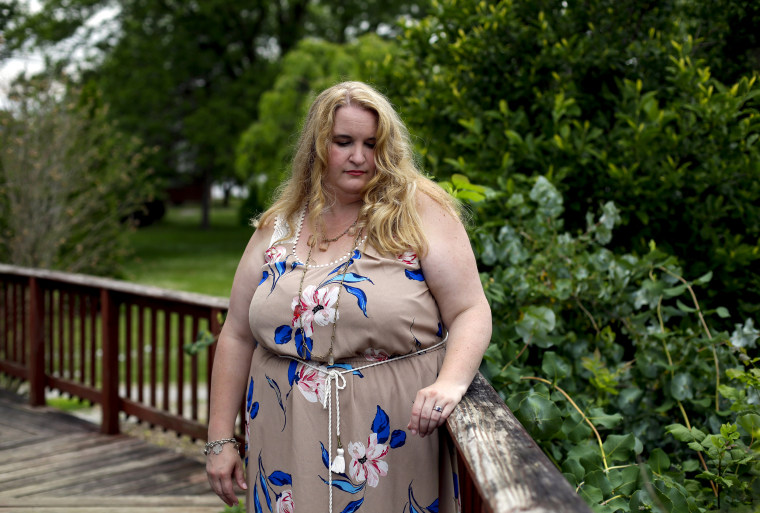 "I was supposed to start that job and I just didn't," she said. She said she struggled to tell anyone and became homeless after a fight with her boyfriend. She then sold her car for a bus ticket back to California, learning later that she was pregnant.
She didn't know if the child was her rapist's or her now-former boyfriend's. She decided to have the child anyway, a girl she would name Ashley. But she was scared.
"I just thought, 'How am I going to protect her?'" she said.
Jobless, struggling to get help from social services, she said she was forced to move back in with Malloy because she had no other option.
"The deck was stacked against me," she said. "It was just a matter of putting one foot in front of the other, and keep going, and so it was more about resources — what do I need to keep from going under?"
'I created the family I didn't have'
It was Malloy who filed for divorce in March 2002.
Malloy, who represented himself, painted Meyer as "unstable" and he aggressively fought for custody of her daughter, Ashley, according to court records obtained by NBC News.
Malloy, in court records, confirms much of Meyer's recollection of their marriage, including frequent drinking and occasional marijuana use.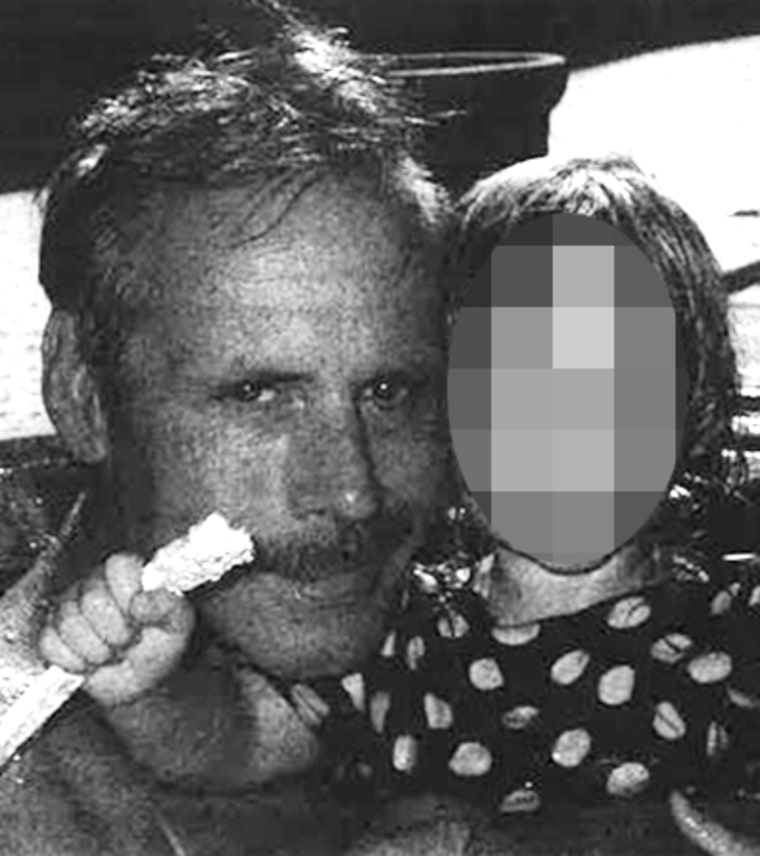 "Genevieve was a run-away and wound up at my home, which neighbored her parents' home in the same mobile home park," he recounted in court documents. "At their insistence and pressure, we married in the state of Mississippi where her age for marriage was legal."
He added, "I stayed with her and accepted her infidelity since I could look at my then-wife as both my spouse and daughter because we are 28 years apart in age."
The divorce became final in November 2002.
Afterward, Meyer got her own apartment, married a Navy officer and had two more children. She also took more training courses and eventually became a tax specialist and course instructor at an H&R Block in California.
Still, despite Meyer's opposition, Malloy was granted visitation rights to Ashley.
"I felt like it was just another way for him to have his claws into me," Meyer said — the same thing she told the court.
Malloy confirmed that he was not Ashley's natural father in court documents, but the court granted custody because under state law, she was a child of the marriage and he was the "presumed father," according to court records.
Meyer's solution was to move far away from him to Indiana, where she still lives. She divorced her second husband in 2006 and remarried again in 2007, and had her fourth child.
"I realize now that we have parents that can choose how they want to raise their children, but there needs to be laws in place when parents are using laws to abuse their children. And that's what child marriage is — it's just organized child abuse," she said.
She started The Resiliency Foundation in May, and is working toward obtaining tax-exempt status to transform it into a nonprofit, she said. Through the organization, Meyer speaks publicly about her experience as a child bride and offers consulting services to organizations on issues of sexual abuse, including the Indiana Coalition to End Sexual Assault, an organization that helps victims of sexual violence. She also serves on the executive committee for the Anti-Trafficking Coalition of Northeast Indiana in a volunteer role.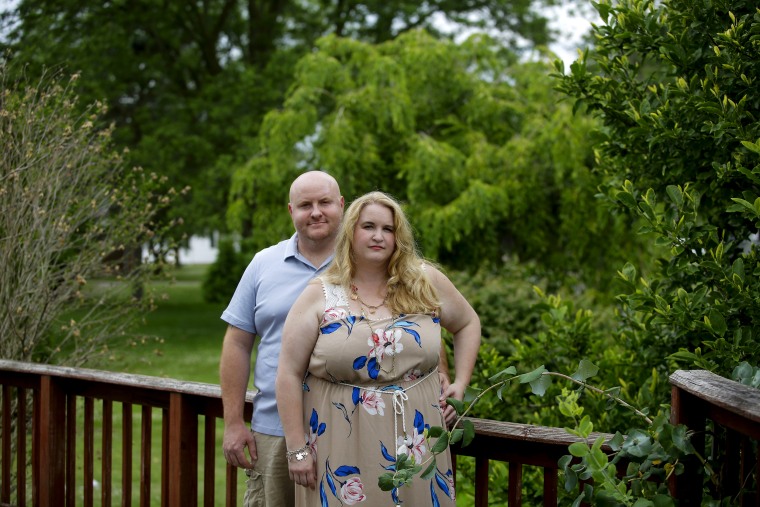 She has also received a bachelor's degree in social work and recently obtained her master's degree in business, which helped her to open her own consulting business — Prideaux Research and Consulting.
She said that her husband and her kids know her story and encourage her to share it.
"He's believed in me when I don't believe in myself," she said of her husband. "I created the family I didn't have."
She also said she believes it's possible for other child brides to make it out and rebuild their lives.
"This is something that happened to you, it's a chapter in your life, it does not wholly define who you are," she said. "You have many, many chapters, and you can write them, and they can be how you want them to be."