The sheriff of the Oregon county where armed anti-government activists have occupied federal land asked the protesters to go home Thursday at their first meeting since the confrontation began.
Circled by an odd grouping of sheriffs from neighboring counties and journalists armed with cameras, Harney County Sheriff David Ward and Ammon Bundy, one of the occupation leaders, chatted briefly and politely at an intersection close to Malheur National Wildlife Refuge, which the activists seized Saturday.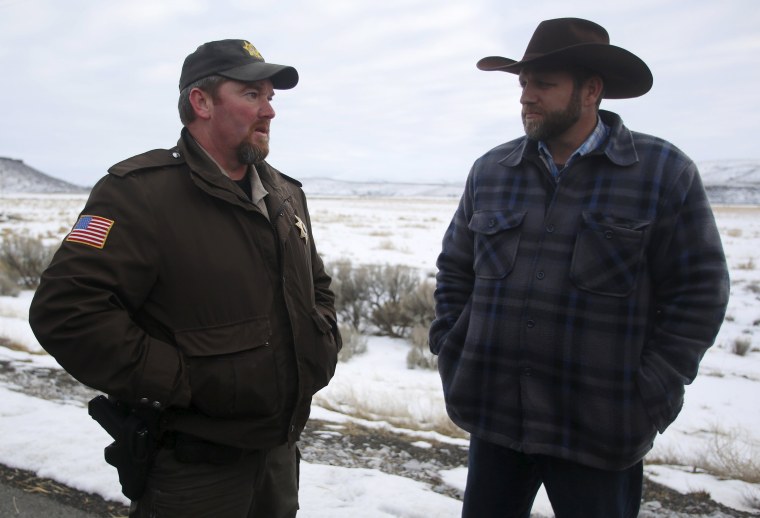 "I'm here because the citizens of Harney County have asked me to come out and ask you folks to peacefully leave," Ward said, offering the protesters a "safe escort" out.
But Bundy declined, saying he and his compatriots were "being ignored again."
"The government, in order to be legitimate in these United States, must acknowledge a redress of grievances by citizens," he said.
The two men then shook hands and went their separate ways. The sheriff's office said they planned to meet again Friday.
Authorities said Ward sought the meeting to work out a peaceful resolution to the takeover, not to make any arrests. However, Ward told NBC News on Wednesday that the activists would face federal charges whenever the siege ends.
Earlier, the sheriff was met with applause when he told a community meeting that the protesters were not welcome.
"You don't to come here from elsewhere and tell us how we're going to live our lives," he said.
Led by Ammon and Ryan Bundy — sons of Cliven Bundy, a Nevada rancher who became famous for another standoff with the federal government in 2014 — the gunmen took over the unoccupied federal facility Saturday.
Their stated goal is to free two ranchers, Dwight Hammond and his son Steven, convicted of setting fires on government land and to sound an alarm about what they say is a government war on private ranchers.
The Hammonds surrendered Monday at the federal prison in San Pedro, California. Lawyers for the Hammonds have said Bundy's group doesn't speak for them.