From 10 a.m. to 2 p.m., Monday to Friday, David Yushubayev sits in a chair at Markell's Shoe Repair with the door open, waiting for customers to pick up the shoes they left behind in March.
Shoes in plastic bags line the walls behind the desk of the tiny shop nestled in a corner of a midtown Manhattan office building.
"For four hours, I stay here, and then I go home," Yushubayev, 67, said. In November, the business that did well for 35 years had no clients at all.
Put plainly: "Business is dead," Yushubayev said. Few need repairs or a shoeshine anymore. Sometimes, a person will pop in, ask a question, and leave.
"But I still keep the shoes."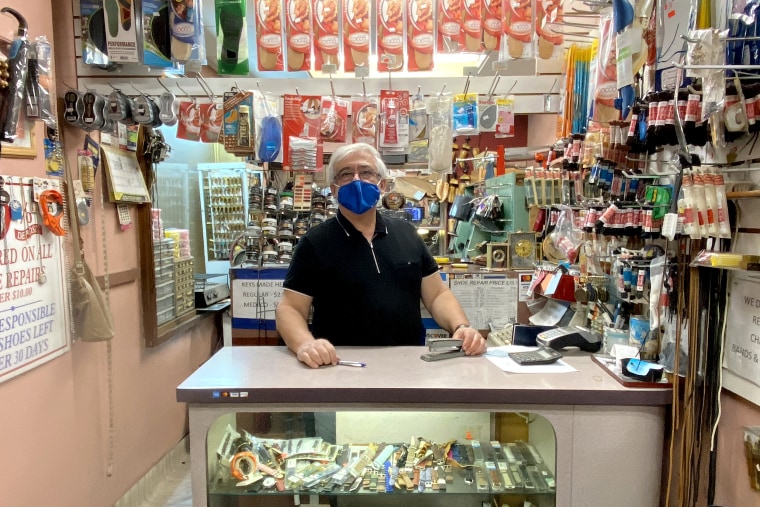 When New York City mostly shut down in March as Covid-19 surged, office workers who could work from home did so. They swapped out dress shoes for slippers, and wondered if the plants on their office desks would die.
But workers like Yushubayev, who lives in Queens and whose business is meant to serve the people now attending meetings from their couch, still came into midtown. The office workers, however, have yet to return.
"When are they opening the offices?" Yushubayev asked. Markell's used to buy the paper every day for clients to read while getting a shine. But the New York Daily News that still sits between the empty chairs — headlined "Goin' Bunkers" — is dated March 13: the last day the shop had clients to read the paper.
The man who shines shoes for Markell's is not working. Yushubayev's son, who usually runs the shop, took a job at a salon to get by.
"Just a terrible year," Yushubayev said.
About five blocks north, Eddie's Shoe Repair, a staple at Rockefeller Center, faces the same problem. In its more than 20 years sandwiched above the subway station and below the building's lobby, it rarely went a day without a line out the door.
Owner Hugo Ardaix, 65, said the queue used to form before the shop even opened at 7 a.m. Trying to get a shine at lunch time often proved to be a fruitless endeavor for those who had to get back to work.
Eddie's closed in March, and couldn't reopen until August because the shopping concourse at Rockefeller Center is classified as a mall, he said. During its first week back up and running, it made around $35. "We suffer a lot because we depend on the people in the building," he said.
Ardaix has now reduced the hours and has fewer employees working for him at the store, which saw a 95 percent decline in revenue since the pandemic hit.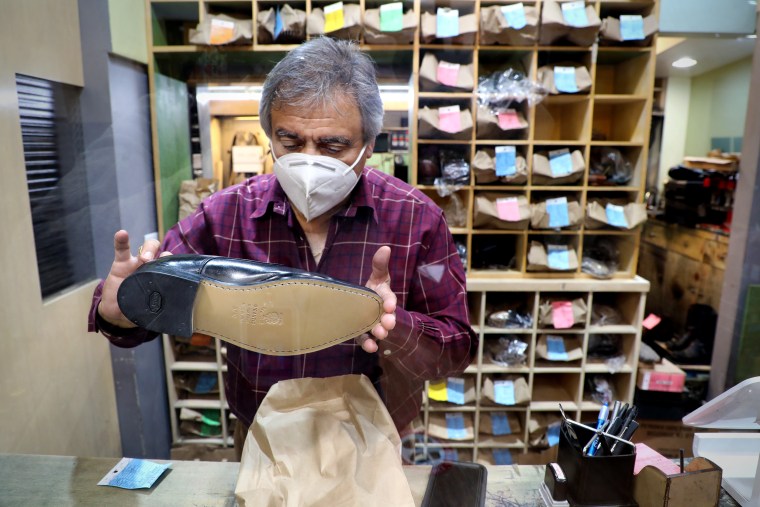 He had regulars for decades and tourists always boosted his business. These days, hardly any clients trickle in. On a recent morning, the customers who did come asked how he was doing and wished him well.
Chris Burnett, who works in finance, made a trip to Rockefeller Center just to go to Eddie's. Burnett, 35, used to come to the store often.
"I would bring my boss in here when he was in town," he said, adding that to see the place so empty was shocking. "There would be eight guys lined up, and we couldn't even get a spot sometimes."
He had come to Eddie's because his puppy chewed up his girlfriend's black high heels, hoping if anyone could fix the pair, it would be Eddie's. Admittedly, Burnett said, he hasn't worn dress shoes in nine months.
Ardaix, wearing a mask, bumped elbows with the few people walking through Rockefeller Center who used to frequent his shop. They told him to hang in there. But the question of how long he can hold on lingers.
As the end of the year nears, small businesses like Eddie's Shoe Repair are in desperate need of some type of relief. The store owners said they need rent cancellation, cash assistance and more payroll protection if they are to stay open. The new stimulus bill that passed through Congress might just be their last hope.
Before the coronavirus, perhaps the biggest disruption to the shoeshine business in the past decade was when more corporate office workers started wearing sneakers. But the spread of casual startup-style office attire didn't stop shining and repairing shoes from being a good way to make a living in midtown, Ardaix said.
Now, that's nearly impossible, and hopeful vaccine news for 2021 doesn't quell much anxiety as it remains unclear when and if officer workers will come back to midtown.
Near the Grand Central Station, Teodor Morcho hopes the workers will return soon. His shoe repair and shine store, Anthony's, is making about 5 percent of what it used to. He closed his store's second location in Manhattan after the landlord demanded the full rent. The only reason his midtown store remains open is because his landlord there told him he could pay 30 percent of the rent until the summer.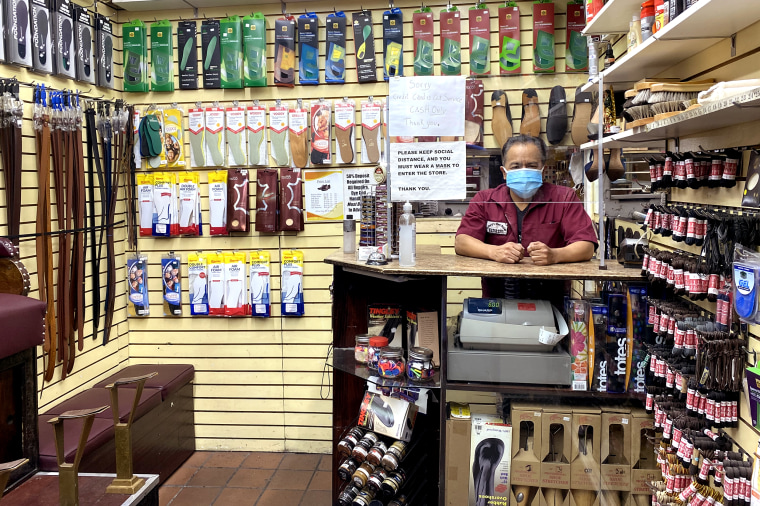 "Still, it's too much," Morcho, 55, said. Now, he spends money on food, rent for his apartment and store, and nothing else.
When he tried to raise prices so he could make rent, customers got mad. Days are numbered at his store of 18 years unless something changes, he said.
Back at Eddie's, Ardaix leafed through all the coverage his store has received in Italian GQ, BBC and The New York Times. He pointed to the pictures on the wall of celebrities who have been customers at one time or another.
"We really are an institution," he said. "GQ said they were honored to write about me, and I'm in the basement!"
"But now is not the time to talk about achievements," Ardaix said, "because we suffer."