At least seven people were killed and one person seriously injured after a gunman opened fire at two agricultural businesses in Northern California on Monday, authorities said, in the latest mass shooting to hit the state in a matter of days.
The shootings unfolded on the outskirts of Half Moon Bay, a coastal city of roughly 11,000, about 30 miles south of San Francisco, San Mateo County Sheriff Christina Corpus said.
The wounded victim was taken to a hospital with life-threatening injuries, she said.
The suspected shooter, identified by authorities as Chunli Zhao, 67, was arrested within hours, with video captured by NBC Bay Area showing him surrendering to authorities at a sheriff's substation.
Zhao, a resident of Half Moon Bay, is believed to have been a worker at one of the locations targeted, Corpus said. "We know that he acted alone at this time," she said.
A motive in the mass shooting remained unclear, Corpus said.
The victims have yet to be identified. Speaking on NBC News Now, Half Moon Bay Mayor Deborah Penrose said the victims were all agricultural workers.
People live at one or both of the farms, and Corpus said children had been present when the gunfire erupted.
"It was in the afternoon when kids were out of school," she said. "For kids to witness this — it's unspeakable."
Deputies were dispatched to the first location at 2:22 p.m. after a report of a shooting, Corpus said. They found four people dead at the business and one person with critical injuries, she said.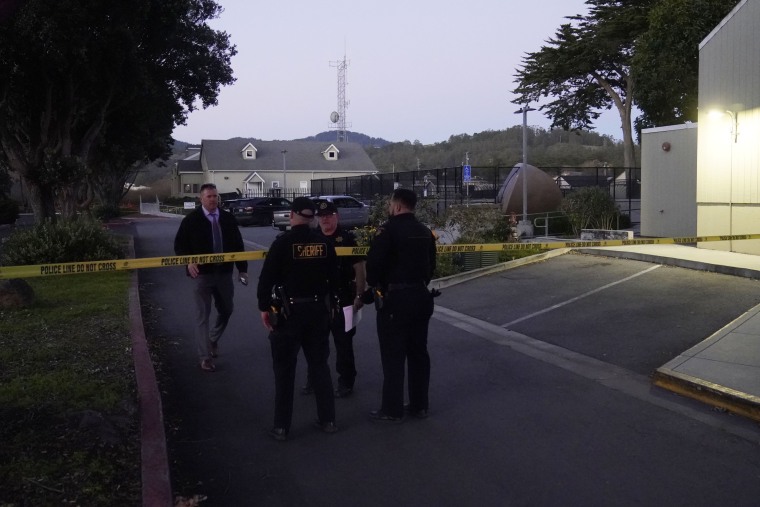 Shortly after, authorities found three more fatally wounded victims at the second location, she said.
Roughly two hours after the first shooting, a deputy located Zhao's SUV at the substation and he was taken into custody, Corpus said.
It wasn't clear how long Zhao had been there or why he was there, she said.
The FBI's San Francisco office said in a tweet that it was assisting in the investigation.
The shooting comes two days after a mass shooting in Southern California killed 11 people who had gathered at a Los Angeles County dance hall for Lunar New Year celebrations.
Investigators in that case believe the suspected gunman may have been targeting his ex-wife.
"For the second time in recent days, California communities are mourning the loss of loved ones in a senseless act of gun violence," President Joe Biden said in a statement Tuesday. He said he and first lady Jill Biden were "praying for those killed and injured in the latest tragic shooting in Half Moon Bay."
Biden said he had directed his administration to ensure local authorities "and the broader Half Moon Bay community have the full support of the federal government in the wake of this heinous attack."
Gov. Gavin Newsom said Monday that he had been at the hospital "meeting with victims of a mass shooting" when he was "pulled away to be briefed about another shooting."
"Tragedy upon tragedy," he said.