A firefighter is dead and a captain in critical condition following a shooting at a Los Angeles County fire station.
The shooting occurred around 10:55 a.m. Tuesday at Fire Station 81 in Agua Dulce, about 45 miles north of Los Angeles, according to Los Angeles County Fire Chief Daryl Osby. The suspect is thought to be an off-duty firefighter who later returned to his home, barricaded himself inside and then set fire to the home.
"As a fire chief, I never thought when our firefighters face danger that they would face that danger at one of our community fire stations," Osby said.
A 44-year-old firefighter engineer was fatally shot multiple times in the upper torso, Los Angeles County officials said. The medical examiner on Wednesday identified the victim as Tory Carlon. Osby described him as a 20-year veteran of the department who was "brave, committed, loyal."
The station's fire captain was also shot and is in critical condition.
A man authorities believe could be the suspect was found outside a home in Acton with a gunshot wound to the head, according to the Los Angeles Sheriff's Department. The residence was burning Tuesday evening, preventing authorities from confirming the identity.
Authorities could not yet identify a motive.
The sheriff's office confirmed earlier Tuesday that the Palmdale station responded to the firehouse earlier in the day "regarding multiple gunshot victims at the location."
"We have a high volume of law enforcement presence in the area of Bent Spur Road in Acton," the sheriff's department tweeted. "For the public's safety we ask that you avoid the area until further notice."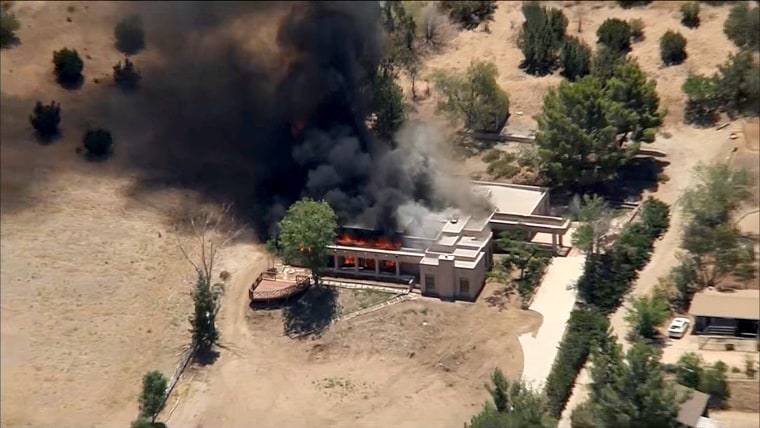 The Special Enforcement Bureau with the sheriff's department confirmed members of its air rescue team were deployed to assist with the search for a suspect, tweeting photos of the SWAT team being brought down from helicopters over a nearby home engulfed in flames.