A suspected gunman was shot and killed by police Friday morning after leading officers on a chase that began at the prestigious Brigham and Women's Hospital in Boston and ended in a neighboring town.
Authorities received a call around 9:20 a.m. reporting a person with a gun outside the hospital, Boston police said at a news conference Friday afternoon.
A Brigham and Women's spokesperson said earlier Friday that the hospital received an active shooter alert about the same time.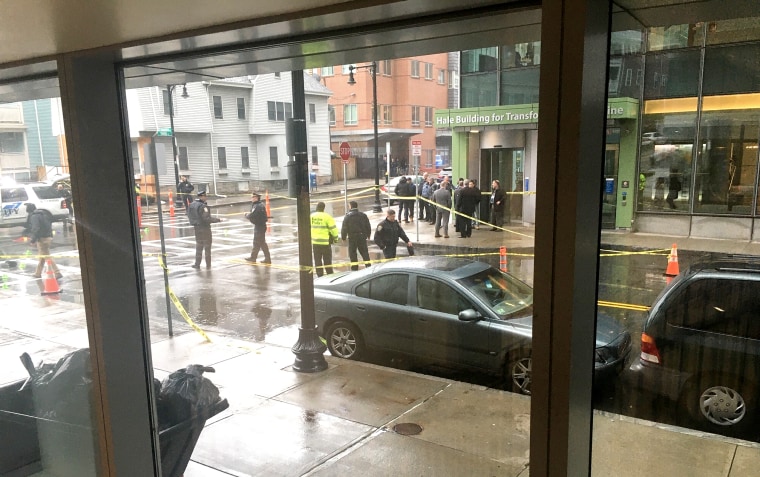 When officers arrived, they found the male suspect and "engaged" with him, police Superintendent-in-Chief Gregory Long said. The suspect pulled out what authorities believe to be a gun and pointed it directly at the officers, he said. The officers discharged their weapons, but the suspect got into his car and fled.
Multiple law enforcement agencies, including Boston police and Massachusetts State Police, gave pursuit. Long said the suspect drove into Brookline and crashed into several cars before stopping, getting out and once again displaying what authorities believed to be a gun.
Officers repeatedly told the suspect to drop the weapon and when he refused, they opened fire again.
The suspect, who has not been identified, was taken to the hospital where he was pronounced dead.
At the same time officers were responding to the original scene outside of Brigham and Women's Hospital, they were made aware that a hospital employee had been shot, Long said.
The medical center said in a tweet earlier Friday that the injured employee was a member of their valet team. Long told reporters the employee is in critical condition.
The identity of the victim was not immediately revealed.
"Our Emergency Department team responded immediately, and our colleague is currently in stable condition," the hospital's tweet read. "There is no further threat to our campus."
Long said Friday's shooting was an isolated incident and there is no threat to the public.