Two people were shot and injured when a gunman opened fire during a wedding ceremony Saturday morning at a church in Pelham, New Hampshire.
The incident happened at New England Pentecostal Church, about 24 miles southeast of Manchester.
Pelham Police Chief Joseph Roark said officers were called to the church just after 10 a.m. and when they arrived several wedding guests had subdued the suspected shooter. A suspect, identified by state prosecutors as Dale Holloway, 37, was arrested.
One of the victims was Bishop Stanley Choate, 75, prosecutors said.
A 911 caller "reported that a man came in and shot at the presiding bishop," according to a statement from New Hampshire's attorney general. Choate was hospitalized in serious condition, prosecutors said.
Claire McMullen, 60, was shot in the arm and was hospitalized in good condition, they said.
Mark Castiglione, 60, was struck in the head with an object. It's not clear if the suspected shooter was involved in the injury. Castiglione was treated at a hospital and released, according to the attorney general's office.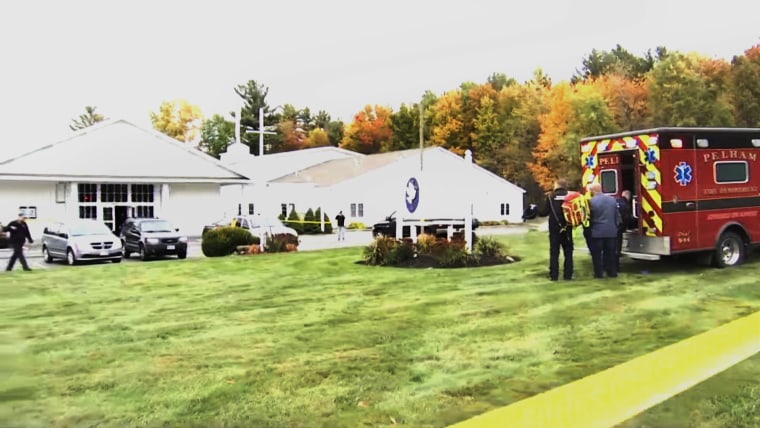 State prosecutors said Holloway was arrested on suspicion of first-degree assault and purposely and knowingly causing bodily injury with a deadly weapon. He was jailed pending arraignment Tuesday.
The suspect entered the church after the wedding had already started, police said. Roark said it's unclear if he was targeting any specific person at the ceremony, which roughly 40 people were attending.
"This does not seem to be a random event," he said.
The police chief said after the suspect started firing, guests "tackled" him to the ground.
Geraldo Pagan, of Massachusetts, told reporters at the scene that he arrived at the church for a service for his friend, Luis Garcia, a minister at the church who was killed earlier this month, and he noticed a heavy police presence. He said officers told him that the service for Garcia would be canceled.
"We were very shocked," Pagan said.
Roark said the service for Garcia was scheduled to start after the wedding.
According to the New Hampshire Union-Leader, Garcia, 60, was shot and killed at his home on Oct. 1.
A 24-year-old man was arrested in connection to Garcia's death and charged with second-degree murder, the Union-Leader reported.
U.S. Sen. Maggie Hassan of New Hampshire said she was "deeply disturbed" to hear about the shooting at the church.
"Today was supposed to serve as a celebration of the life of Minister Luis Garcia. This senseless violence can't continue — my prayers are with the victims of this terrible attack," she posted on Twitter.