AURORA, Colo. -- Petra Anderson, one of 58 people injured in the Aurora movie theater attack, is lucky to be alive.
Anderson, a 22-year-old aspiring music professor, was hit by a shotgun blast during the assault that killed 12 people. Three pellets struck her arm and one rocketed through her head, but it missed the brain's many blood vessels and key sections controlling vital functions, according to her doctor.
"If the pellet had wavered a millimeter, really in any direction from what it actually took, then she would have likely either died or been severely injured," said Dr. Michael Rauzzino, a neurosurgeon at The Medical Center of Aurora who operated on Anderson to remove the pellet. "I would say this is definitely a miracle," he said, while showing an MRI of Anderson's brain.
The MRI reveals a faint trace of the pellet's path after it entered the left side of Petra's nose, broke through the front of her skull, and passed through her brain, before lodging in the back of her head.
"It would be hard to create a path similar to this where it goes all the way from the front to the back and misses every single blood vessel, doesn't bother any of the major structures, and leaves her able to talk and move everything and not be paralyzed or dead," he added. "Never in my entire career have I seen a case where a bullet has traversed the entire brain like this and not caused severe damage or death."
Among the dozens hurt in the attack on a midnight premiere of the latest Batman movie, "The Dark Knight Rises," injuries vary widely. Some were treated for their wounds and could walk out of the hospital. Others are still fighting for their lives. And yet others, like Anderson, who plays violin and piano, are dealing with a range of injuries that could require long-term treatment, and perhaps, totally alter their futures.
Doctors performed two procedures on Anderson: one to remove the pellet from her brain and the other to close the hole in her skull where the pellet entered her head. A large hole was left behind that had to be fixed or it could have led to complications in the future, such as leakage of brain tissue or liquid, Rauzzino said.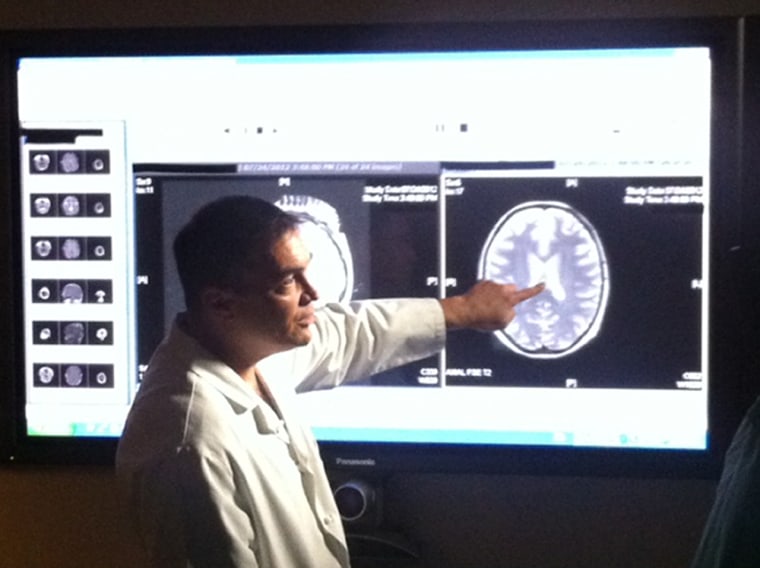 The pellet crossed the left hemisphere – the dominant one -- of her brain, which generally controls speech, language and memory. Though Anderson now has deficits in those areas, Rauzzino said, they "could be much more severe than what they are."
"Her life is definitely going to be different. She's been shot in the head and nothing's going to change that," he said.  "The hope is that with time and therapy and patience that she'll get a lot of things back. And, you know, who knows, maybe she'll get it all back."
Rauzzino denied news reports stemming from a pastor's blog that Anderson had a congenital defect in her brain creating a void, or hole, the pellet shuttled along to save her life.
"Her brain was no different than anyone else's," he said. "What made her so fortunate was the trajectory of the bullet as it passed through."
Escaping death a 'source of hope'
Since last Friday, Anderson's family experienced the ups and downs of dealing with major trauma to a loved one.
"Everything changed, and I could not get past this idea that she had gotten shot in the head. I know that the first big fear I had wasn't actually her dying, but her losing things in her life that have been really important," such as her music, said her boyfriend, Austin Hogan, 23, as he broke down into tears.
(For more on the treatment of the injured in Aurora, watch Kate Snow's interview with Dr. Rauzzino on tonight's Rock Center at 10 p.m. ET/9 p.m. Central.)
But the fact she escaped death "was such a source of hope for moving forward, I think, for all of us, and we really rallied around that," he said.
Anderson was planning to enter the University of Maryland this fall for graduate studies along with Hogan. The middle child of three siblings, she had come home to Aurora to spend time with her mother, Kim, who was diagnosed with terminal breast cancer in May and is to begin experimental treatments in a few days.
"This has been hard on her," Anderson's sister, Chloe, 25, said of her mom. "She's already not got the best energy levels, and I think the first couple of days just really tanked her energy. But she is a fighter, just like my sister, and so she is there all the time."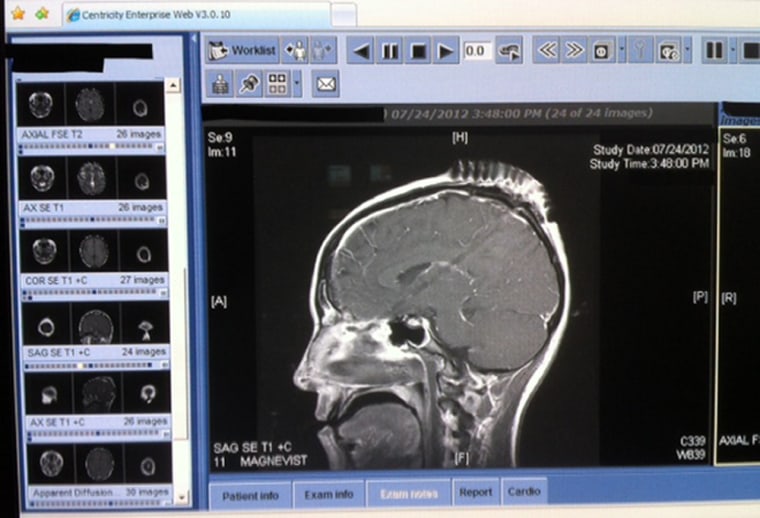 Adding to the family's worries are the medical bills: Petra's insurance won't likely cover all of her expenses and her mom's insurance won't pay for her alternative cancer treatments, Chloe Anderson said. So, working with friends, she and Hogan set up a fundraising campaign to raise money for them.
"My mother's recovery is going to be integral to my sister's recovery and vice versa," she said. "I know that both of their recoveries are … intertwined."
But the campaign won't just raise funds for mother and daughter: part of it will also go to other victims. The money will be funneled to the Colorado Organization for Victims Assistance. Also, three of the hospitals in the area that treated victims announced Wednesday they will forgive some or all of the medical costs associated with the attack.
"If you have a blessing, it's great to have it, but it's even better to be able to share," Chloe Anderson said.
"We're not the only ones suffering and going through this," Hogan said. "A lot of other people in this tragedy have a story like this, too, and are suffering … nobody walked in that theater with a perfect life, with no other worries, no baggage."
In the days since Anderson was shot, she has been eating, smiling, and telling the cerebral jokes she is known for, her sister said. She also took a stroll around the intensive care unit but has been in pain, a bit groggy from the medicine, and her loved one have noticed some deficiencies, such as it taking her "a little while to come to whatever it is that she is saying," Chloe Anderson said.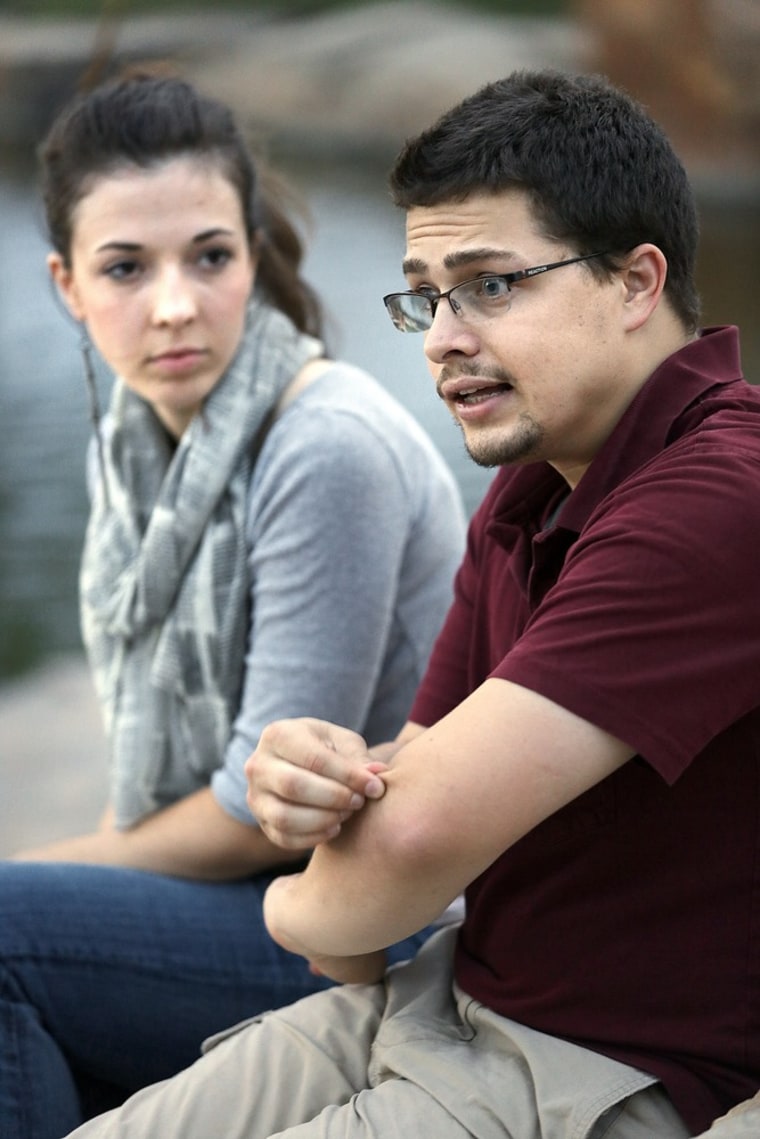 She hasn't asked about what happened at the theater, where she had gone with two friends (one survived being shot several times; the other was uninjured), and her family didn't want to cause her any additional stress by bringing it up.
Her long-term prognosis is good, seeing that she has survived the injuries so far, Rauzzino said, noting that "given the fact that there's not more permanent damage on this study (MRI), we're very hopeful that she's going to make a very good recovery from this."
Shooter not going to have 'last say'
As Anderson's family spends their days immersed in her recovery, which they update on an increasingly popular Facebook page that has in turn provided them emotional support, Chloe Anderson said she doesn't think much about the alleged gunman.
"I've been so consumed with focusing on how to make this a better situation," she said. "It doesn't serve anybody for me to be really angry at him … I need to focus on helping who I can help, and right now, I can help my sister and my family, and maybe help some of the other families, as well."
The shooter also was not going to have the "last say," Hogan said. "From the moment this happened, that hasn't been the story … the story has been about the victims and the survivors and the families and the incredible communities of support."
There was a lot of gratitude "for all of these people that have held up these families in this incredible time of suffering," he added. "Knowing that we can make an impact … that we have an ability to get a voice out there of hope, a message of hope to everybody, to as large an audience as we can, to show that, you know, there is something incredible that can come from something so terrible."
NBC News' JoNel Aleccia contributed to this report.
More content from NBCNews.com: