With the decision to allow a convicted rapist and registered sex offender back on their football team, Ohio's Steubenville High School has been pushed into the spotlight once again, with many asking how the young man could be allowed to play again.
But the group that oversees Ohio high school sports says their hands are tied in the matter.
"There's been a lot of reaction to this as you can imagine, but I think what's important to know is the bylaws are adopted by the schools, and only the member schools can change the bylaws," Tim Stried, Director of Information Services for the Ohio High School Athletic Association, told NBC News on Wednesday.
"Have we thought about it? Yes. Would we like to be able to do something in this case? Yes. But we are bound by the bylaws just like the schools are."
The rules, specifically Bylaw 451, give the individual schools the authority to determine when a student who has committed a felony can begin participating in athletics again.
The school's football coach, Reno Saccoccia, told NBC affiliate WTOV-TV that Ma'Lik Richmond, 18, returned to school in January and was suspended from extracurricular activities for the remainder of the year. He told the TV station "it was a horrible crime," but Richmond completed everything the judicial system asked of him.
"We don't deal in death sentences for juvenile activity, and I just feel that he's earned a second chance," Saccoccia said.
Richmond played his first scrimmage as a wide receiver for Steubenville High School's Big Red football squad on Tuesday. He and quarterback Trent Mays were convicted last year of the August 2012 sexual assault on a 16-year-old West Virginia girl during an alcohol-fueled party in which many other participants posted about the rape on social media.
The case led to allegations of a cover-up to protect the small town's football team, and several school and district officials were implicated.
A grand jury investigating the case brought lesser charges against six adults, including an assistant coach and Steubenville's then-superintendent Michael McVey. He and the district's former technology director have pleaded not guilty to charges including evidence tampering and obstructing justice.
Current superintendent Melinda Young did not return calls for comment.
Richmond served nine months of a 1-year sentence in juvenile detention and was designated a Tier II sex offender. He has also completed sex-offender treatment and done community service, his probation officer said. Mays is still serving time for the additional crime of using his phone to take a picture of the underage girl.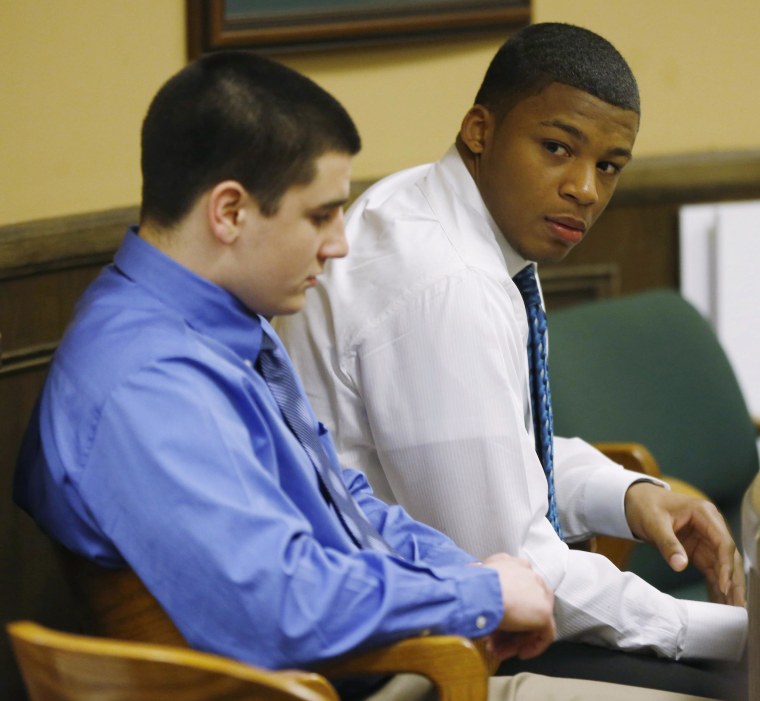 Attorney Bob Fitzsimmons, who has represented the victim and her family throughout the ordeal, said that he personally believes Richmond should be allowed to participate in team sports again.
"If we're going to look to do rehab, you should try to occupy their minds, their bodies," he told NBC News on Wednesday. However, he said girl's family was somewhat ambivalent on the move to let Richmond play again, but they wanted to move on with their lives.
"They're concerned like many people as to what's the right decision," Fitzsimmons said. "Do you occupy the child's time, is that good for rehabilitation? Or do you continue the punishment and not let him participate (in sports). There's probably some pluses and minuses on both sides."
The lawyer said that the girl graduated on the honor roll and is starting college soon.
"She's doing about as well you can do, she's a very strong girl, she comes from a very religious, close family, and they have done remarkable well under these types of circumstances."