WASHINGTON — For weeks, Facebook has been under intense scrutiny in Washington after revelations about Russian attempts to use the platform to influence the 2016 elections. Now, some lawmakers are talking about turning that scrutiny into action.
There are new calls on Capitol Hill for stronger federal regulation of Facebook, possibly requiring greater transparency and disclosures for digital political ads. But lawmakers have yet to take up more sweeping reforms that some internet policy experts and advocates believe are necessary to protect users of the social-media platform, given Facebook's outsize influence and vast stores of personal data.
In early September, Facebook said it had traced $100,000 in politically motivated ads that ran during the 2016 presidential campaign to a Russian troll farm, reaching about 10 million people. Testifying before Congress a few weeks later, Facebook officials revealed that the total audience for Russian-backed content was many times larger, reaching an estimated 126 million Americans — a third of the U.S. population — during the 2016 campaign.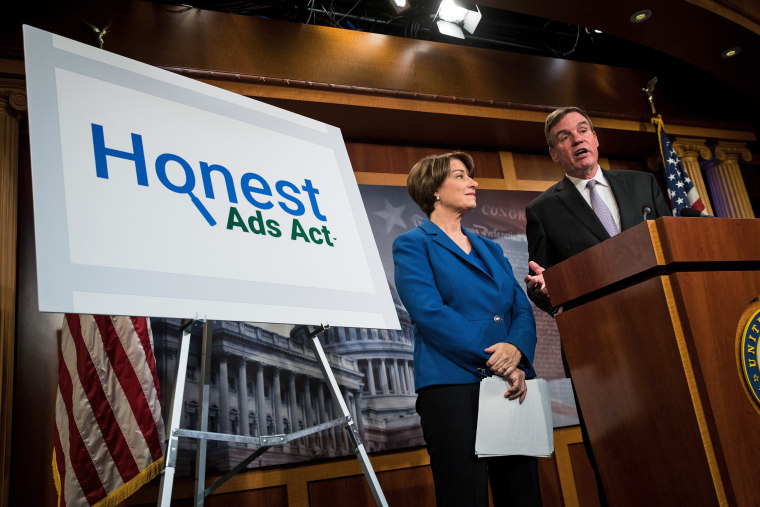 In response, two Democratic senators, Amy Klobuchar of Minnesota and Mark Warner of Virginia, together with Republican Sen. John McCain of Arizona, introduced a bill last month that would require large online platforms to maintain public files of political ads, including who purchased the ads, the targeted audience and the number of views they generated. The legislation would also require these platforms to "make all reasonable efforts" to guarantee that foreign entities and individuals aren't buying political ads to influence American elections.
The authors of the bill intentionally limited its scope in order to have the best possible shot at passage, said Rachel Cohen, a spokesman for Warner. "It was intended to be the lightest possible touch," she said. "When you go further in legislation, it gets more difficult."
The bill has also attracted bipartisan support in the House, where it was introduced by Rep. Derek Kilmer, D-Wash., and Rep. Mike Coffman, R-Colo.
"This is a very good start in terms of setting up expectations of transparency and disclosure," said Rep. John Sarbanes, D-Md., House chairman of his party's Democracy Reform Task Force. "Online platforms have a great deal of political power."
When Klobuchar asked last month at a Senate hearing whether Facebook would support the bill, the company was noncommittal.
"We stand ready to work with you and your co-sponsors on legislation going forward," Facebook general counsel Colin Stretch told lawmakers.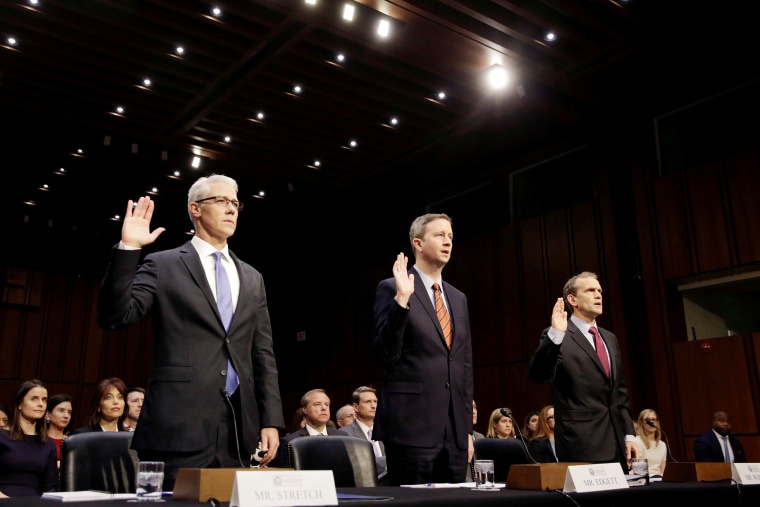 Facebook stops fighting disclosure rules
Democrats are also pressing the Federal Election Commission to limit foreign influence on U.S. elections by requiring political ads on digital platforms to have the same disclosure requirements as broadcast ads. Facebook has spent years pushing the FEC to exempt it from such disclosure rules, arguing in 2011 that it wasn't practical to include disclaimers in "small, character-limited ads." After the recent revelations about Russian influence, Facebook changed its position in a new letter to the FEC, which is now moving toward requiring the disclaimers.
The Klobuchar-Warner bill has elicited criticism from some free-speech advocates, including a former Republican FEC commissioner, who argue that the legislation would have an adverse impact on political speech by ordinary Americans, subjecting small grass-roots groups to burdensome reporting requirements and legal liability.
Policy experts also question how the bill would actually work. Daphne Keller of the Stanford Center for Internet and Society pointed to the challenges of determining whether an ad buyer is a foreign entity, particularly if buyers rely on outside vendors to purchase ads.
"Nobody knows how to figure out who counts as Russian," she said. "It seems extremely easy to hide your identity."
But supporters say that the bill's narrow focus — and the coming 2018 and 2020 elections — could give it a shot at passage.
"Everyone is trying to figure out how to move forward in the future to prevent social media from wrecking democracy and interfering with elections," says Anupam Chander, a visiting law professor at Georgetown University and a professor at University of California, Davis. "That seems to be the most urgent and, in some sense, doable of the proposals."
Reluctance to declare Facebook a monopoly
Despite the current political backlash against Facebook and other tech behemoths, it's unclear how much appetite that Washington legislators and regulators have for more sweeping changes.
In recent months, Democrats have begun embracing an anti-monopoly stance against big tech companies, including Amazon and Google. The Open Markets Institute, an anti-monopoly think tank chaired by Zephyr Teachout, a Democrat from New York who ran unsuccessfully for governor and the U.S. House, is now calling on federal regulators to turn their attention to Facebook, given the platform's ubiquity and dominance of the global advertising market.
The institute is calling on the Federal Trade Commission to stop Facebook from making any further acquisitions.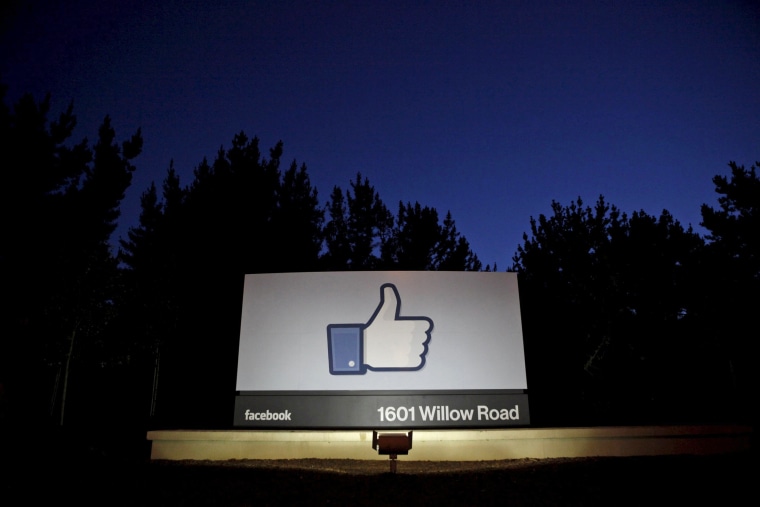 "The system is too big, and can't be managed," said Matt Stoller, a fellow at Open Markets. "They can't pay attention to what's going on various properties they control."
The desire for the government to intervene because of Facebook's overwhelming influence on American life has attracted some bipartisan interest. Before he left the Trump administration as the White House's chief strategist, Steve Bannon reportedly said that he wanted to regulate Google and Facebook like public utilities, given their essential role in everyday life, according to The Intercept.
But even the legislators who are leading the charge on Facebook's political ads have yet to press for broader regulatory action to rein in the company.
When asked whether Warner considered Facebook to be a monopoly, Cohen, his spokesperson, demurred.
"He is talking to experts in this space on both sides of the debate, to be educated," she said. "It's a good question."
Sarbanes similarly declined to comment on whether the government should regulate Facebook as a public utility. His chief of staff, Jason Gleason, said, "I don't think we really have anything to add on that front."
Democratic Rep. Ro Khanna, who represents Silicon Valley, has pushed for more aggressive antitrust policies and criticized Amazon's "growing monopoly" in the wake of its acquisition of Whole Foods. But when asked whether he had similar concerns about Facebook being a monopoly, Khanna, like his colleagues, stressed the need to focus on stronger disclosure laws.
"This will require any social media ads to disclose their funding source. It would help make sure there is transparency," said Khanna, who supports the Klobuchar-Warner bill and is working on tech disclosure issues.
Khanna pointed out, moreover, that consumers do have a range of options outside of Facebook when it comes to social-media platforms, including Twitter, YouTube, Instagram, Snapchat, and LinkedIn. "The key is to make sure there is strong competition and innovation to attract new users and keep them," he said.
Some consumer rights advocates are also pushing federal lawmakers to strengthen those rights by requiring more information about the vast swaths of data that platforms collect on their users.
"You have to stop the massive flow of the digital DNA of our daily lives that's flowing into Google and Facebook," says Jeff Chester, executive director of the Center for Digital Democracy, an advocacy group for online consumer protection. "Individuals should be given the right to determine whether political campaigns can access their personal sensitive information."
Who reads the fine print?
Digital platforms like Facebook typically require end-user agreements that give them permission to share consumers' data to third parties. But critics says that few consumers have time to read or understand the fine print, and that tech companies themselves don't always know how advertisers or outside app developers will use the data they're given.
"Even if you say you accept Facebook advertising practices, you don't know what's behind the screen," Chester said.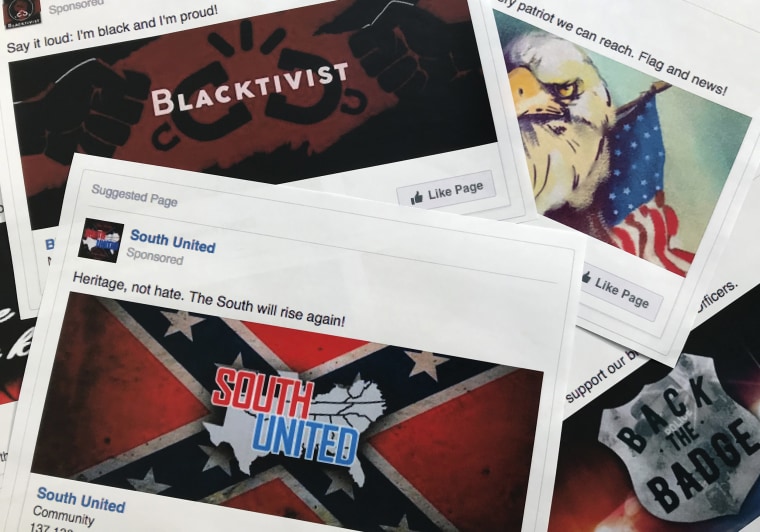 "Facebook is free to do almost whatever it wants with your personal information, and has no reason to put safeguards in place," Sandy Parakilas, a former Facebook operations manager, wrote in a New York Times op-ed article this week. "Facebook needs to be regulated more tightly, or broken up so that no single entity controls all of its data."
Such concerns have spurred new digital privacy laws in Europe: Under a new data protection regime that goes into effect next year, the European Union will give consumers broad access to the personal data that's being collected digitally and be able to impose hefty new penalties on companies for violations.
"You'd be able to know much more quickly who's buying the ads on your feed and the information they're using to profile you," says Frank Pasquale, a law professor at the University of Maryland. "There's no regulation that forces that in the U.S."
Facebook insists that it's already taking steps to strengthen its privacy policies in the U.S., partly in response to existing federal regulations. In 2011, the FTC charged Facebook with deceiving consumers by telling them their information on the site could be kept private, then making it public. Facebook settled with the FTC the next year, agreeing to get users' express consent before changing privacy settings and to subject the company to independent audits of its privacy practices.
"Facebook is an important part of many people's lives. That's an enormous responsibility — and one that we take incredibly seriously," said Joel Kaplan, Facebook's vice president of global public policy. "It's why we build tools and provide education that put people in control of their privacy, and why we continually engage with policymakers about the best ways to protect people, create jobs, build community and promote innovation."
But the U.S. has traditionally taken a very different approach toward consumer privacy rights than Europe has.
"Europe sees privacy as much more about human dignity, while here there is this broad sense that companies themselves have all these rights," said Pasquale. While the U.S. could follow the E.U.'s lead by giving consumers broad access to their personal data and how it's being used, that hasn't been a focus for Washington lawmakers.
Keller, the Stanford law expert, said that European-style privacy requirements might disadvantage smaller tech companies, and "Congress hasn't signaled that's the trade-off they want."
The public spotlight has already prompted Facebook to undertake internal reforms — partly to pre-empt federal regulation, and partly to reassure users who are feeling increasingly anxious about the company's practices.
In late October, shortly before testifying before the Senate Judiciary Committee, Facebook officials unveiled new changes that would require political advertisers to verify their identity and include new disclosures in election ads. On Wednesday, the company announced a new tool that would let users see if they had engaged with content created by certain Russian propagandists.
"Facebook is already starting to engage in more transparency," Stoller said. "So the pressure is working."