The family of a 21-year-old black man shot and killed by an officer and misidentified by police as a gunman in an Alabama mall shooting called for authorities to release any videos relevant to the incident.
Emantic Fitzgerald Bradford Jr. was killed by an officer in the Birmingham suburb of Hoover during a Black Friday sale at the Riverchase Galleria mall on Thursday night.
Bradford's family and their attorney, the high-profile civil rights attorney Benjamin Crump, told NBC News on Sunday that authorities should release any relevant surveillance videos from the mall or officer body-cam footage that would shed light on what happened prior to Bradford's death.
"Show us the video. The video will tell the story," Crump told NBC News.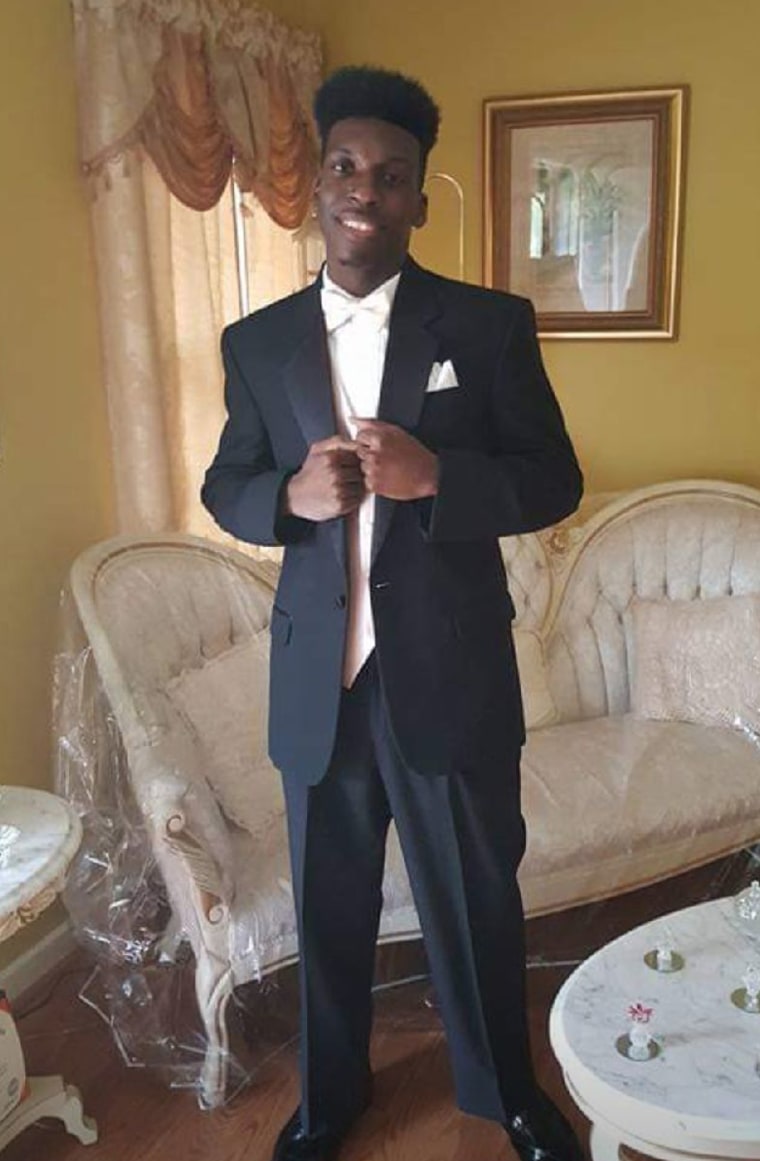 Two Hoover police officers providing security at the mall responded to gunshots at 9:52 p.m. local time Thursday, police said in a statement.
Hoover Police Capt. Gregg Rector said the incident began with a fight between two people, with one man pulling a gun and shooting an 18-year-old man twice in the torso. A 12-year-old girl was also injured.
Police initially said Bradford was the gunman. But the next day, police issued a statement saying new evidence suggested Bradford "may have been involved in some aspect of the altercation" and had a handgun but likely did not fire the rounds.
The investigators said Friday they believe more than two individuals were involved in the initial altercation and at least one gunman is still at large.
The Alabama Law Enforcement Agency is leading the investigation and did not immediately respond to request for comment clarifying what involvement, if any, Bradford may have had in the initial altercation prior to the shooting or on if authorities would be releasing any videos.
Bradford's family said at an emotional press conference Sunday that they were devastated by his death and by their having learned about it on social media.
"Thanksgiving will never be the same for me. It will never be the same," Bradford's mother, April Pipkins, told NBC News. "That's the day I lost my son. My first born."
Crump blasted police for misidentifying Bradford as the shooter and not reaching out to the family in the wake of the fatal shooting.
"Not only did they assassinate his person but they truly assassinated his character," Crump said at the news conference. "[The officer] saw a black man with a gun and he made his determination that he must be a criminal."
Crump said several witnesses have told the family that the officer who killed Bradford did not issue any verbal commands "before he shot him in the face."
NBC News reached out to Hoover police for comment on Sunday but did not immediately hear back.
One woman standing with Bradford's family at the press conference collapsed and wept while holding a photo of him.
The family and Crump have said Bradford had a permit to carry a weapon. Alabama does not generally prohibit the open carrying of firearms in a holster or other secured manner in public, although the Riverchase Galleria states on its website that it prohibits firearms at the mall.
Crump has also represented the families of other black shooting victims, including Trayvon Martin, Michael Brown and Tamir Rice.
The unidentified officer who fatally shot Bradford was placed on administrative leave while a separate, internal investigation into the officer-involved portion of the case continued, Hoover police officials have said.