DETROIT — The people of Detroit had already endured a devastating month, marked by sickness and death, when the city's mayor, Mike Duggan, stepped in front of a livestreaming camera Tuesday night to deliver some more awful news.
Not only had the coronavirus sickened more than 7,000 residents, killing more than 400 of them, Duggan said, but it had also stolen an estimated $348 million from the city's budget for the next 16 months — nearly a quarter of the money the city had been counting on.
Thousands of workers, laid off from factories, restaurants and other businesses, had stopped paying income taxes. The three casinos that typically pay nearly a fifth of the city's expenses had been shut down by a state emergency order. And parking meters, court fees and other sources of city revenue had suddenly, unexpectedly, ground to a halt.
"We expected a downturn, and we prepared for it," Duggan said as he announced layoffs for all of the city's 200 part-time or seasonal employees, as well as steep pay cuts or reduced hours for more than 2,200 full-time staffers. "We didn't expect it to be this sudden or this dire."
It's a similar story across the country. In Cincinnati, the mayor tried to hold back tears as he announced the furlough of 1,700 municipal employees. In San Antonio, 270 employees have been furloughed. And in Miami Beach, Florida, 250 part-time employees have been laid off and 35 full-timers have been furloughed.
In New York, Mayor Bill de Blasio put the budget impact at $5 billion to $10 billion and warned that the largest city in the country might not be able to function unless the federal government steps up with emergency funds soon.
Full coverage of the coronavirus outbreak
"It's a tough time for cities all over America," said Clarence Anthony, executive director of the National League of Cities. "The cost of COVID-19 is going to be devastating for the financial future of cities."
Nearly every city in the country expects to face lower revenues as a result of the coronavirus crisis, he said. His organization, along with the U.S. Conference of Mayors, surveyed 2,400 local officials and found that many cities — 26 percent of small municipalities and 47 percent of large cities — are planning layoffs. Even more are planning furloughs — 59 percent of large cities.
City leaders are hoping the federal government will step up with another stimulus package that will include $250 billion in direct aid to municipalities. The $2 trillion stimulus signed by President Donald Trump last month, called the CARES Act, earmarked funds only for cities that have 500,000 residents or more, and those funds are intended to help cities pay for the cost of responding to the virus — not to make up for lost revenue.
Some congressional leaders have called for another major stimulus package, but that would be subject to negotiations between Congress and the White House.
Cities urgently need more help, said Nan Whaley, the mayor of Dayton, Ohio, which last month furloughed 479 of its 1,900 employees.
Without support, she said, city services that are even more essential during a pandemic will be hobbled.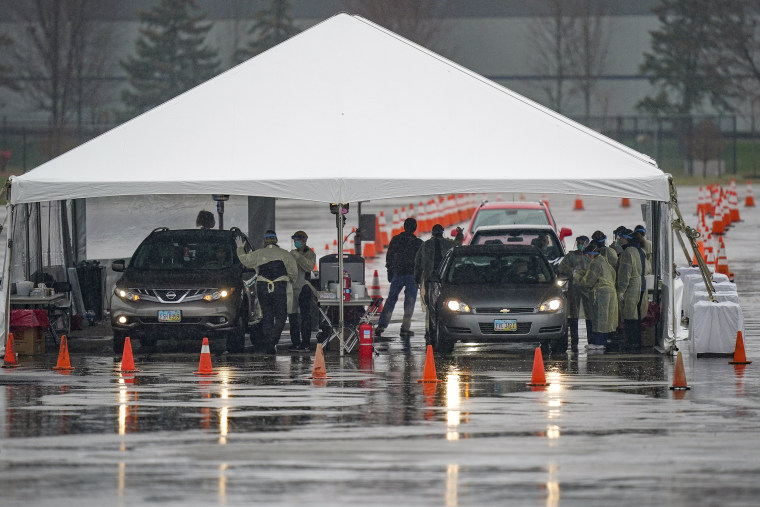 "We'll have less firefighters, less police officers," she said, noting that she has so far been able to protect her first responders from furloughs. "You have to retrench, because you know there's no money coming in."
Ohio cities are unusual in that most of their revenue comes from income taxes rather than property taxes. That has made the recent crisis particularly sharp in cities like Dayton, as residents lost their jobs when businesses shuttered last month to stop the spread of the virus. Whaley said she knew she had to immediately furlough workers, but she fears she's not done cutting her city's budget. She's asked her department heads to propose an additional 18 percent in cuts.
"Could our rec centers just no longer open again? Yep. That can happen," she said. "Could we decide not to pick up the trash as often? Yes. Could we decide to have less police coverage? Yes."
In Detroit, Duggan said the city's success in building a rainy day fund in the 5½ years since it emerged from the largest municipal bankruptcy in U.S. history softened some of the blow of this latest crisis. So far, using savings, he's been able to protect police, fire and emergency workers, as well as bus drivers, from pay cuts and furloughs.
The city also expects $36 million from the CARES Act, which will help minimize the pain of budget cuts. But in addition to the layoffs of part-time workers, about 900 full-time employees who do jobs such as directing traffic, selling bus tickets, repairing roads and issuing building permits will lose about 90 percent of their salaries — keeping just enough to maintain health care coverage — and will essentially be furloughed until further notice. About 1,300 office workers, including accountants, financial managers and information specialists, will go down to four days a week and take 20 percent pay cuts, while top executives like the mayor will take 5 percent pay cuts while continuing to work full time.
Detroit, where the death toll had climbed to 538 by Thursday, is also facing the added expense of running coronavirus testing sites for residents. It has acquired instant testing equipment for the police and fire departments, as well as nursing homes. And while some of those expenses have been paid for by donors, the city has faced increased overtime and hazard pay expenses for emergency workers, as well as the cost of protective gear.
All of the above will force the city to cut back on crucial services, such as the effort to remove burned-out houses that have blighted city neighborhoods for years, a legacy of past financial crises. Duggan is asking the City Council to redirect $72 million that had been earmarked for blight remediation — as well as $33 million that was supposed to go to improving city property — so it can be used to pay city workers instead.
"You're going to see delayed road repairs. You're going to see closed recreation centers," Duggan said in his address Tuesday night. "Blight is going to get worse in the neighborhoods. We've got to find a solution to it, but that's the truth. These are painful cuts."
Download the NBC News app for full coverage and alerts about the coronavirus outbreak
The cuts Duggan proposed assume that the crisis will end relatively soon. But some economists say it could be two years before the economy fully recovers, and that would mean lower property tax revenues and higher unemployment. People will have more needs at a time when their local governments will be less able to help, said Betsey Stevenson, a professor of economics and public policy at the University of Michigan.
"Detroit is just about one of the most fragile cities" in the country, Stevenson said. "It doesn't have a tax base it can lean heavily on. If it doesn't get help from both the federal government and the state, I think it's in pretty substantial trouble."
It's not just formerly bankrupt big cities that are worried.
"This is not a big-city problem," said Rochester Hills, Michigan, Mayor Bryan Barnett, the president of the U.S. Conference of Mayors. "This is an every-city problem."
Barnett's community, an affluent 75,000-person suburb north of Detroit with a $50 million annual operating budget, has already lost $7 million in revenue from sources including building permits and park rentals. As the crisis starts to affect property taxes, the pain could increase, he said.
The mayors group has been convening conference calls nearly daily in recent weeks, he said. Mayors share ideas about how to protect nursing home residents and police officers. They also share strategies for how to raise awareness of the looming crisis in their finances while also reassuring residents who are terrified about their loved ones' dying or their jobs' disappearing.
"As a mayor, you're trying to thread the needle between alarming and informing," he said. "I want my people to know that we are going to get through this and we will be stronger on the other side, but we have to take it seriously, and we have to work together."
Things are definitely tough, he said, but "I'm really focused on hope."