At least four people were injured and hundreds of buildings damaged after two tornadoes hit the Wichita, Kansas, area Friday evening, officials said.
Approximately 1,000 structures were damaged between Sedgwick County, where at least one tornado first formed, and Butler County. In a news conference early Saturday afternoon, authorities said they expect that number to grow as they wrap up an official damage assessment.
On Saturday afternoon the National Weather Service said its preliminary assessment of a reported tornado in Butler County measured it at EF 3, meaning that it generated winds between 158 and 206 mph.
The vortex ripped through terrain from eastern Sedgwick County to Andover in Butler County and toward Benton for 21 minutes starting at 8:10 p.m., the service said in a public information statement.
The assessment was made by observing its path and damage.
A second tornado near Rosalia, east of Wichita, was rated as an EF 1 with peak winds estimated at 100 mph.
The storm followed a 7.8 mile path and was on the ground from 9:05 p.m. to 9:24 p.m., the weather service said.
Four injuries have been reported, most of them minor, Andover Deputy Fire Chief Mike Roosevelt, who is serving as Butler County's incident commander during the tornado recovery and response period, said at the news conference.
All four people are adults. One was injured by debris, one was injured while evacuating, and two were responding to the scene to help, NBC affiliate KSN of Wichita reported.
At least one person suffered serious injuries, Kevin Lanterman, interim director of Sedgwick County EMS, said early Saturday morning.
The damage across Andover was evident Saturday morning, KSN reported.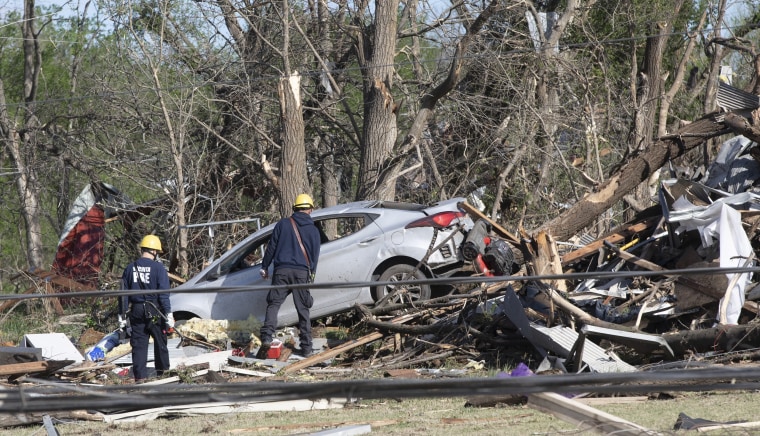 "We had many buildings in Andover take very strong damage," Andover Fire Chief Chad Russell said. "Some of our neighborhoods damaged badly enough that the houses were completely blown down."
Authorities were working on completing the damage assessment Saturday morning. Roosevelt said they completed the first phase and its nearly 70 percent done with the second phase.
The Greater Wichita YMCA said in a statement that the YMCA of Andover, to the east of the city, sustained "significant damage."
"We are thankful that all of the staff and members that took shelter at the branch at the time of the storm, were not injured," the YMCA said
Andover City Hall also sustained some damage.
As the National Weather Service continued to assess damage, it asked the public to avoid areas affected by the storm.
"These assessments take time so please be patient," the service said on Twitter. "Be mindful of our first responders and residents thus avoid the damaged areas."
Russell said officials believed no rescues were outstanding, but additional assessments were being conducted.
Scott Stueven, Butler County EMS deputy chief, said they received five requests for EMS patients, including two firefighters. One was hospitalized and both were in "good shape," he said.
Most reports of injuries have been for minor cuts, scratches and fall victims, he said, with no critical injuries.
Andover police said overnight most of the city's major intersections were blocked by debris or downed utility lines.
At least 1,300 utility customers in Kansas were without electricity Saturday afternoon, according to PowerOutage.us.
Sedgwick County Emergency Management Director Julie Stimson told KSN of Wichita said Friday night that county workers had been going door-to-door to check on residents.
"We have power outages," she said. "There is damage. We do not need onlookers at this time."
Kansas Governor Laura Kelly tweeted Friday that she had activated the disaster response and recovery plan.
Officials in Sedgwick County declared an emergency as they activated its emergency operations center, according to a statement. The declaration will help the county obtain state aid, officials said.
At least four additional, brief tornadoes were confirmed in the area about 50 miles north of Wichita — two EF 0 and two EF 1, according to the weather service.
The National Weather Service said one storm east of Wichita produced the Andover tornado and numerous additional tornadoes as it moved east.
Preliminarily, 14 tornadoes were reported in southern Nebraska and Kansas on Friday, with one additional tornado reported near Fort Myers, Florida. A dozen large hail events were also reported across the Plains, with hailstones as large as golf balls observed.