USA Gymnastics tried to silence top athletes after they reported being molested by team doctor Larry Nassar and as they pushed to meet with law enforcement officials, the gymnasts and their family members told NBC News.
Claims that the sports federation stressed discretion above all else are bolstered by text messages, emails and other materials reviewed by NBC News during a months-long investigation for a special edition of Dateline that aired Sunday.
In July 2015, after Olympian Aly Raisman met with a consultant USA Gymnastics hired to interview possible victims, she said she reached out to Steve Penny, the chief executive of the sports federation, because she wanted another meeting to share more information about Nassar's abuse.
"There are very few people in the loop on this. Very, very few," Penny texted Raisman, explaining that he was planning on speaking with the consultant the next day. "Most important is to address the issue with privacy and confidentiality in mind. I will be working through next steps as soon as I get the game plan in order."
Raisman said that when she heard from the consultant, Fran Sepler, it didn't seem like she was interested in hearing more details.
"I appreciate your interest and concern in this matter," Sepler texted her. "I and the Association are taking the proper steps, but please remember that there are risks in sharing information at this point. There is a process in place and staying clear of the process will protect you and others."
To Raisman and others, the message was clear: USA Gymnastics and Penny wanted to control the situation and keep gymnasts quiet about Nassar, who had been relieved of his team duties but was still seeing patients at Michigan State University.
Most important is to address the issue with privacy and confidentiality in mind.
"We kept following up with Steve Penny," Raisman said. "And he would just say, you know, 'I'm handling it. ... Please be quiet. Remember, the most important thing is to keep this quiet.'"
A representative for Penny — who resigned from USA Gymnastics under fire last year — told NBC News in a statement that he "did not intend to discourage any athlete from speaking with any law enforcement agency."
"Any comment regarding confidentiality or not speaking about the matter in the general public was intended to protect the privacy of those involved, particularly the athletes, and protect the integrity of the FBI investigation," the statement said.
"There was no attempted cover-up," it added. "The FBI was contacted twice."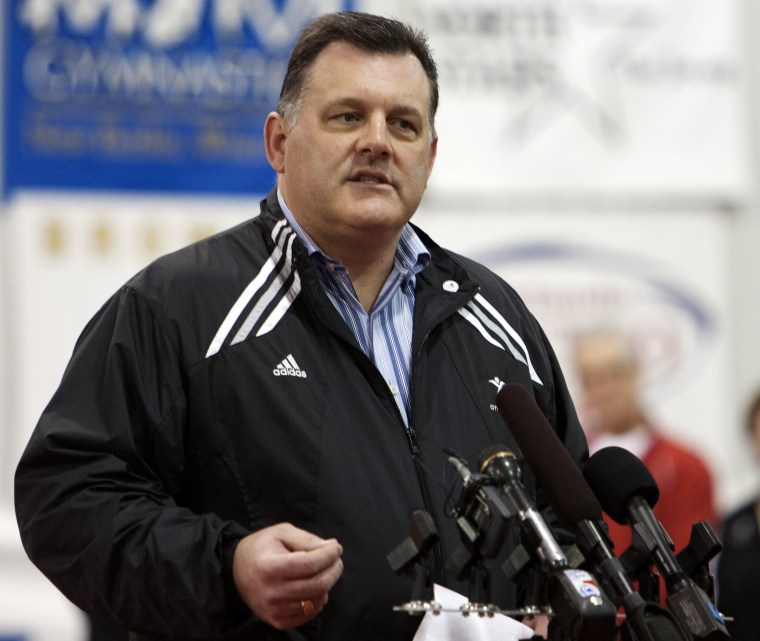 Sepler, who has experience dealing with children who have been sexually abused, told NBC News that USA Gymnastics never informed her that Raisman wanted to meet with her again. She said she was told Raisman wanted to contact other gymnasts about the matter on her own.
Read Fran Sepler's full statements here and here
"Had I been made aware of Aly's phone call or apprised in any other way that Aly wanted to share more information, I would have jumped on a plane immediately to re-interview her," Sepler said. "But that never happened because I wasn't aware that Aly had more she wanted to say."
The Dateline investigation also included:
Olympian McKayla Maroney's first interview since her disclosure last year that Nassar repeatedly abused her. She told NBC News about a harrowing episode in a Tokyo hotel room in 2011 that she said spurred her to blurt out what Nassar had done in earshot of a top coach.
The first interview with coaches Bela and Martha Karolyi, who owned the Texas ranch where Nassar abused elite athletes. The Karolyis responded to criticism that the demanding atmosphere created the perfect environment for a predator — and denied they mistreated gymnasts or ignored abuse.
The revelation that USA Gymnastics, which sparked outrage for including a non-disclosure clause in a settlement with Maroney, also wanted Raisman to promise confidentiality as part of any agreement, according to Raisman and her family.
Nassar is serving up to 175 years in prison after pleading guilty to abusing 10 of the more than 265 former patients who say they were molested. But questions continue to swirl about how he could have preyed on so many.
In a statement, USA Gymnastics said it "supports and is fully cooperating with the various investigations that may shine light on how abuse of the proportion attributed to Nassar would have gone undetected for so long."
Read USA Gymnastics' full statement here
Some gymnasts say part of the answer lies at the Karolyi ranch, which Bela and Martha purchased in 1983 after they defected from Romania and imported their rigorous and highly successful training system to the United States.
Nestled in a forest an hour from Houston, the ranch began hosting national training camps for elite gymnasts nearly two decades ago. Every four to six weeks, Olympic hopefuls spent several grueling days at the compound without their parents.
Some former Olympians told NBC News that the high-pressure atmosphere is what helped them to succeed, but others said it took an emotional toll.
"Me and the girls used to call it torture camp," Maroney said.
In recent months, gymnasts have come forward with complaints about the ranch and the Karolyis: the accommodations were substandard; the food was terrible; they were berated and body-shamed.
Maroney said Martha Karolyi screamed at her — "She just said horrible things to me" — when she was late to a meeting.
Because Martha Karolyi, as USA Gymnastics' training coordinator, had a major role in deciding which athletes would get on the national team, some girls said they worried that complaining about conditions would affect their standing.
Nassar took advantage of the stressful climate, befriending the girls with gifts, food and words of encouragement — classic grooming techniques, experts say. The gymnasts say he relied on their fears and dreams to ensure they didn't tell anyone how he was penetrating them with ungloved fingers.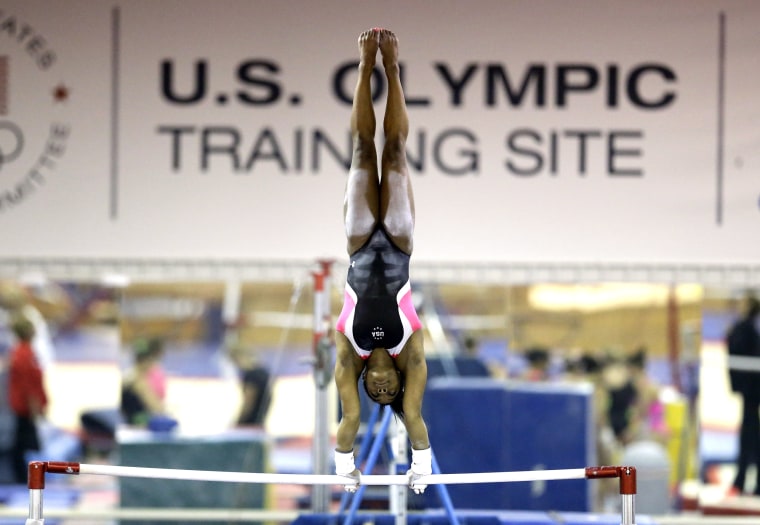 Breaking a nearly two-year silence, the Karolyis told NBC News that their national team training camps were challenging but not abusive.
"You have to find out who are the best ones, who are the ones who are able to stand the pressure," Martha said. "I don't see any other way ... to prepare gymnasts who are successful."
The couple, both 75, denied allegations made by gymnasts in lawsuits and interviews that they cursed at gymnasts, restricted their food intake and made them train or compete while injured.
That miserable man destroyed everything
Two lawsuits include references to physical abuse, and accusations about mistreatment of gymnasts when the Karolyis were in Romania decades ago have surfaced in recent months.
Martha said she has never hit a gymnast. Bela told NBC News that while he may have slapped or spanked a gymnast in Romania, he never raised a hand to an American — and in dozens of interviews, no one said they ever saw the Karolyis harm a U.S. athlete.
"I never touched anybody. I never pushed anybody," Bela said. "And if anybody comes up with that one, that's a dirty lie."
The Karolyis also said that while they owned the ranch, USA Gymnastics leased the property and operated the training camps. They noted that USA Gymnastics officials attended the national team camps and that elite gymnasts were required to bring a personal coach.
Bela said he didn't like Nassar from the moment he met him, likening him to "a snake." But he and Martha insisted they had no idea the doctor was molesting girls.
Nassar reported to USA Gymnastics, not the Karolyis, and they said it wasn't their job to ensure he avoided being alone with minors.
"I don't feel responsible," Martha said. "But I feel extremely hurt that this thing happened and it happened everywhere, but it happened here, also."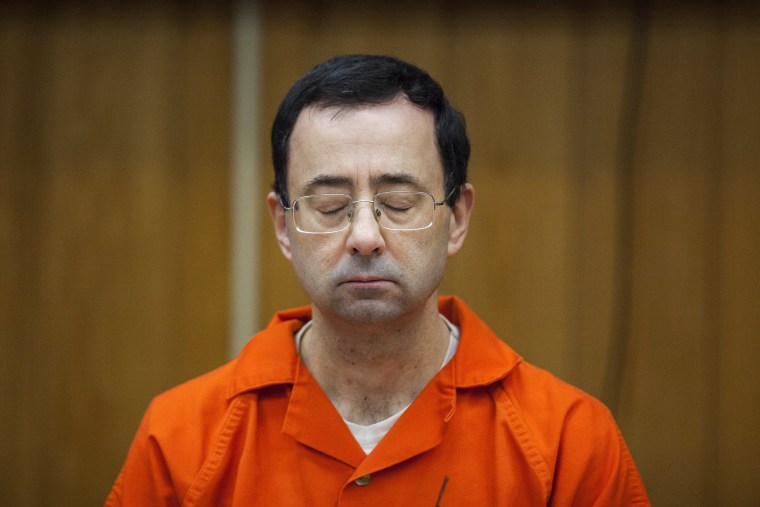 And it happened over and over and over again.
Maroney, part of the gold-medal Fierce Five squad, says Nassar molested her hundreds of times during ranch visits and at competitions around the world.
She didn't process it as abuse until a particularly vicious incident in a Tokyo hotel room before the 2011 world championships.
The next day, in a car on the way back to the hotel from training, she said, she loudly blurted out what had happened in earshot of USA Gymnastics coach John Geddert, who didn't react.
"I just said, 'Last night, it was like Larry was fingering me,'" she said. Geddert didn't respond to requests for comment, and USA Gymnastics said it never heard about the incident.
The 2011 episode is important to unraveling the question of when Nassar could have been stopped, because it happened four years before USA Gymnastics said it first learned of accusations against Nassar.
That was mid-June 2015, when national team member Maggie Nichols' personal coach overheard Nichols and Raisman talking about Nassar and alerted Nichols' mother and a USA Gymnastics executive.
USA Gymnastics said in a statement that the information it got from the coach "did not allege abuse." But Nichols' mom, Gina, a nurse, said that when Steve Penny called her soon after, it was clear they were discussing molestation.
Penny, she said, told her: "We'll have to look into this, but this is very private. This is very personal. And you cannot tell anybody."
"I said, 'This is a child, and we need to call the police and child protection service,'" Nichols said. Penny's response? "USA Gymnastics will take care of that," he said, according to Nichols.
But Penny didn't call the police. Instead, he said, on the advice of legal counsel, he hired Sepler, who met with Nichols, Raisman and Maroney over the course of two weeks in the summer of 2015.
"She came to my house, and I met with her alone," Raisman said.
"I said: 'You know, he does touch me. And I know he touches some of my teammates inappropriately. But he tells us that it will heal certain parts of our body, so that we think that it's OK.'
"And I said: 'Also, you know, he does give us gifts. And he's really nice to us. So we don't think that he does it on purpose.'"
After speaking to Sepler and talking to her mother, Raisman said, something clicked. She realized what Nassar had been doing was "really bad" and that she wasn't the only victim. That's when she asked USA Gymnastics to put her back in touch with Sepler.
Sepler said she wasn't hired by USA Gymnastics to conduct a full, independent investigation, but to determine whether there was reason to believe sexual abuse had occurred.
"I did not intend to silence Aly or anyone else, and I was never told to do so," she said.
Sepler's involvement ended after she interviewed Maroney in July 2015 and immediately recommended that USA Gymnastics bring in law enforcement. Penny called the FBI's office in Indianapolis, where the sports federation is headquartered.
Me and the girls used to call it torture camp
That, the gymnasts say, is when things got really frustrating.
Maroney's, Raisman's and Nichols' families say that they were eager to meet with FBI agents and that they expected that Nassar, who was no longer attending USA Gymnastics events, would be swiftly arrested.
Instead, they said, they were met with months of delays and warnings from Penny.
"He said ... he was told by all the law enforcement and FBI and the investigation that this is the way the investigation works, that we have to keep it quiet so we don't ruin the investigation," Gina Nichols said.
Maroney said Penny also told her to "be careful" not to disrupt the FBI's work. "Me and my mom are both terrified to say anything because we didn't want to ruin the case," she said.
The Karolyis say Penny told them the same thing.
"He was saying, we're not talking about this, you're not talking with nobody about this. We're taking care of it," Martha Karolyi told NBC News.
Maroney, who lives in California, was asked to go to Indianapolis for a formal interview. But, she said, she was too sick to travel, suffering from panic attacks and depression. She spoke to the FBI by phone in the late summer.
Penny tried to arrange a meeting between Raisman and the FBI in Indianapolis during the busy August weekend of national championships. It didn't happen, and later that month Raisman's mother was still pressing Penny to have the FBI call her.
In September, Raisman said, Penny told her family that USA Gymnastics had turned everything over to the FBI and wasn't getting updates from the bureau.
But there was news from Nassar: He announced on Facebook that he had retired from USA Gymnastics so he could concentrate on his work at Michigan State University, where he went on treating girls in the sports medicine clinic.
USA Gymnastics said it didn't alert MSU about the allegations because the FBI asked it not to do anything that could interfere with the investigation. "USA Gymnastics denies any allegation that it had wide-ranging knowledge of abuse by Nassar or that it concealed or ignored his abuse," it said.
The statement from Penny's lawyer said he and others at USA Gymnastics "provided the FBI with whatever information it requested."
"Mr. Penny's intent was to allow the law enforcement investigation to proceed and to cooperate fully with them, which he did," it said.
There was no attempted cover-up.
Citing an internal review, the FBI declined to answer a single question from NBC News about what it did or did not do, including what exactly agents told USA Gymnastics.
Read the FBI's full statement here
Penny told NBC News that the Indianapolis FBI office transferred the case to the Detroit office. After that, "there was little to no contact with USA Gymnastics," he said. After he contacted the FBI's Los Angeles bureau in the spring of 2016, the wheels began to move again, he said.
It wasn't until June 2016 that Gina Nichols got a call from an agent in Los Angeles who asked to visit Maggie. She was stunned when he told her she could talk to anyone about Nassar, that it was "no secret."
"Really?" Nichols said, her lips quivering with anger. "I have been told for a whole year by Steve Penny and USA Gymnastics that we couldn't talk about this and had to keep it quiet."
The agent flew to Minnesota to interview Maggie, who is now the top college gymnast in the country, right after the 2016 Olympic trials.
The FBI contacted Raisman after the Rio games.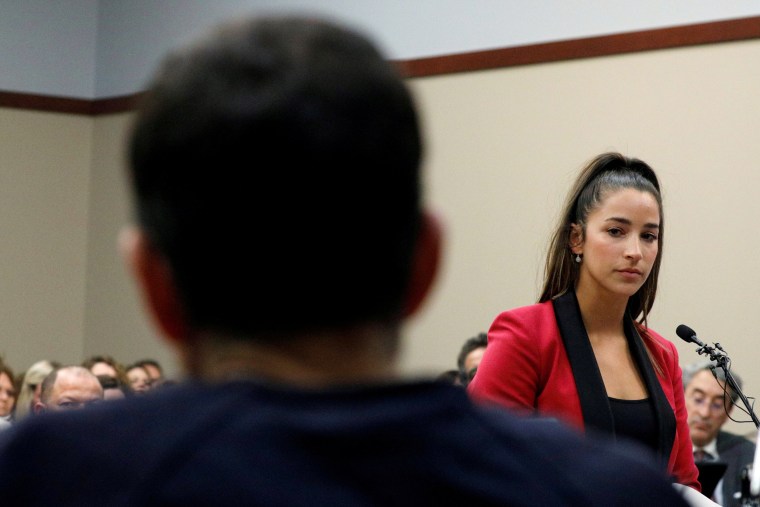 "I said, 'Why did you wait so long?' and they said, 'Oh, we wanted to wait until the Olympics were over,'" she said.
She met the FBI at the Olympic Training Center in Colorado in September 2016. She said she felt intimidated when she saw Penny, who flew in that morning, at the center. Penny said that his presence was coincidental and that he didn't know the timing of Raisman's meeting.
Even after the FBI had completed the gymnast interviews — more than a year after the first report — Nassar still hadn't been arrested.
But by then, FBI agents weren't the only ones looking into Nassar. After The Indianapolis Star published its investigation of sexual abuse in the gymnastics world, a former patient of Nassar's contacted the newspaper and reported her experience to Michigan State police.
MSU police launched their own probe and began taking more and more complaints. Nassar was suspended by the college and then arrested on sexual abuse and child pornography charges. In the year since Maroney, Raisman and Nichols spoke to Sepler, he had molested at least 46 more patients, the athletes' lawyer said.
"It eats at me every single day," Gina Nichols said.
Maroney's eyes filled with tears when she spoke about victims who came after her.
"That's what hurts me the most," she said.
And even after Nassar was exposed as one of the nation's most prolific child predators, USA Gymnastics sought to stop gymnasts from talking about him.
From the very beginning, I knew that I wanted to talk about this.
In December 2016, the organization reached a settlement with Maroney that included a non-disclosure clause, which USA Gymnastics has since said it won't enforce. Raisman said last year USA Gymnastics offered her the same.
"Obviously, I said no," she said. "From the very beginning, I knew that I wanted to talk about this."
In recent months, Raisman has become one of the loudest voices calling for institutions to be held accountable. She was part of the "army of women" who testified at a sentencing hearing for Nassar, who is serving up to 175 years after pleading guilty in three courtrooms.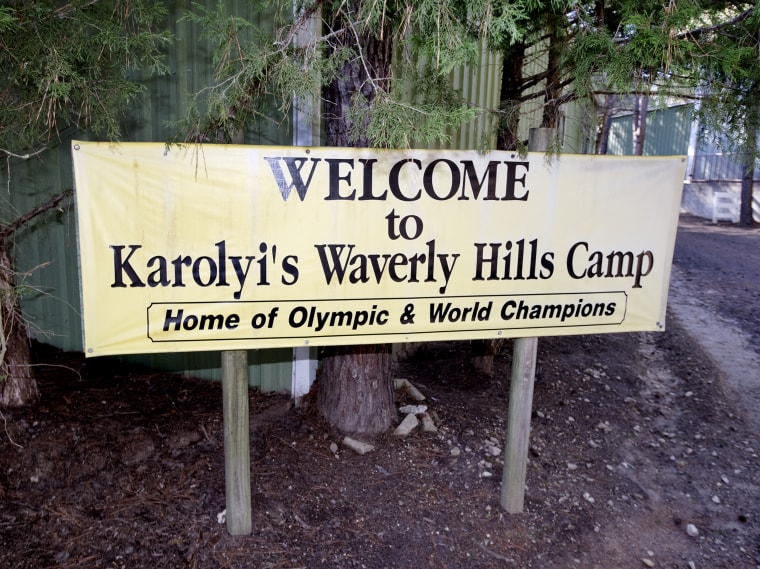 And now the Karolyis have spoken out, too. At the ranch filled with mementos of their moments of glory — no longer an Olympic training site — they reflected on the damage done to the athletes and to their legacy.
"I feel angry, very angry," Martha said.
Her husband grew emotional as he assessed the damage caused by Nassar.
"This miserable man," he said, "destroyed everything."