Simone Biles, the golden girl of the 2016 Olympics, added her name Monday to the list of gymnasts who say they were molested by team doctor Larry Nassar.
The revelation came in a long statement on her social media accounts — one day before a weeklong sentencing hearing at which Nassar will hear from nearly 100 victims.
"Most of you know me as a happy, giggly and energetic girl. But lately ... I've felt a bit broken and the more I try to shut off the voice in my head the louder it screams," Biles wrote in a #metoo post.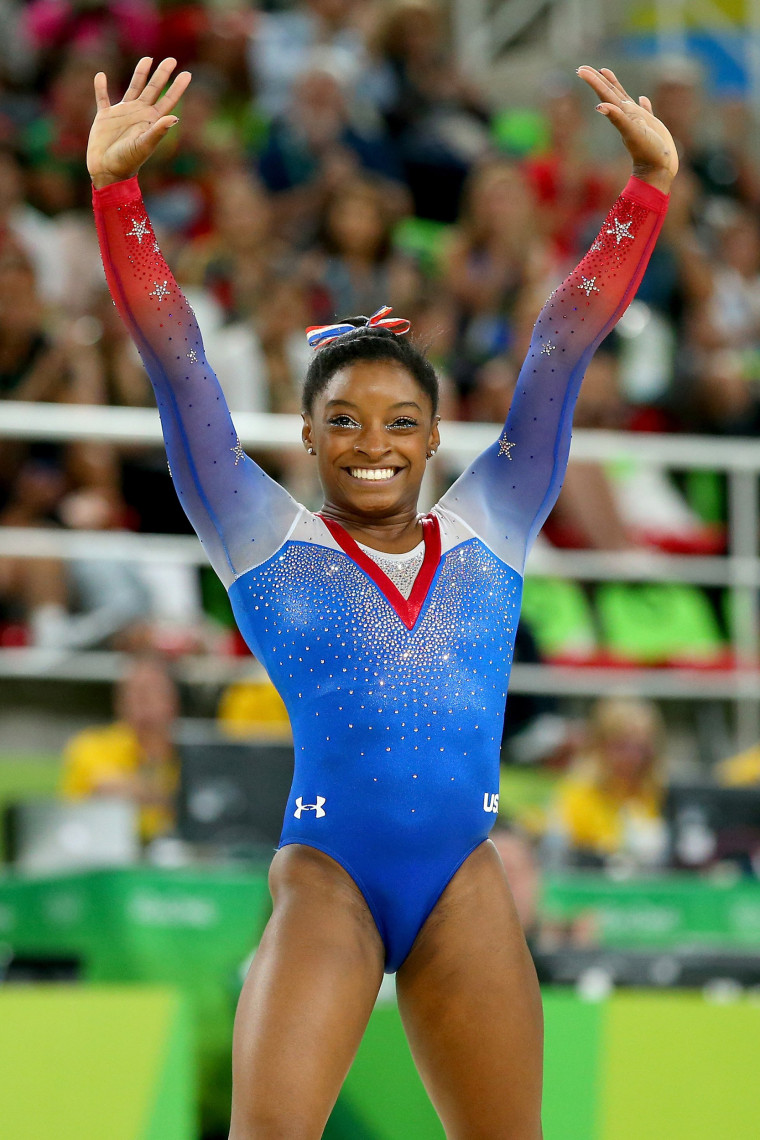 "I am not afraid to tell my story anymore. I too am one of the many survivors that was sexually abused by Larry Nassar," she continued.
"For too long I have asked myself, 'Was I too naive? Was it my fault?' I now know the answers to those questions. No. No, it was not my fault. No, I will not and should not carry the guilt that belongs to Larry Nassar, USAG [USA Gymnastics], and others."
Biles' statement follows similar disclosures from three members of the 2012 "Fierce Five" team — McKayla Maroney, Aly Raisman and Gabby Douglas. They are not expected to be at Nassar's sentencing, but 2000 Olympian Jamie Dantzscher will testify at the marathon hearing.
Hour by hour, Dantzcher and others will deliver victim impact statements — describing how they gave their trust to Nassar and were betrayed by a "monster" who violated them with ungloved hands, using his reputation and invasive "treatments" to mask serial sexual assaults.
"What people need to understand is these aren't just anonymous people," said Rachael Denhollander, the first woman to publicly accuse Nassar in the summer of 2016.
"These were real little girls, some of them as young as 6 years old," Denhollander told NBC affiliate WOOD of Grand Rapids, Michigan, on the eve of the hearing. "These were real young women who are suffering devastating consequences now, and this could have been avoided."
Some of the victims are certain to blame not just Nassar but USA Gymnastics, which made him an Olympic team doctor, and Michigan State University, where he had his sports-medicine practice until the scandal erupted in the summer of 2016.
Both are accused of giving Nassar unfettered access to vulnerable girls and women, ignoring signs or complaints of sexual misconduct, and trying to silence victims.
Nassar, 54, pleaded guilty in Ingham County, Michigan, to sexually assaulting seven girls, but the judge is allowing all of his accusers to speak. More than half of those who have filed complaints are expected to give a statement.
Some will stand at a podium and speak directly to Nassar, who is expected to be sitting in the witness box. Others have sent audio recording that will be played in the courtroom. Still others have sent written statements that will be read aloud by a prosecutor.
They include elite athletes who were told that Nassar could help make their gold medal dreams come true and ordinary patients who felt privileged to be seen by a doctor whose office was filled with photos of him with Olympic champions.
"I hope I can look him in the eye," said Jeanette Antolin, a former national team member who says she was abused repeatedly from 1997 to 2000. "I don't want him to feel like he has any more power over me, so I'm going to stay as strong as possible."
Antolin said she's not interested in what Nassar has to say at the sentencing. She thinks that his previous statements rang hollow and that he hasn't really accepted guilt.
"I heard what he had to say the last time, and it basically made me sick to my stomach," she said. "His words meant nothing. His apologies meant nothing."
Denhollander, who was just 15 when she was Nassar's patient in 2000, said her message is not just about Nassar but about the people she believes could have stopped him — officials at USA Gymnastics and Michigan State.
A mountain of lawsuits filed against the university say that a teenage gymnast reported Nassar's disturbing procedures to coach Kathie Klages in 1997 but that no action was taken against him.
"Had MSU handled those reports of sexual assault properly in 1997 we wouldn't have have 93 victims coming forward to speak," Denhollander said.
Klages also defended Nassar to MSU gymnasts after the Indianapolis Star uncovered two complaints against him in August 2016, and she asked the college students to sign a card for him while he was suspended.
The university has asked for the dismissal of lawsuits by Nassar's accusers, contending that as a government entity it has immunity and arguing that anyone who received complaints over the years was not Nassar's supervisor and thus not the right person to take action.
"They don't deny that four young women had complained in graphic detail about Larry's procedure," Denhollander said. "What they say is they didn't complain to the proper people."
MSU has said that it cannot comment on pending litigation but that an attorney it hired to investigate reported that "the evidence will show that no MSU official believed that Nassar committed sexual abuse prior to newspaper reports in the summer of 2016."
There have been calls for President Lou Anna Simon to step down, and Michigan Attorney General Bill Schuette, who is running for governor, may launch an investigation to determine whether any university personnel beyond Nassar bear criminal responsibility.
USA Gymnastics, meanwhile, has come under fire from some its biggest stars — Raisman and Maroney among them, who say that after they told a private investigator about their sessions with Nassar, the organization tried to keep them quiet.
The group's president, Steve Penny, was forced out last year because of the handling of the Nassar allegations and other sexual abuse cases, but some have demanded a complete housecleaning of leadership.
USA Gymnastics has beefed up its protocols for handling misconduct complaints, but it has also hit back at criticism from its Olympic alumnae and tried to shift blame to the FBI, which was called in to investigate to Nassar.
In a statement Monday night, USA Gymnastics said it was "absolutely heartbroken, sorry and angry that Simone Biles or any of our athletes have been harmed by the horrific acts of Larry Nassar."
Nassar's plea deal in Ingham County calls for him to get up to 40 years in prison. He faces another sentencing for three sexual assault victims in Eaton County, and he's already been sentenced to 60 years in federal prison for possession of child pornography.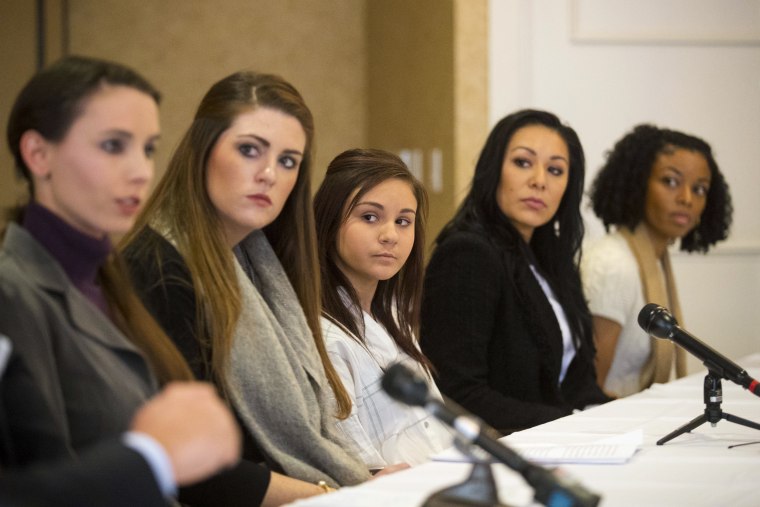 The victim statements won't change the fact that Nassar is likely to spend the rest of his life behind bars, but the hearing will provide a platform for girls and women to tell their stories for the first time — now in the midst of the #metoo movement.
"It's important that the message of not just the consequences of sexual abuse but the consequences of enabling sexual abuse are heard loud and clear," Denhollander said.
"Every time something like this happens, the question is what can we do better, how can we prevent it? And we have one of the best examples here of what we could have done better and how it could have been prevented here. And if we don't learn from this example, the cycle will just continue."