Simone Biles flew through another historic routine Sunday to win a record eighth all-around title at the U.S. Gymnastics Championships, a full decade after her first national title.
The victory in San Jose, California, cemented a dominant comeback to the top of the sport just weeks after Biles returned from a two-year break to focus on her mental health.
"It feels really special," Biles told NBC after her victory. "I've been doing it for so long, I feel like I don't think about numbers, I think about my performance. And I think, overall, I hit eight for eight. I guess it's a lucky number this year."
Biles received a standing ovation after her breathtaking floor exercise, which earned her 15.400. Her 14.850 on the Cheng vault was also the highest of the night and so was the 14.8 she netted on the beam. 
Her combined total of 118.450 beat second-placed Shilese Jones by 3.9 points.
"It's really amazing. Everybody in here believes in me," she said. "So I just need to start believing in myself a little bit more, but it feels amazing and I love the fans, I love the crowd. It was really special."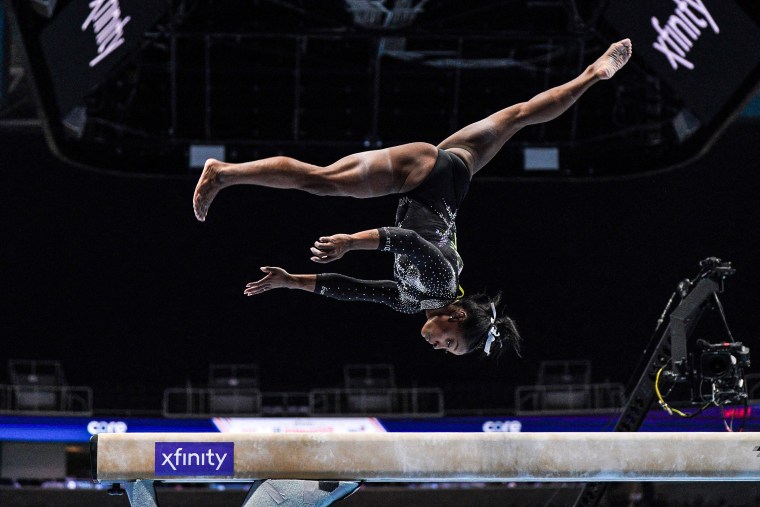 Biles continued her return to the sport at the event, building off her victory at the U.S. Classic two weeks ago following a two-year layoff after pulling out of multiple events at the Tokyo Summer Olympics in 2021.
Biles stunned the gymnastics world when she pulled out of the team finals in Tokyo, saying the emotional toll of the Tokyo Games, not a physical injury, prompted her withdrawal.
Biles revealed she had been experiencing "the twisties," a mental phenomenon which affects a gymnast's perception about their position in the air.
Shortly after, she gave tearful testimony before the Senate Judiciary Committee, sharing her story of having been sexually abused by USA Gymnastics doctor Larry Nassar.
She bluntly said USA Gymnastics and the U.S. Olympic and Paralympic Committee "failed to do their jobs."
The national championships give gymnasts a chance to qualify for the national team and make it to the world championships, which are going to be held in Antwerp, Belgium, late next month.
Biles rose to the top of the gymnastics world almost 10 years ago as a teenage prodigy with her first world title at the 2013 championships, which were also held in Antwerp.
The 26-year-old's victory on Sunday made her the oldest woman to win a national title since the competition was taken over by USA Gymnastics in 1963. She also beat the record of Alfred Jochim, who had won seven titles almost 90 years ago, back when Amateur Athletics Union ran the tournament.
She has won 25 medals at world championships, including 18 golds — higher than any men's or women's gymnasts in history.
But Biles remained quiet about whether she would compete in next year's Paris Olympics.
"I like to keep them personal just so that I know what I am aiming for," she told NBC, referring to her goals. "I'm trying to move a little bit differently this year than I have in the past. So I think it's working so far, so I'm gonna keep it a little bit secretive."