Sinclair Broadcasting, which could soon own more U.S. television stations than any other company, has a plan to create a near-national network of local stations delivering the news with a conservative bent. And thanks to some help from federal officials, that plan is inching closer to reality.
Sinclair has bid $3.9 billion to acquire the Tribune Company, which would put it in control of 223 TV stations, by far the most of any broadcasting company. The Federal Communications Commission has taken several steps — and is contemplating others — that can help that merger, including the following:
The FCC has done away with a rule that requires broadcasters to keep a local studio presence in each market. That would reduce Sinclair's costs and allow it to consolidate news studios.

It reinstituted an old rule that allowed UHF stations to count as having smaller coverage than VHF stations (a concept that is largely obsolete in the digital TV era). That would make it easier for Sinclair to meet the commission's test that no company should reach more than 39 percent of all TV households; without the change, Sinclair would reach 72 percent of households. (That decision has been challenged, and is now before a federal appeals court.)

On Thursday the commission is expected to eliminate many of the other longstanding rules that put limits on media ownership. Those limits include a rule prohibiting ownership of more than two stations in a top-four market, along with a test that eight independently owned stations must remain as competition within a market. Restrictions on owning newspapers and stations in the same market would also be lifted. Ending those limits would make it much easier for the merger to proceed.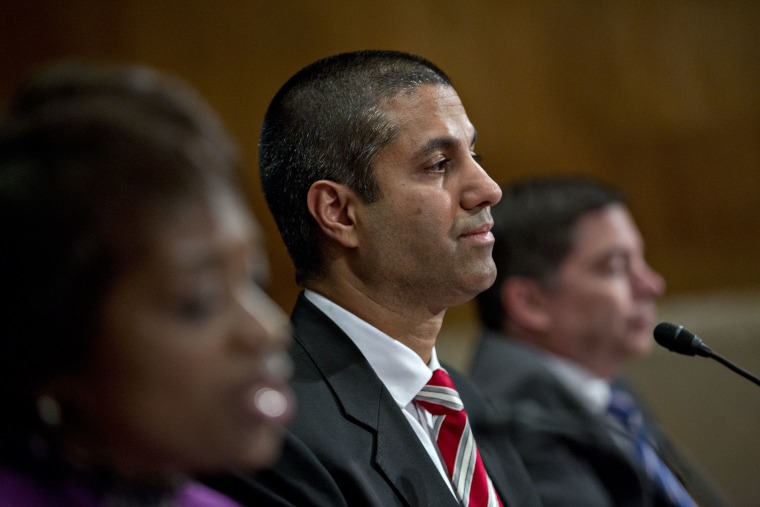 Democrats and critics on the left are angry about the FCC's moves, which they see as an effort by the Trump administration to clear the way for more conservative-oriented voices on local news stations.
"This agency is organizing all of its media policies around the interests of this one company," Jessica Rosenworcel, a Democratic member of the FCC, said in an interview. "That's troubling. That's not right. It deserves an investigation." (Each party gets two seats on the five-member commission, and the president appoints the chair.)
Is the FCC independent?
On Monday, two Democratic House members wrote to the inspector general of the FCC, asking for an investigation into the actions of Ajit Pai, the commission chairman, which they say are clearly intended to benefit Sinclair.
"All of these actions – when taken in context with reported meetings between the Trump Administration, Sinclair and Chairman Pai's office – have raised serious concerns about whether Chairman Pai's actions comply with the FCC's mandate to be independent," said the letter, signed by Frank Pallone Jr. of New Jersey, ranking member of the Energy and Commerce Committee, and Elijah Cummings of Maryland, ranking member of the Oversight and Government Reform Committee.
An FCC spokesman, Neil Grace, denied that Pai — nominated by Trump in January — is changing the rules to benefit Sinclair.
"For many years Chairman Pai has called on the FCC to update its media ownership regulations – one of which dates back to 1975," Grace said. "The chairman is sticking to his long-held views, and given the strong case for modernizing these rules, it's not surprising that those who disagree with him would prefer to do whatever they can to distract from the merits of his proposals."
Sinclair denies it is getting special treatment from the government. A company spokeswoman, Chelsea Koski, said that modernizing the commission's rules and allowing for technical innovation are critical to the future of local broadcasting.
"The entire broadcast community has been seeking ownership relief for decades, and multiple industries support advanced broadcast technology," Koski said. "To suggest that these reforms benefit one company ignores the wealth of publicly available advocacy on both of these fronts."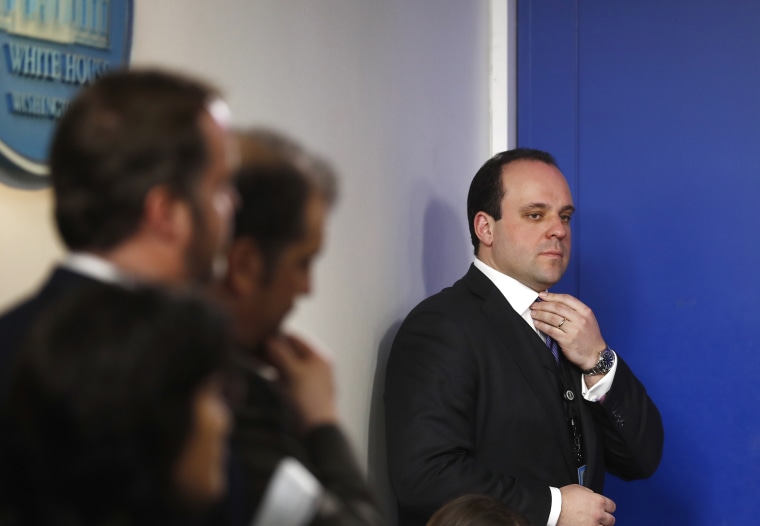 Required conservative commentary
Sinclair has made little secret of its right-wing political bent. It has required its affiliate stations to run political commentary by Boris Epshteyn, a former Trump White House official, nine times a week. His segments regularly support the administration's talking points. It has also required stations to run a segment called "Terrorism Alert Desk," and last year its stations ran a video urging voters not to support Hillary Clinton because the Democratic Party was historically pro-slavery.
Mark Hyman, a former Sinclair executive, also has a regular conservative commentary segment on many of the company's stations.
Sinclair has quietly held meetings with talent agents to line-up some familiar conservative names, according to one person in the talent industry who is familiar with the talks. The names include Bill Shine, Greta van Susteren and Eric Bolling, all former Fox News personalities. Bill O'Reilly has been ruled out, according to Sinclair's CEO, Christopher Ripley, who spoke on the firm's latest earnings call.
Several talent agents said in interviews that they've heard very little from Sinclair as yet, and believe the company is waiting until it gets closer to acquiring the Tribune before putting talent deals in place.
Consolidating local news coverage
Though it requires its stations to run conservative commentary on national topics, the company has a history of cutting back local news departments to save money when taking over stations. According to The Toledo Blade, Sinclair outsourced most of the news programming on its station in Toledo, Ohio, (an NBC affiliate) to another Sinclair station in South Bend, Indiana, resulting in layoffs. At one point, the newscast misspelled "Toledo" in a graphic.
Sinclair said it is committed to spending on its stations.
"To say stations suffer cuts after acquisitions is incorrect, as demonstrated by the nearly $40 million Sinclair has invested in two of our recent acquisitions, Fisher Broadcasting and Allbritton Communications," Koski, the company spokeswoman, said. The firm says it is committed to local news, adding that it has invested $10 million in WJLA in Washington, D.C., and $2 million in KOMO in Seattle.
But if the Tribune merger goes through, Sinclair will own two stations in Seattle: KOMO and Tribune's KPCQ. Dave Twedell, business representative for the Seattle local of the International Alliance of Theatrical Stage Employees, which represents editors, photojournalists and camera people, says he has asked Sinclair management to make a commitment to keeping the two stations separate. He said he was told that the company wants to keep its options open.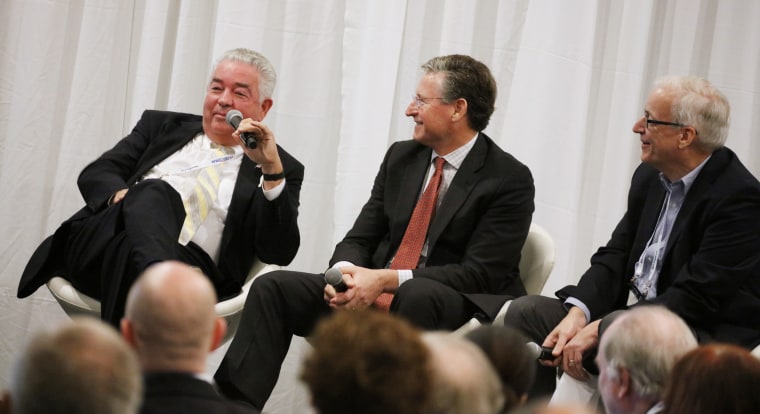 Competitors in the pay-TV field are also angry about the prospect of consolidation. Distributors that pay to carry channels to consumers are bracing for Sinclair to demand higher rates, a request that could create the kind of blackouts that sometimes happen in the satellite and cable industries.
Dish Network, a satellite distributor that is anticipating a demand for higher rates from Sinclair, has urged the FCC to take action against the merger. It compiled a list of instances showing how Sinclair cut newsroom costs as it acquired stations in recent years.
In addition to the FCC's role, the Justice Department will also weigh in on the antitrust aspects of the merger.
In support of its merger plans, Sinclair has argued that it is competing with the likes of Facebook and Google for ad dollars at a time when viewers have many sources for video content.
But the revenue picture for Sinclair is in fact looking brighter, in part because 2018 is shaping up to be a strong year for political advertising, which often benefits local television stations.
Mark Fratrik, the senior economist at BIA/Kelsey, an advertising consulting firm, said that because of congressional midterm races next year, he puts the overall revenue increase in the high single-digit range, forecasting some $20 billion in revenue for TV stations in 2018, up from $18.3 billion this year.
"It gets brighter every day as there are more competitive races," he said. "There is some optimism that local TV stations will do noticeably better in 2018 as a result."
And any revenue Sinclair might be losing on the traditional side might be made up by income from new virtual cable networks. Sling, Google's YouTube TV and other virtual networks are paying television stations higher fees to carry broadcast affiliates, higher even than traditional distributors such as cable systems will pay.