The sister of the man who opened fire at a Dayton, Ohio, bar early Sunday morning is among the nine people killed in the attack.
Police identified the gunman who attacked a crowd of people outside Ned Peppers Bar as Connor Betts, 24, from Dayton, officials said at a press conference Sunday afternoon. His sister, Megan, was among the nine victims in the shooting; another 27 were injured.
Betts allegedly wore body armor and carried ammunition magazines when he attacked the bar. Police Chief Richard S. Biehl said officers who were nearby when the shooting started killed the gunman within about 30 seconds of the first shots being fired.
Authorities released a full list of those who were killed: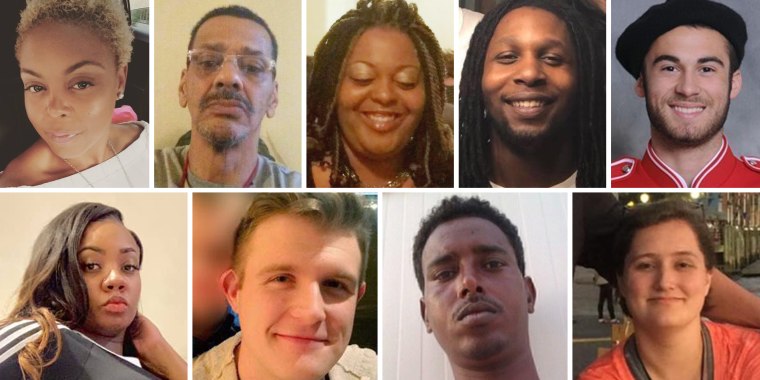 Lois L. Oglesby, 27
Oglesby was a nursing school student and mother of two children who had recently been on maternity leave, a friend told the Dayton Daily News. "She was a wonderful mother, a wonderful person," Derasha Merrett was quoted as saying. "I have cried so much, I can't cry anymore."
Megan K. Betts, 22
Betts, the gunman's sister, was an undergraduate student at Wright State University, a public university named in honor of aviation pioneers Orville and Wilbur Wright. She was studying earth and environmental sciences.
Saeed Saleh, 38
Derrick R. Fudge, 57
Fudge was spending time with family when he was shot, his sister told the Dayton Daily News. "They were all just down there enjoying themselves and had stepped out of, I think, one of the clubs and were in a line to get some food," Twyla Southall told the newspaper.
Logan M. Turner, 30
Turner, who recently began working as a machinist at Thaler Machine Co. in Springboro, was out with friends over the weekend after celebrating his birthday, his mother told the Dayton Daily News. "He was very generous and loving and the world's best son," Danita Turner told the newspaper.
Nicholas P. Cumer, 25
Cumer was a graduate student in the master of cancer core program at Saint Francis University in Loretto, Pennsylvania, according to a statement released by the school's president. "Nicholas was dedicated to caring for others," Malachi Van Tassell said in the statement.
Thomas J. McNichols, 25
McNichols, whose nickname was "TeeJay," was a father of four and a "gentle giant," his aunt told the Dayton Daily News. "Everybody loves him. He was like a big kid," Donna Johnson told the newspaper. "When all of the movies come out — Batman, 'Black Panther' — he would get all his nephews and take them to the movies."
Beatrice N. Warren-Curtis, 36
Monica E. Brickhouse, 39
Dayton police did not release information on a possible motive.
The shooter was wearing a bulletproof vest and hearing protection with 100-round capacity magazines, Biehl said. The police chief said the suspect had two guns, using one during the attack and leaving the other one in his vehicle. One was ordered online from Texas. Police said there was nothing in his history that would have prevented him from legally obtaining firearms.
Megan Betts and her brother arrived at the downtown area in the same vehicle, but separated at some point in the night, according to police. The first victim was shot in an alley where the vehicle was parked, then the shooter began to make his way onto the main street toward Ned Peppers Bar.
"She was not the first victim," Biehl said of Megan Betts. "But she was one of the initial victims."
"Right as he came out of the alleyway, she and another male who was a companion of the suspect was shot and wounded," Biehl continued about Megan Betts. "So they were victims initially after the first person was shot."
Authorities showed surveillance video at a press conference Sunday afternoon that showed Dayton Police officers taking the gunman down as he attempted to enter Ned Peppers Bar.
"Had this individual made it through the doorway of Ned Peppers with that level of weaponry, there would have been catastrophic level of injury and loss of life," Biehl said.