A family is accusing police of excessive force against them after a confrontation at a pool in Fairfield, Ohio.
Krystal Dixon, 33, and her sister, Maya Dixon, 34, are charged with disorderly conduct and resisting arrest after their children were asked to leave a public pool on June 9 — an incident that led to an altercation between police officers, adults and children that was caught on video that went viral
The sisters pleaded not guilty in Fairfield Municipal Court Wednesday morning.
The controversial episode started when police responded to the Fairfield Aquatic Center after a group of youths were asked to leave because one of them didn't have a swimsuit.
The exact details of what happened next are in dispute: While the Dixon family has accused the cops of using excessive force, police say they were just doing their jobs.
Attorney Clyde Bennett, who is representing the family, said Krystal Dixon had just dropped off her children to go swimming when she was called and told that one of them "did not have proper swim attire."
By the time she returned to the pool, police were on the scene and her children had been told they could not swim. She was attempting to get her kids out and leave the pool area when a Fairfield police officer grabbed her, Bennett said.
"They threw her against the wall and arrested her," he explained. Two other children were also "basically arrested" according to the attorney.
The altercation was caught on video by surveillance cameras, police dashcam video and cell phone video recorded by bystanders. Footage shows a 12-year-old being thrown against a police car door — she was later treated at a local hospital for her injuries.
Bishop Bobby Hilton, who is acting as the family spokesperson, says several members of the family were also pepper sprayed.
"There was a lot of mistreatment going on," Hilton said.
Fairfield Police Chief Michael Dickey maintains his officers did not act with excessive force, arguing that Dixon should've provided her identification when asked.
"I think the videos, including their videos, tell a different story," Dickey told NBC affiliate WLWT. "Had she provided her identification, much the same as the thousands of arrests and citations that are made across the country, it would've ended right there."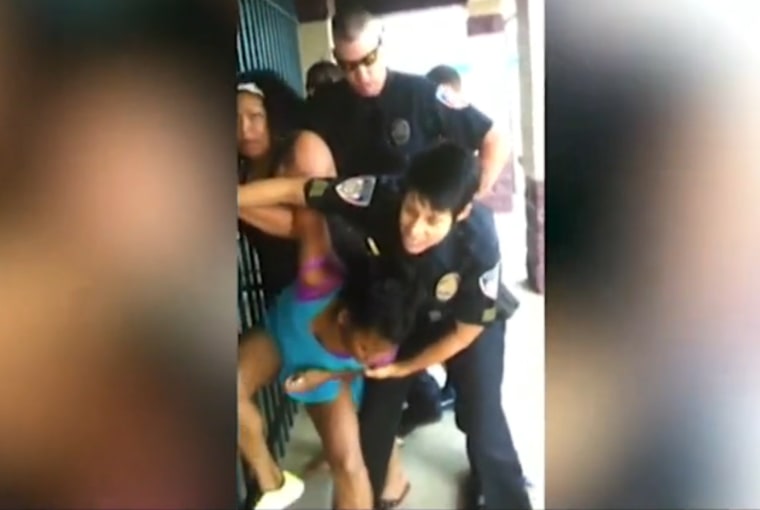 According to 911 calls obtained by WLWT, a couple of people called 911 to report the incident, including one of the pool employees.
"There's two officers here and they are fighting with them. They are beating up the officers and breaking out of the handcuffs. We need you guys immediately," one caller said.
Fairfield Mayor Steve Miller released a statement on Tuesday saying he reviewed the videos and believed law enforcement acted "professionally and responsibly."
"Our officers responded to a 911 call about inappropriate behavior by certain pool patrons that was causing a safety concern. This was a very difficult situation for our officers, who I believe showed restraint and professionalism in defusing what was a volatile situation that could have spun out of control," Mayor Miller said in the statement.
Still, Hilton maintains that it was the police who escalated the situation.
"All he had to do was permit the family to leave. You see them in the front lobby. Just let them leave. The mother is six-months pregnant and they put handcuffs on her behind her back," Hilton said.
Dixon and her sister were allowed to remain free on their own recognizance. Both women are due back in court on July 8th for a pretrial hearing.
Bennett hopes that it doesn't get that far and wants the City of Fairfield to dismiss the charges against the women. He's filing legal documents "requiring evidence of the charges against the Dixons."
"I am not convinced that they would have been treated been this way if they were white," Bennett said.
The controversy comes days after a similar incident in McKinney, Texas where a video captured a McKinney police officer pulling his gun on teens as police responded to a call about a fight at a pool party.
Officer Eric Casebolt who was at the center of the McKinney incident resigned.