After returning from a European vacation three weeks ago, Vidal Chávez, a real estate broker in Manhattan, spoke to a friend who had fallen ill. His fever had spiked to 103 degrees.
It was the first conversation with someone he knew locally who may have contracted the coronavirus — but it wouldn't be the last.
Chávez, in his 40s, now knows more than a dozen people who have tested positive for COVID-19, the disease caused by the virus, or are sick with related symptoms but can't access a test or are awaiting results. Two people, including a fraternity brother at the University of California, Berkeley, have died, he said.
Full coverage of the coronavirus outbreak
What began as a form of "six degrees of separation," the idea that everyone is six social connections away from each other, has turned closer and more grim as the virus infects more and more people. That's most evident in New York City, which has about one-third of the more than 75,000 confirmed cases of COVID-19 in the United States. There have been more than 330 deaths in New York state, about one-third of the nation's total.
For some, it's no longer a distant acquaintance affected by a disease ravaging the other side of the world, but a co-worker, a family member or even themselves who have tested positive.
"Things are starting to hit home," Chávez said. "It's just a matter of time before we all know somebody close who is affected."
Chávez is now inundated with posts and messages after starting a Facebook group, Coronavirus NYC, on March 15 that was initially set to private. It was a way for his circle to keep tabs on the latest news about the virus and with one another. But after friends of friends started requesting access, he made his "support group" public, and some have been sharing personal stories.
"It's a very isolating disease," said Chávez, who has found himself reaching out to friends on the phone more. "Your only outlet is being able to communicate anyway you can because you can't just have someone come over anymore and you can't go to the hospital with them. So I hope what I'm doing is to show we're not really alone in this."
Sean Powers, a 12-year veteran of the New York Police Department who retired in 2005, understands what it's like to learn more friends are being afflicted.
Powers said he knows at least four NYPD officers who have tested positive for the coronavirus and a fifth who is awaiting results. He learned about their conditions through texts.
"You get a text saying: 'Hey, give so-and-so a call. They just tested positive,'" Powers, who lives in the New York City suburb of Westchester County, said. "So I'm just going down the list, texting buddies, 'Hey, how are you doing?'"
Download the NBC News app for full coverage of the coronavirus outbreak
Powers, who volunteers with a police mental health assistance group, said officers are feeling anxious because they're essential city employees and the risk is high they may fall ill.
"They're scared, rightfully so," Powers said. "All you need is one cop to get it, and that's it — between the locker rooms or you sitting in a car in close proximity with a partner or even worse, you have to apprehend somebody who might breathe on you."
The trickle of cases of people infected a couple weeks ago is mounting, he added. "Because of our job," Powers said, "I can see it spread like wildfire."
Cristina De La Riva, a finance worker in Manhattan, said she knows at least eight cases in which people have tested positive or are self-isolating at home but can't get a test. Some of them she has heard about through friends via private texts or calls.
"My friend has mild symptoms but her parents are sick," De La Riva wrote in a message to NBC News this week. "Her 70 year old dad is the sickest in bed but no test and they just got symptoms yesterday."
A friend's co-worker had also come into contact with someone who tested positive, and De La Riva said her friend is now feeling sick. It's unclear whether she has COVID-19 because she can't get tested.
In New York City, people are generally only getting access to a test if their symptoms are serious enough to require hospitalization. Otherwise, they're being told to quarantine themselves at home.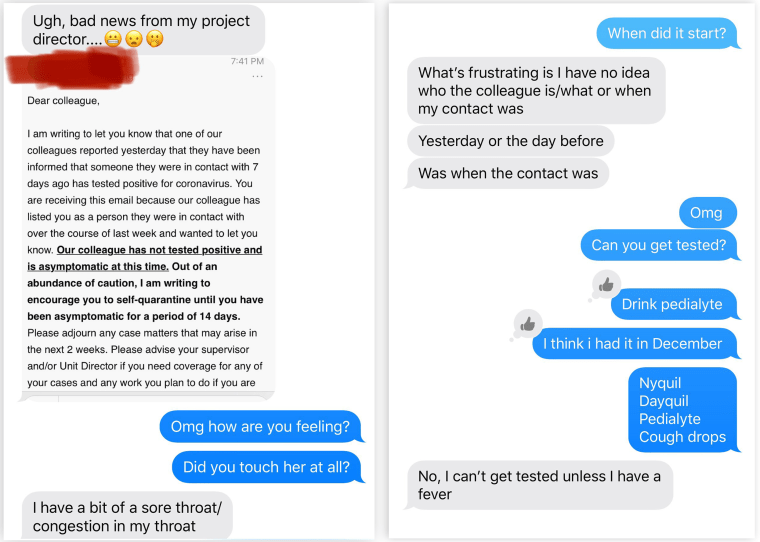 "No, I can't get tested unless I have a fever," De La Riva's friend wrote to her in a text.
De La Riva said she may have gotten infected with COVID-19 in December after experiencing a fever, hard coughing and lung contractions. A doctor told her it was a virus and not specifically the flu. Her friends, in their 20s and 30s, have been complaining of similar symptoms.
"My friend in Brooklyn has the exact same symptoms since Feb for a month," De La Riva wrote. "Still home sick in bed. No testing. She is pretty sure she has it."
For those who have tested positive with the virus, how to break the news to family and friends can be daunting.
Daphne Frias, a gun violence prevention and disability rights activist in Manhattan, has decided to share her struggles through social media.
"I've been posting daily story updates on my Instagram story and here on Twitter," she said. "When I first shared the news, I was flooded with DM responses of people expressing concern and well wishes."
Now that people know, she joked that she has turned into a "coronavirus hotline," with family and friends relaying their own symptoms and asking if that's what she has endured.
On Tuesday, she said that she was the only one in her network that she knows who is positive for COVID-19, although her mother is exhibiting symptoms as they're quarantined at home together.
"I think me being sick made it a lot more personal for people, and I think that's what people are needing right now, a tangible person to connect to," Frias said. "I think being honest about my process has showed people that you can make it through."
On Thursday, Frias learned she wasn't alone: A close friend of hers and his wife tested positive for the virus.