/ Source: Associated Press
NEW YORK — A federal judge cleared the way Monday for the National Football League to enforce a six-game suspension of Dallas Cowboys running back Ezekiel Elliott over domestic violence allegations.
U.S. District Judge Katherine Polk Failla denied the request for a preliminary injunction from players' union attorneys working for Elliott. Failla put the ruling on hold for 24 hours to give Elliott's legal team time to appeal, a likely move.
It's the second time that a federal ruling has overturned a reprieve that kept Elliott on the field. Earlier this month, a federal appeals court threw out a Texas court's injunction and ordered the dismissal of Elliott's lawsuit there.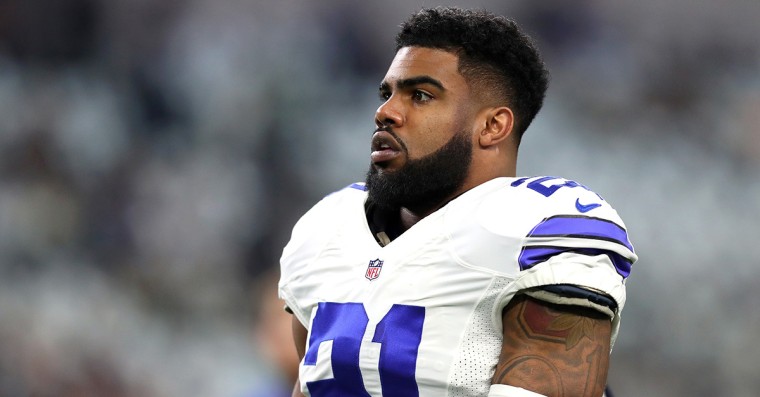 The NFL briefly enforced Commissioner Roger Goodell's suspension before a judge sitting in for Failla in the Southern District of New York issued a temporary restraining order that blocked the punishment for the second time.
If the suspension holds this time, Elliott will be out starting Sunday at home against the Kansas City Chiefs. He will be eligible to return Dec. 17 at Oakland against the Raiders.
Elliott attended the roughly two-hour hearing in New York on Monday, a day after rushing for 150 yards and two touchdowns in the Cowboys' 33-19 win at Washington. He left court without speaking to reporters.
Elliott, 22, was suspended in August after the league concluded following a yearlong investigation that he had several physical confrontations in the summer of 2016 with Tiffany Thompson, his girlfriend at the time.
Prosecutors in Columbus, Ohio, decided not to pursue the case in the city where Elliott starred for Ohio State University, citing conflicting evidence. Elliott denied the allegations under oath during his NFL appeal.
A lawyer for the NFL Players Association, Jeffrey Kessler, argued that the process Goodell used to determine the punishment was "fundamentally unfair" because it downplayed the conclusion by an internal investigator that Thompson wasn't credible in her account of the 2016 violence.