Ten people were injured during a white nationalist protest and counter-protest Sunday near the steps of the California state Capitol in Sacramento, authorities said.
Five to seven people were stabbed during the melee, California Highway Patrol Officer George Granada told NBC News. The injured ranged in age from 19 to 58, with one woman among them, according to the Sacramento Fire Department.
All were expected to survive, Sacramento police spokesman Matthew McPhail told NBC News.
The original protest was permitted, according to The Associated Press, and organized by the Traditionalist Worker Party, which describes itself as a political party "created by and for working families" that aims to "lead Americans toward a peaceful and prosperous future free from economic exploitation, federal tyranny, and anti-Christian degeneracy."
The group's founder, Matthew Heimbach, told the Southern Poverty Law Center, which tracks hate groups, that its mission was to "create a European-style nationalist movement."
A TWP flier for the Sunday protest read "You have reached the limits of our sympathy" beneath images of people holding signs that say "Make America Mexico again" and "Brown N' Proud."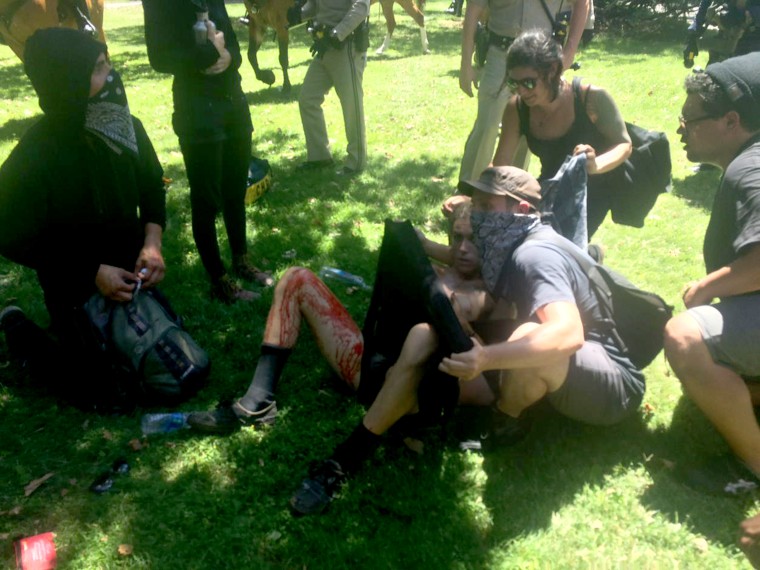 The counter-protest was organized by the Sacramento chapter of the Anti-Fascist Network.
Granada of the Highway Patrol told NBC News that the groups clashed immediately after meeting, triggering a lockdown at the capitol.
In an interview with NBC News on Sunday, Heimbach described it this way: "As soon as our guys stepped out of the parking garage, we were attacked by 200 anti-fascist people." Heimbach said that his group went armed with shields and that one was nicked in an artery in his arm.
A pro-TWP livestream of the skirmish showed a rush of several police officers in riot gear. At one point, a person was struck in the head with what appeared to be a baseball bat and flopped on the ground.