A six-year-old boy, a 13-year-old girl and a man in his 20s were killed during a shooting rampage at the Gilroy Garlic Festival in Northern California on Sunday, according to authorities.
The youngest victim, Stephen Romero, had just celebrated his sixth birthday last month at Legoland in California, his father, Alberto Romero, told NBC Bay Area on Sunday evening.
"My son had his whole life to live and he was only six. That's all I can say," Romero said.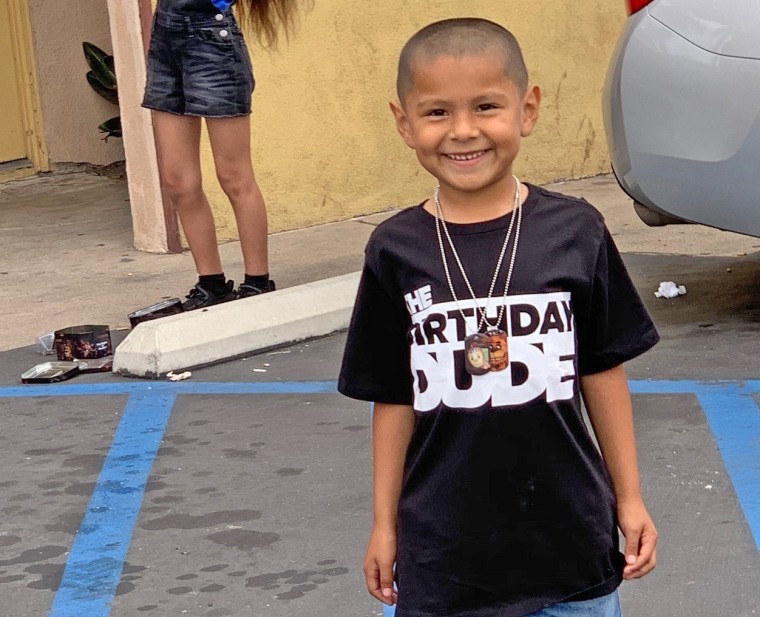 Romero was at home with his 9-year-old daughter when he heard about the shooting. He said Stephen had gone to the festival with his mother and grandmother, who were also injured in the shooting.
"There's nothing I really can do besides try to be with him until I can put him in his resting spot, wherever that is," Romero told NBC Bay Area.
Romero said that Stephen's mother had been shot in the hand twice, and he believes his grandmother was shot in the leg.
Romero described his son as an energetic boy who had just graduated from kindergarten and was weeks away from entering first grade.
He was "always happy and always wanting to have fun," Romero said, as he showed off photos of his son.
The shooting happened at about 5:40 p.m. local time Sunday at the bustling food festival, one of the largest in the country. In total, three people were killed and 15 injured.
Officials said the suspect was carrying an assault-type rifle and entered the packed festival by cutting through a fence, circumventing the tight security at the festival's entrance. Initially, authorities believed a second suspect may have been involved, but on Monday, said they had not confirmed that.
In a press conference Monday, Gilroy police chief Scot Smithee held back tears describing how the shooting "could have gone so much worse, so fast" had it not been for police officers, who were stationed throughout the festival, quickly moving to fatally shoot the suspect when he opened fire.
Still, Smithee said later, choking up again, "any time a life is lost, it's a tragedy, but when it's young people, it's even worse."
"It's very difficult," Smithee said, adding that it appeared the shots were fired randomly. Police said they did not yet know the motive of the shooting.
The Santa Clara County Medical Examiner identified the 13-year-old victim as Keyla Salazar of San Jose, according to NBC Bay Area.
In a Facebook post, her aunt, Katiuska Pimentel Vargas, said that Keyla died at the scene.
"I have no words to describe this pain I'm feeling, Keyla you are an angel and we will miss you with all of our hearts," Pimentel Vargas wrote. "You were too young to be taken from us. We are all devastated and broken and need time to heal and process."
The man in his 20s, Trevor Irby, was identified Monday by his high school in Romulus, N.Y., southwest of Syracuse. Irby graduated from Romulus Central School in 2012, superintendent Martin Rotz said in a statement.
Rotz described Irby as an outgoing student — a talented athlete, a member of the drama club and a "friend to everyone he knew here in Romulus," Rotz said. "Trevor was the type of student who could bring joy, laughs, and comfort to everyone he met."
An official at nearby Keuka College, where Irby graduated in 2017 after studying biology, said that he'd attended the garlic festival with another former student who wasn't injured in the shooting.
The official, president Amy Storey, said the school would soon hold a vigil for Irby.
A friend of Irby's, Abdullah Alhumayni, told NBC News that Irby had planned on becoming a physician's assistant.
The Gilroy Garlic Festival has taken place annually since 1979 to celebrate the local garlic industry. With food and live music, the festival in Gilroy, about 30 miles south of San Jose, attracts tens of thousands of fairgoers each year.
CORRECTION (July 29, 2019, 1:40 p.m. ET): An earlier version of this article misspelled the first name of the 6-year-old victim. He was Stephen Romero, not Steven.