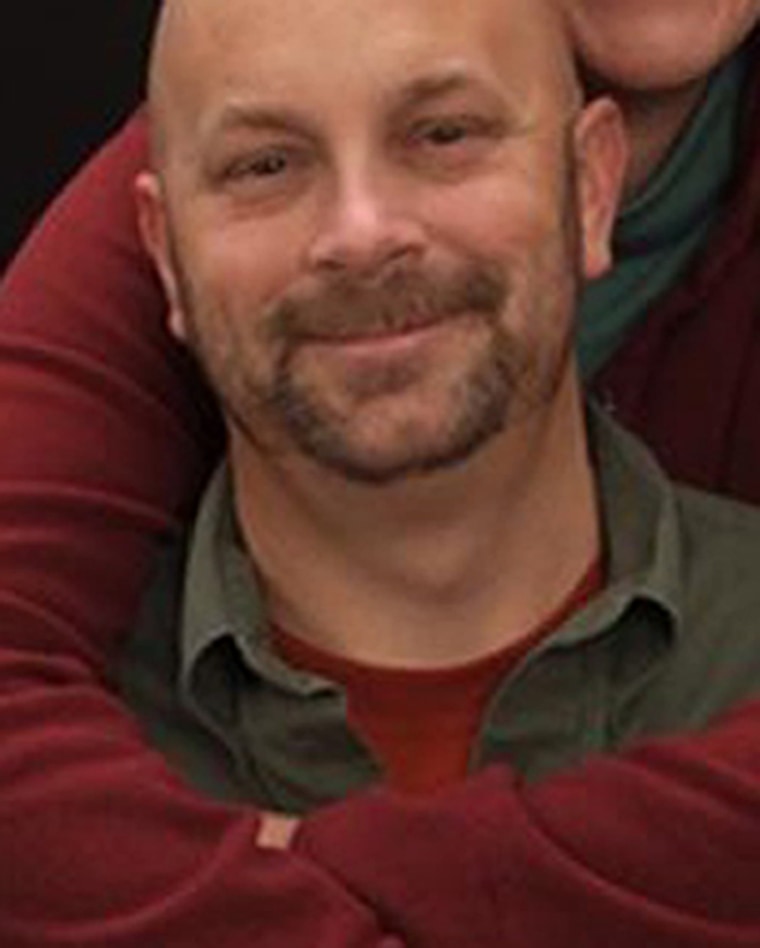 A mathematics teacher was hailed as a "hero" after being fatally shot while apparently trying to shield students from a 12-year-old boy who opened fire at a Nevada middle school on Monday.
The slain teacher was identified by his brother as Michael Landsberry, 45, a former Marine and a member of the Nevada Air National Guard who celebrated his wedding anniversary last Friday.
Authorities suggested that Landsberry tried to protect students, but stressed they were still investigating. Two boys were wounded before the shooter took his own life at Sparks Middle School, east of Reno. The Associated Press reported that the incident was witnessed by 20 or 30 children.
"We have a lot of heroes today, including our children ... and our fallen hero, an amazing teacher," Washoe County School District Superintendent Pedro Martinez said.
Tim Robinson, deputy chief of the Reno police, also described Landsberry as "a hero."
Kyle Nucum, a 13-year-old student at Sparks Middle School, told NBC News that the suspect "was pointing a gun at the teacher after the teacher told him to put it down" before the first shot went off.
In a separate interview, Nucum told the Reno Journal Gazette  that he heard "a pop, like a loud pop, and everybody was screaming."
"The teacher fell and everybody ran away," Nucum told the newspaper. "We ran across the field to get somewhere safe, and while we were running we heard about four or five more gunshots."
Police said the first shots were fired from a semiautomatic handgun at 7:16 a.m. (9:16 a.m. ET), just before classes got underway. First responders arrived at the scene in less than three minutes, police said.
The two wounded boys, who were originally transferred to a local hospital in critical condition, were later upgraded to stable condition with non-life-threatening injuries, Sparks deputy police chief Tom Miller said at a Monday afternoon news conference.
Landsberry's brother, Reggie, told NBC News that the 8th-grade math teacher is survived by his wife, Sharon, and two of her children from a previous relationship.
Chanda Landsberry, Reggie's wife, told the Reno Gazette-Journal newspaper that she wasn't surprised by reports that Michael scrambled to save the students.
"To hear he was trying to protect those kids doesn't surprise me at all," she told the newspaper. "He could have ducked and hid, but he didn't. That's not who he is."
Landsberry had worked in the Washoe County School District since August 2001, according to his Facebook page.
Sparks Mayor Geno Martini said Landsberry served two tours in Afghanistan with the Nevada National Guard and was well known in the school community.
"He proudly served his country and was proudly defending the students at his school," he said.
Although authorities have not specified a motive for the attack, a student told the Reno Gazette-Journal that the suspected gunman said he had been teased.
"I heard him saying, 'Why you people making fun of me, why you laughing at me," student Michelle Hernandez told the newspaper.
Police said that the suspect had been "neutralized." He died after sustaining a self-inflicted gunshot wound, said Washoe County School District spokeswoman Katie Holmes. 
Chilling 911 call recordings obtained by NBC News reveal the utter chaos of the moments that followed the first shots.
"We have a teacher down, now a teacher and student down," an unidentified person can be heard saying.
One of the dispatchers can be heard saying that the suspect reportedly was "chasing people when he saw them."
A first responder can be heard making a possible identification of the shooter, "down from a headshot wound …  on the basketball court."
Authorities said it was too early to tell whether the gunman was targeting anyone or simply on a spree. 
The two boys were being treated at Renown Regional Hospital, said Angela Rambo, a spokeswoman.
Nevada Gov. Brian Sandoval said that he was receiving regular updates and was "deeply saddened" to learn of the shooting.
In 2006, a boy using his father's .38-caliber pistol opened fire at another Reno-area middle school and wounded a boy and girl, both 14, the newspaper said. A gym teacher was honored later for ending the episode by telling the boy to drop the gun and bear-hugging him.
James Scott Newman, 14 at the time of that shooting, pleaded guilty to battery with a deadly weapon and got house arrest until he completed 200 hours of community service.
The Associated Press contributed to this report.