Hundreds of thousands of Americans were without power Saturday and at least nine deaths were said to be related to a Nor'easter that thrashed the East Coast with heavy winds, rain and snow on Friday.
Many of the deaths were due to falling trees, officials said. Police in Andover Township, New Jersey, said that a 41-year-old man was killed when he came into contact with downed power lines on Friday evening.
More than a dozen utility companies reported that hundreds of thousands of their customers were affected by the powerful storm.
Gov. Andrew Cuomo said approximately 271,000 New Yorkers were without power on Sunday. Con Edison said it expected to have 90 percent restored by Tuesday night.
"We are deploying the National Guard and senior officials to ramp up recovery efforts and ensure the thousands of New Yorkers impacted by this storm are getting the help they need," Cuomo said."Some travel restrictions and advisories remain in effect, and I urge drivers to stay off the roads so that the National Guard, first responders and utility workers can assist those that need help."
The heavy winds and downed trees also led to the deaths of nine people in Virginia, Maryland, New York, Pennsylvania, Massachusetts and Rhode Island, authorities said.
Early Friday morning, a tree fell onto a Virginia home and killed 6-year-old Anthony Hamilton while he was sleeping, Chesterfield County Police reported. Later in the day, Putnam County Sheriff Robert L. Langley Jr. in New York said that an unidentified 11-year-old boy died when a tree fell onto his home and trapped him underneath. His mother, who was at home with the child, was hospitalized.
Meanwhile, Newport Police in Rhode Island reported a man in his 70s died when he was struck by a wind-felled tree and Baltimore Public Safety said a 77-year-old woman was killed by a large tree branch that dropped from a tree above her. James City County Police in Virginia also said an oak tree, blown over by wind, fell and killed Shawn Gregory Walker, 44, while he was in his truck.
Photos: Nor'easter hammers East Coast
Later on Friday, a 57-year-old Pennsylvania man was killed after a tree fell on his vehicle, according to Upper Merion Township Police Department. Jonathan Rodriguez Melendez, a 25-year-old man in Stamford, Connecticut, was also killed after a tree struck his vehicle, according to Connecticut State Police.
On Saturday, Plympton Police Department confirmed 36-year-old Ryan MacDonald, of Plympton, Massachusetts, was killed at approximately 5:15 p.m. ET on Friday after a tree fell on his vehicle. The man who was electrocuted in New Jersey was killed at around 6:45 p.m. Friday, Andover Township Police Chief Eric Danielson said in a phone interview.
Though the powerful winds and rain from Georgia to New England caused heavy flooding and flight cancellations Friday, the National Weather Service reported improving conditions "across the Northeast and northern Mid-Atlantic states" for the weekend.
Nevertheless, travelers still faced more than 1,400 cancelled flights and nearly 2,400 delays on Saturday, according to FlightAware.com.
Amtrak, which had temporarily suspended service between Washington and Boston, resumed modified service in the Northeast corridor by Saturday morning and said they are scheduled to be fully operational on Sunday.
In New York City, 750 trees were reportedly downed by the wind, according to Eric Phillips, Mayor Bill de Blasio's press secretary. The high winds and rainfall made power failures a difficult issue.
"Those two things create an environment of power outages — downed power lines and trees blocking roadways," said Steve Bellone, county executive of Suffolk County in New York.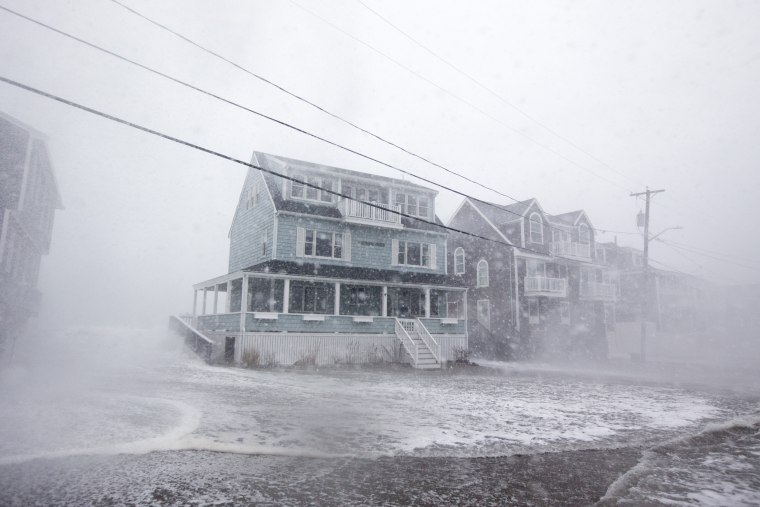 While strong winds whipped through the Northeast region on Friday, the Palisades Interstate Parkway Police reported that four barges attached to the Tappan Zee Bridge project came loose in the Hudson, although it was unclear if it was directly related to the storm.
Two of the vessel ran aground on the New Jersey side of the river, one sank near the Yonkers Sewer Treatment Plant and a number of commercial tugboats, the U.S. Coast Guard and the New York City Fire Department worked to secure the fourth barge, Parkway Police reported.