A small plane clipped electrical and telephone wires, crossed a busy street and plowed into a residential building Tuesday in Akron, Ohio, before igniting in flames, authorities said. An undetermined number of people in the plane were killed, but everybody on the ground was safe.
State Highway Patrol Lt. Bill Haymaker said that "due to the severity of the fire," it would be some time before it could be determined how many people were aboard the Hawker H25. But he said that the small business jet can carry as many as 10 passengers, in addition to the pilot and the co-pilot, and that there were no survivors.
The flight stopped at Dayton-Wright Brothers Airport along the way, and there was no information on how many people may have boarded or gotten off there.
Nobody was believed to have been in the building, and no casualties were reported on the ground.
"Obviously, the situation could have been worse, granted, if anybody was home," Haymaker said.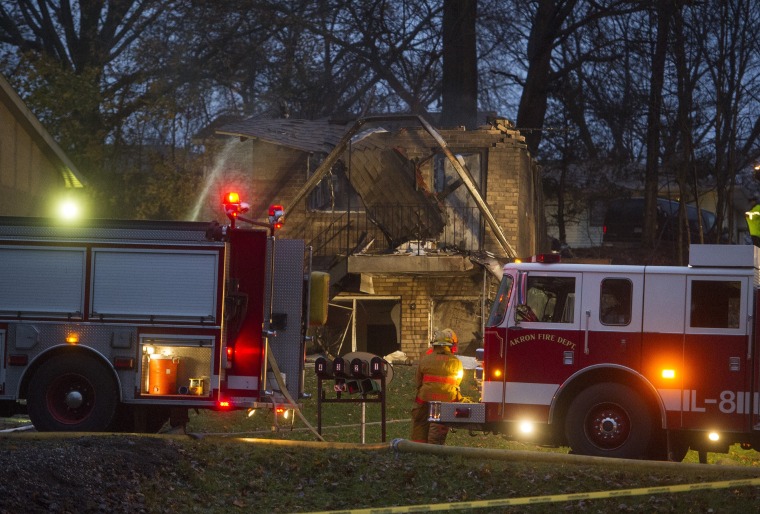 The Federal Aviation Administration said the plane was on its final approach to Akron Fulton International Airport when it crashed into a building about 3 p.m. ET. The National Transportation Safety Board said it was sending investigators.
Quincy Vagell, a meteorologist for The Weather Channel, said conditions were "poor, with low visibility and fog."
"Outside of a controlled runway landing, getting a plane down safely in an emergency would have been a very tough task," Vagell said.
Rebecca Porter, a witness, said she was driving down the road when "I heard this noise, and a plane just dropped out of the sky and veered to the left and plowed into the duplexes there."
Mike Patton, who works nearby, told NBC station WKYC of Cleveland that he was on his lunch break when he head "a very loud roar."
"You could hear the engines just running, and when he hit the throttle — just before he hit it — it made a really loud roar, and he just couldn't recover," Patton said.
Fire and other emergency vehicles filled the street as thick, black smoke billowed at the scene at Mogadore and Skelton roads in southeast Akron.
"I heard a loud plane that sounded super low to the ground," Hannah McCune, who lives near the crash scene, told NBC News. "Then I heard a big boom and looked up and saw a bunch of smoke and flames."